The Champagne Splits Are Seriously Multi-Purpose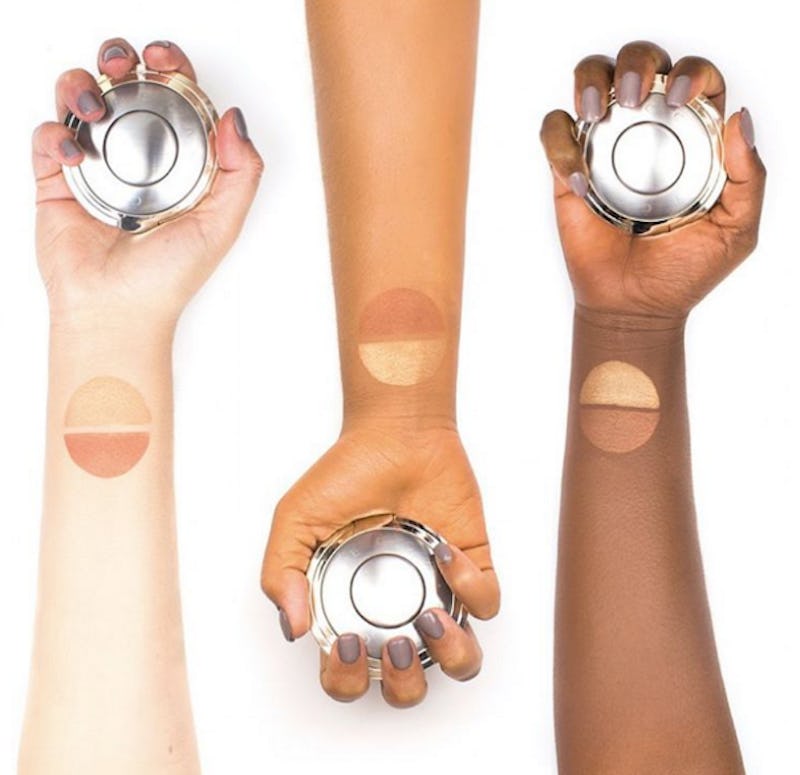 Anything this duo comes out with is bound to be amazing. And when you've got a blush and a highlight packed into one container, the multi-tasking potential is incredible. You're going to want to know how to contour with BECCA X Jaclyn Hill Champagne Splits so that you can get the most use out of this pairing as possible!
The Champagne Splits come in a variety of blush and highlighter combinations. According to the brand's Instagram, if you snatch one that has the Amaretto blush and the Prosecco Pop highlighter, you'll have the power to not only add color to your cheeks, but also to actually contour. Sounds like this product can really do it all, and that's just the kind of multi-purpose power I'm looking for with my makeup.
If you sweep the bronze-y blush across the lower cheekbone area, it'll have the same effect as going in with an actual bronzer does, and then adding Prosecco Pop will give you an all-over amazing glow. This will be a way more natural (and less time-consuming) look than traditional contouring, because who has the time/patience to go through the whole process every single day, you know? Well, with BECCA x Jaclyn Hill, you definitely don't have to. Clearly, they're here to save the day.
This combo does it all.
Just look at how sculpted those cheekbones are! I love how she even uses the blush as a lippie. Is there anything these Champagne Splits can't do?
Don't just shop one of them, go on and shop them all! The more versatile makeup you own, the better, after all.
Jaclyn Hill included both Amaretto and Prosecco Pop in the Champagne Glow Face Palette, and in the video she does say that Amaretto can double as a bronzer. That's exactly why you need to stock up on it when it's released in an even more portable version, the Champagne Split, of course.
This video shows how you can layer blush and highlighter to give you a natural look that accentuates your cheekbones, no contour necessary.
What I love about this video is how she goes over her blush and Prosecco Pop combo with a tinted powder at the end to give it even more of a flawless, natural looking finish.
This vlogger uses Amaretto as bronzer and even uses the blush shades as eye shadow. I'm telling you, these powders can do it all!
Shop the Champagne Splits on July 14. They're pretty much the only colors you could ever need!
Images: beccacosmetics/Instagram (1); YouTube (4)