More Details About BECCA x Jaclyn Hill's Latest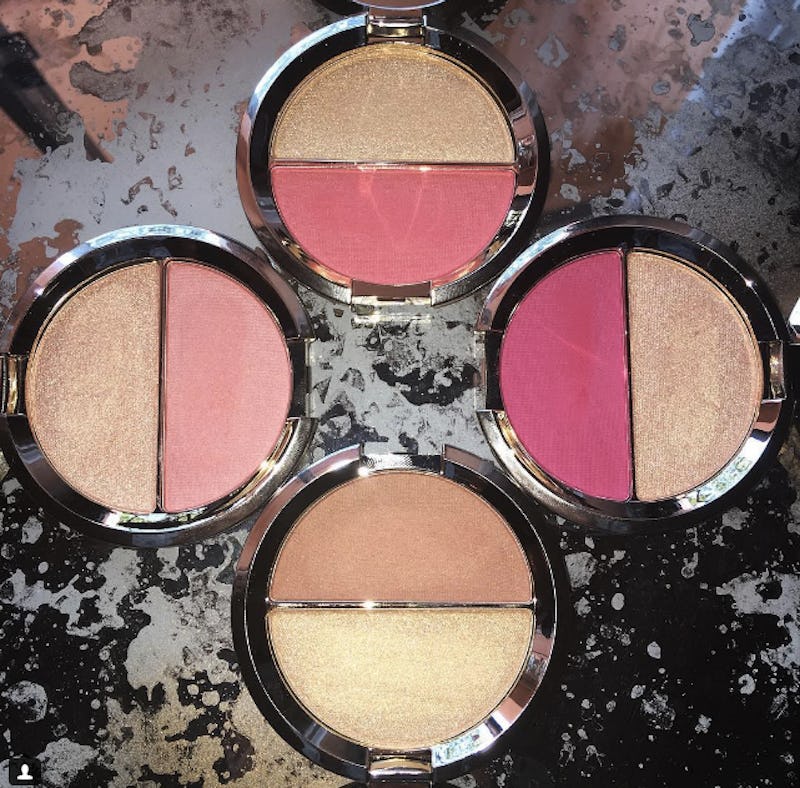 Look alive, ladies: there's more champagne coming your way — at least, of the beauty variety. When the BECCA x Jaclyn Hill Champagne Glow Collection dropped earlier this summer, makeup madness ensued. Products hit sold out status in an instant, leaving a bevy of heartbroken shoppers and even prompting a hashtag rescue service. Didn't get a chance to nab the highlighting palette of your dreams? Don't fret — there are new products joining the BECCA x Jaclyn Hill family, according to the vlogger herself. Time to rev up those shopping carts.
So, what's the lowdown on the recruits? Firstly, there are not one, not two, but a total of eight new additions to the Champagne Collection. Round two of the collaboration appears to include four Champagne Split duo compacts, three Shimmering Skin Perfector pens, and one highlighting brush, according to several social media posts from Hill herself and beauty blog Trendmood. BECCA has let to officially confirm the collaboration, but released the following statement to Bustle over email, "Thanks so much for reaching out and for your support of BECCA! We do have some exciting news – we'll be in touch on Tuesday with the official announcement. We hope you're thirsty for more Champagne."
The star product of the range would have to be the Champagne Splits: duo compacts that consist of a Shimmering Skin Perfector and a Mineral Blush. With these, you'd get the best of both worlds in one compact — and it appears to be decked out in a silver and gold twist on BECCA's usual packaging. Check out a photo, courtesy of Hill.
According to the Instagram post, the Champagne Splits will be available later this month, with an email sign up on the Sephora website beginning on July 5 and the items going up for sale on July 14. She also stated that they will be coming to stores at some point as well. Worth the wait, if you ask me.
More prosecco is never a bad idea! Hill's post states that the Champagne Split duo compacts will come in four highlighter and blush combos: Champagne Pop / Hyacinth, Champagne Pop / Flowerchild, Prosecco / Amaretto, and Prosecco / Pamplemousse.
You can slumber peacefully at night knowing that illuminated cheekbones are on the horizon.
Images: JaclynHill/Instagram