Britney Spears May Have Teased New Music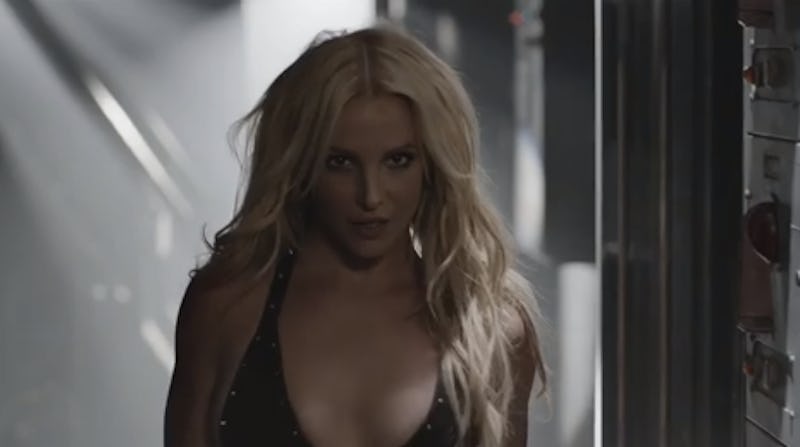 Thank all you Britney Spears fans for hearing the alarm I set off and coming right over, because our girl released a snippet of what sounds like new music, and now we need to ask — is Britney Spears' "Private Show" a real song? The Princess of Pop dropped a very cryptic little video to promote her new perfume, which is called Private Show, and was released on Jul. 8, and it's not your average fragrance teaser. Normally, what I'd expect to see is the perfume-releasing celebrity striding toward the camera as a variety of beautiful men try to smell her neck.However, the video in this case had much less in common with a perfume ad, and a lot more in common with — you guessed it — a music video.
In it, we see Spears backlit and walking toward the camera, stripping off an outer layer to reveal an outfit of complicated lingerie. She strikes several poses as we cut back and forth between shots of her dancing alone on stage and engaging a huge switch that looks like it might power the whole building. And then there's the most important part: she sings the single phrase "private show," the sound cuts out, and she struts away again, leaving #privateshow on the screen. Other than a caption telling us to "stay tuned," that's all! We get no details about what this little snippet of melody was, whether we can expect more, or even a date to look forward to.
So what's the deal? Is it a real song, or no? Obviously I don't have the inside scoop, because I'm not in that Spears inner circle, but I'd put all my money on "yes." For one thing, she's been teasing us with the specter of new music for a while now, so this timing would make sense as far as the premiere of the first single. And, secondly, as high-quality as this clip looks, it wouldn't make sense to spend all that time, money, and effort to make something that looks and sounds like a music video but isn't one; you might as well do the whole thing. In fact, I'd bet that the video is complete, and the music was just scrubbed out in the moments we saw in the clip, leaving only the sound effects behind.
I can't think of a better way to promote a perfume than by releasing a song with the same name. It would give Spears a boost in the brand familiarity department every time "Private Show" played on the radio, and she's such a good businesswoman that I guarantee that thought has occurred to her and her team as well. So cross your fingers that we're right, because, if so, this would be the first new material since Britney Jean came out in 2013. This is huge, gang. Huge.
Image: britneyspearsfragrances/Instagram