James Taylor May Follow In Ben's 'Bachelor' Steps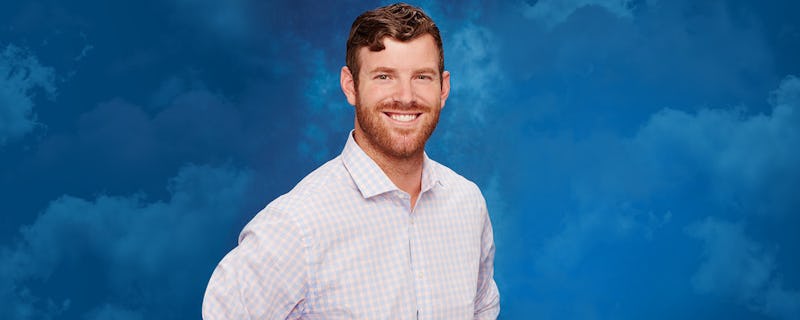 It's officially that time of the season, Bachelor Nation fans! We've hit that point of The Bachelorette (and perhaps we're slightly past it) when the gentlemen getting the boot should be analyzed during their exits for signs of whether they're making their case to be the next star of The Bachelor. The most recent episode featured the departures of both Alex and James Taylor and, boy, one of them made a great case for themselves. So, would James Taylor be a good Bachelor? That's the question tackled on this week's installment of Bustle's Bachelorette podcast.
OK, let's break down James' Bachelorette exit conversation with JoJo. First of all, when JoJo says she wants him to find someone who will treat him well, he responds, "I want to find that, too," which is clearly a call for help to producers of The Bachelor. Secondly, he also confides in JoJo that he's told he deserves a great girl a lot but he hasn't been able to find one, which must raise the same kind of alert for those producers that needed to prove Ben Higgins wrong when the former Bachelor said he felt unlovable. On this episode of Will You Accept This Podcast?, Romper TV Editor Allison Piwowarski and Bustle Entertainment Editor Kelsea Stahler discuss whether they think James is a perfect fit for the next season of The Bachelor.
While both Allison and Kelsea agree that James certainly campaigned for the spot as the Bachelor with his exit from The Bachelorette, the question is more about whether the singer-songwriter is secure enough in himself to lead a whole season. Of course, the same questions surrounded Ben prior to his own stint on The Bachelor, so that may be a moot point.
For his part, James is currently single post-Bachelorette (from what I can tell, anyway) and there are certainly plenty of reasons James should be the next Bachelor — not the least of which being how he has charmed viewers during his time wooing JoJo. But, while we can speculate all we want about who we think should be the next Bachelor, we won't really know until it's announced. Remember, we were all convinced Caila Quinn would be The Bachelorette, but it ended up being JoJo. So, we'll have to wait and see.
For everything Bachelor Nation, check out Bustle's Bachelorette podcast.
Images: Craig Sjodin/ABC