The 'Bad Moms' Soundtrack Is Stacked With Hits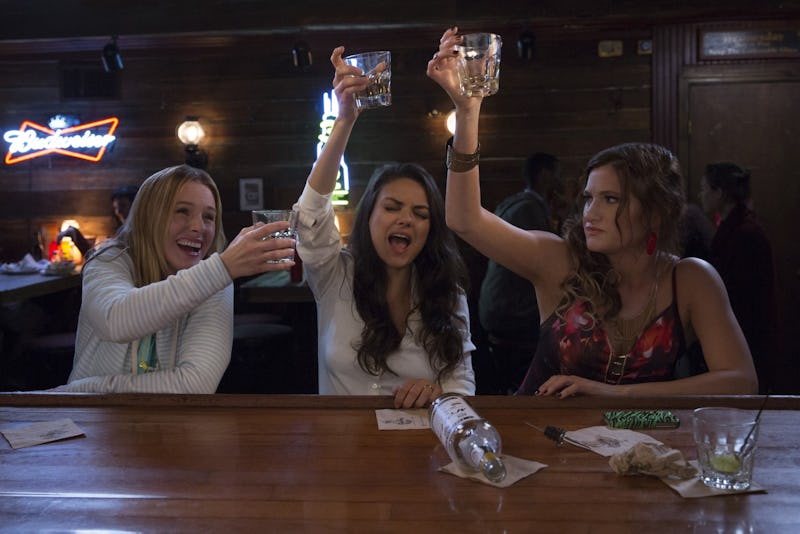 There are few things in life I enjoy more than a good comedy. And if that comedy is stacked with powerful, hilarious, outrageous women? All the better. Luckily, Hollywood's getting hip to my needs because not only have I already indulged in Ghostbusters, a movie stacked with talent, but on July 29, Bad Moms is hitting theaters. If you're like me, you've been eagerly anticipating this movie, which stars Mila Kunis, Kathryn Hahn, and Kristen Bell as moms who are sick and tired of being the perfect women everyone expects them to be, for ages. It's made by the same people who made The Hangover, so you know it's going to be good. And know what else that means? It means that the Bad Moms soundtrack is also going to be insanely good.
The official soundtrack won't be released until August 12, but the track list has been released and it's insanely good. The soundtrack features some mellow, interlude types of songs, but there's also plenty of songs that make this album able to double as the ultimate playlist. There's something for everyone on this soundtrack, as it's stacked with everything from indie to rock to pop. There are so many great songs featured, and here are a few of my personal favorites.
"Gone" By JR JR
I really, really love this one.
"My House" By Flo Rida
This is my favorite song of 2016 and I will not apologize for it.
"Dreamers" By Scavenger Hunt
This might be my favorite song on the soundtrack, but don't tell Zayn.
"Tightrope" By Janelle Monáe
IMO, a Janelle Monáe song makes every movie better.
"Work from Home" By Fifth Harmony
The ultimate banger. Every time this comes on in the bar or on the radio I have to stop what I'm doing and dance.
"Confident" By Demi Lovato
What's wrong with being confident? Absolutely nothing.
In addition to the excellent songs above, the soundtrack boasts an impressive 30 other songs. From Foreigner's "I Want To Know What Love Is" to "Cake By The Ocean" by DNCE, there is an array of bangers, slow jams, and indie tunes to feed your soul. Honestly, I can't remember the last time I was this impressed by a movie's soundtrack. I for one cannot wait to see the movie and hear all of these songs in it.
Images: STX Entertainment