How To Go Several Days Without Washing Your Hair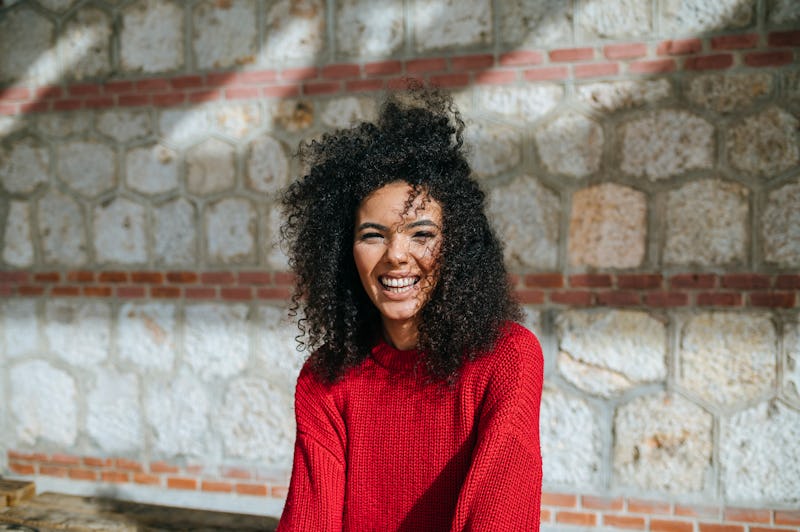 F.J. Jimenez/Moment/Getty Images
As amazing as freshly-cleaned locks can look and feel, there are plenty of reasons why you may want to try to prolong the time between shampoos. Maybe you just got the best blowout of your life and are trying to hold on to it for as long as possible. Maybe you caught a case of the lazies and can't be bothered to wash your hair. Or maybe you heard that washing your hair every day isn't the best for it, and are trying to shampoo less frequently. Regardless, there are some tricks you can use to help your locks last longer between washes, and maybe even go several days between shampoos.
To find out the best tips and tricks that the experts recommend, I emailed with Tyler Laswell, TRESemme stylist, and Jenny Patinkin, makeup artist and beauty expert. While Laswell started out by saying that no one should go more than five days without washing her hair, both provided some pretty genius hacks for extending the life of your tresses by a day or two. Here are seven ways for you to go several days without washing your hair, you know, just in case your Netflix binge eats into your shower time. Priorities.
1. Dry Shampoo
TRESemme Fresh Start Volumizing Dry Shampoo, $4, Amazon
When it comes to extending the life of your hair, dry shampoo will be your best friend. While spraying it directly into your roots and rubbing it in with your fingers will help soak up excess oil so you can skip a wash, Laswell has another method to really amp up your style. He suggests using your blow dryer on medium heat and medium speed while dispersing your dry shampoo with your fingers, as this will help your hair look and feel even more refreshed and full.
2. Light Hairspray
Ouai Soft Hair Spray, $26, theouai.com
Laswell admits that the more product you use, the sooner you will probably feel your hair is due for a wash. However, he says "the key for those looking for the maximum number of days between shampoos is a light hairspray." This is because a lighter hairspray will be able to help hold your style but will also easily brush out so it feels like it was never even there. Basically the win-win of hair products.
3. Plan Your 'Dos
Planning your hairstyles for the week can also help control when your locks will need a wash. Here's what Laswell suggests for a week's worth of gorgeous, shampoo-free 'dos: On Day One when your hair is at its cleanest, go for some voluminous waves or your natural curly texture. Day Two, hit your hair with a touch of dry shampoo and the blow-dryer to smooth out the waves and add back a little volume. Flat-iron your hair Day Three, as the natural oils in your hair will help protect it from the heat — though if you're not into straightening your strands, you can always try a half up look to hide any excess oils. Day Four, slick your hair back into a ponytail. And Day Five, you can disguise your unwashed locks with a French braid. It'll hold super well too because of all of the natural oils and texture in your hair by this time. So simple, yet so genius.
Try: HSI Professional Flat Iron, $40, Amazon
4. Don't Touch
Although easier said than done, Laswell stresses that every time you touch your hair, you leave a little bit of the natural oils from your hands behind. So if you want to keep your hair from becoming too greasy too quickly, paws off.
5. Sleep On Silk
If you just got the most amazing blowout of your life, Patinkin recommends sleeping on a silk pillowcase. Not only is this type of pillowcase just better for your hair in general, but because there's so much less friction, your strands won't become matted and frizzy. Your style can easily extend to Day Two.
Try: Alaska Bear Silk Pillowcase, $20, Amazon
6. Wear A Headband
Spa Terrycloth Headband, $5.99, worldmarket.com
"Wrapping a terry towel headband around your hairline when you wash your face and apply skincare products keeps your hairline from getting oily," says Patinkin. So if you want to make sure your skincare routine doesn't affect how soon you'll need to wash your hair, just don one of these headbands. Plus, c'mon, how cute?
7. Blot
Boscia Green Tea Blotting Linens, $17, Amazon
If you're already feeling a little oily around your hairline before you even go to wash your face though, Patinkin has another trick: "Tuck some blotting papers, toilet paper, or even a toilet-seat cover underneath the headband— the pressure of the band and the absorbency of the papers will help keep your roots looking fresh." Of course, you could also use blotting linens on your hairline or part-line any time your roots start to feel a little oily. Regularly soaking up that excess will help ensure you can go longer than usual before needing to wash your hair again.
Images: Getty Images (4); Courtesy of Brands