How To Make Your Hair Last When You're Sweaty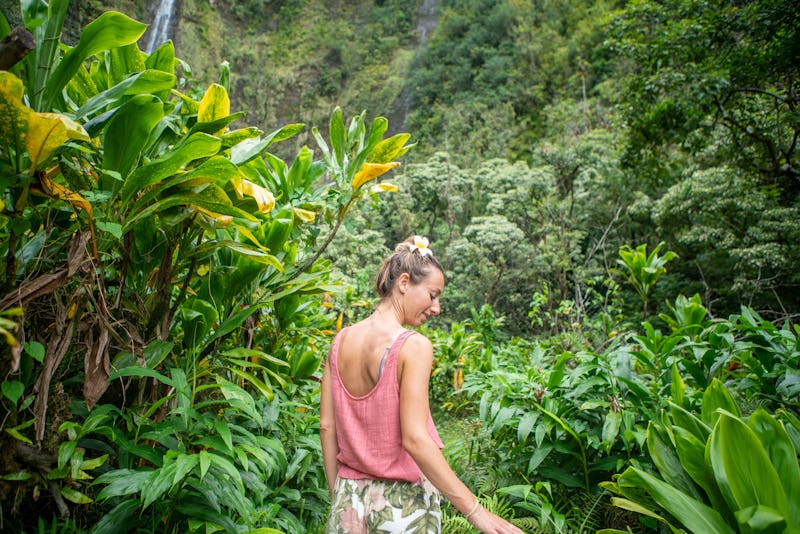 swissmediavision/E+/Getty Images
As someone who doesn't wash her hair everyday, I always feel especially clean and fresh on the days when my strands get a shampoo. But during the summer, all the heat and the sweat means that feeling can be pretty short-lived. So are there ways to make hair last when you sweat? Because my locks should not be looking greasy and limp on the same day they get a wash.
But besides holding on to that clean feeling, any styling also tends to fall flat when the heat and humidity are on the rise. Especially if you have particularly fine or thin hair, you probably know the feeling of sweat-ruined strands all too well. Well that stops here. To find out some quick and simple tricks for making sure your hair stays fresh even when you sweat, I emailed with a hair expert. Jennifer Lawrence, stylist at Licari Cutler Salon in New York City, weighed in on a few easy ways to help prevent sweat getting the better of your hair. So whether you need a way to prevent your hair from becoming as greasy throughout the day or a simple way to touch up your strands on-the-go, these hacks will make sure your hair can stand up to sweat.
1. Towel Or Cool-Dry Your Hair
Turbie Twist Microfiber Hair Towel, $15, Amazon
According to Lawrence, cool air will help prevent hair from becoming greasy. But not only will towel-drying or blow-drying your hair on the cool setting help it last through summer heat and sweat, it's also just better for your hair than drying it on high heat.
2. Try An Updo
Cute updos are perfect for potentially sweaty days. Keeping pieces that would normally fall on your face or neck out of the way will help prevent them from picking up extra sweat and oils from your skin while also helping to simply keep you cooler.
3. Add Dry Shampoo
Shu Uemura Art of Hair Color Lustre Dry Cleaner, $39, Shuuemura Art Of Hair
Dry shampoo isn't just for taking an extra day between shampoos. Just like it can mop up oil, it can also mop up perspiration. After spritzing into your roots and rubbing it in, Lawrence recommends brushing through your hair to sweep away any excess product.
4. Use Blotting Papers
NYX Green Tea Blotting Paper, $11, Amazon
As wonderful as blotting papers are for keeping your face matte throughout the day, they can also be used to absorb sweat from your scalp and hair. Just press a sheet along your hairline and part to quickly soak up any sweat that could be infiltrating your style.
5. Blow-Dry Any Excess
If you have a blow dryer handy, you can use it to eliminate any excess sweat. While this isn't the best measure if you have a style that wind could mess up, if you flip your hair over and quickly dry your roots, your hair (and its volume) will be reset.
6. Apply The Right Products
Alterna Bamboo Smooth Anti-Humidity Hair Spray, $13, Amazon
Wearing too much product when it's hot can weigh your hair down, and make it kinda weird if you get sweaty. But the right ones can actually help protect your hair against sweat and humidity so your style doesn't go limp or frizzy.
7. Rinse It Out
Of course, if your hair just got way too sweaty, but you don't want to wash it yet, Lawrence recommends just giving your locks a quick rinse. This will help give you a fresh start without stripping your hair.
Images: Getty Images (3); Courtesy of Brands