16 Olympic Games Party Ideas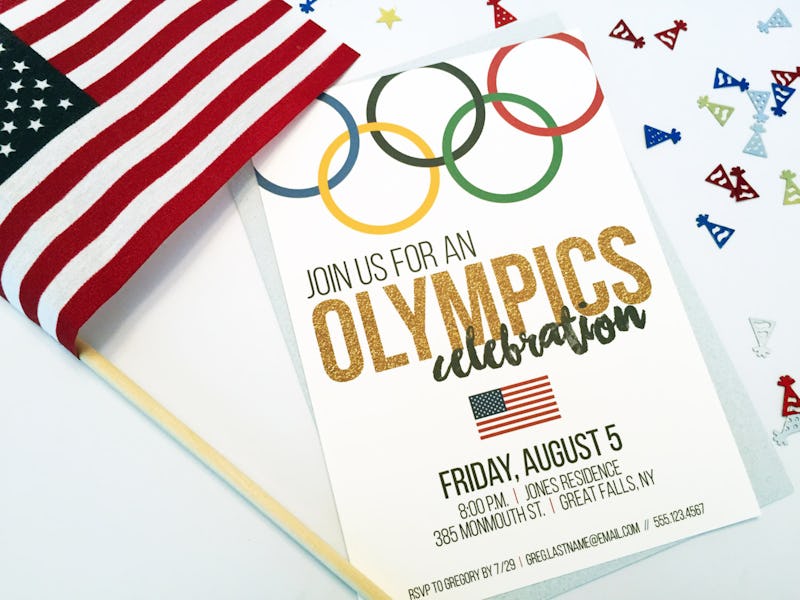 The 2016 Summer Olympics kick off Aug. 5! If you can't be in Rio for all the action, the second best way to get into the Olympic spirit is by throwing a party to watch the games on the big screen in the company of friends. Here are 16 Olympic Games party ideas guaranteed to amp up your viewing pleasure for Rio 2016.
Whether you're hosting a get-together for the Opening Ceremony or you've checked out the TV schedule and want to throw a viewing party for a particular event, there are tons of ways to make your celebration go for the gold. Cheer on your favorite athletes surrounded by Olympics-inspired decor and stay satiated throughout your big screen viewing with on-theme snacks and international fare. Support Team USA with a heavy dose of red, white, and blue, as well as coolers and koozies that toast to America. Keep the party going during commercial breaks with an energetic playlist and plenty for guests to do — like posing in a photo booth with Rio 2016 paraphernalia, or mixing their own cocktails with recipes from all over the world.
It will be another four years before you can throw a party for the Summer Olympics again, so be sure to make this one count!
1. Call On Your Friends To Attend With Winning Invitations
Send out these customizable handmade invitations to all your friends asking them to RSVP for the big event. Etsy has an impressive assortment of Olympic party invitation options, including ones that look like tickets to the games and invitations to athletes to represent their country.
Olympics USA Rio 2016 Party Invitation, $12.00+, Etsy
2. Prove That Your Party Is Hashtag Worthy
String up this festive banner in your entryway to welcome guests, or above the big screen where you'll be watching the games. It makes for the perfect photo opp at your viewing party, and you can customize colors and fonts when you order.
Olympic Banner #Rio2016, $18.00, Etsy
3. Add Olympic Flair Wherever You Want
Use this medal-adorned washi tape anywhere you need a little extra game day flair — sealing invitations, decorating Solo cups and drink bottles, or sprucing up the buffet spread.
Medal Washi Tape, $2.65, Etsy
4. Show Your Spirit For Your Favorite Team
Go bold and proud for Team USA with this all-caps message. These self-inflating balloons spelling "#USA" are the perfect addition to your mantel, or can even be hung from the ceiling.
USA Balloon, $12.00, Etsy
5. Decorate In Your Team's Colors
Decorate your party space with pennants, garlands, and balloons in your team's colors. These red, white, and blue tassels here are perfect for getting everyone at your party ready to cheer on Team USA.
Red, White, and Blue Tassel Garland, $19.99, Etsy
6. Dress The Part
Sport the colors of your favorite team, or get your hands on some fun Rio 2016 garb, like these summer tanks that declare, "When in Rio..."
When In Rio Tank Top, $18.00, Etsy
7. Organize An International Potluck
Ask guests to bring dishes inspired by the Olympic Games participating countries. Once each guest signs up by country, you won't have to worry about any overlapping potato salads and instead have a beautiful buffet full of delicious international fare. If you plan on doing all the cooking, you could keep things simpler and serve up a tasty menu of Brazilian dishes in honor of Rio hosting the Games, like this spicy steak number by Half Baked Harvest.
8. Whip Up Edible Olympic Torches
Carry the torch while crunching on maple bacon popcorn with these innovative cones by The Little Epicurean. The perfect sweet and savory snack doubles as a fun prop that keeps that Olympic flame burning until the very last bite.
9. Olympics Nainamo Bars
These Olympic Games-ready Nainamo bars, originally dreamed up by The Kitchn in 2010 for the Winter Games in Vancouver, B.C., are just as delectable as a dessert snack for Rio 2016.
10. Use International Flags As Cupcake Toppers
International flags are a quick fix to giving your cupcakes, hors d'oeuvres, and other bite-sized snacks some instant Olympic flair.
Olympics Inspired Party Printables, Supplies, and Decorations, $11.00, Etsy
11. Serve Up An Olympic Rings Candy Bar
Satisfy any sweet tooth in attendance with this on-theme candy bar by Studio DIY. The presentation will double as decoration and keep everyone's candy cravings at bay as the games go on.
12. Vintage Team USA Cooler
Stir up some punch, or simply fill this vintage Coleman cooler with water to keep guests hydrated and feeling like they're bonafide members of Team USA.
Vintage USA Olympic Team Coleman Half-Gallon Jug, $15.00, Etsy
13. Stock An International Bar
Have your home bar fully stocked with liquor selections from around the world. Take things to the next level and pick out some international cocktail recipes, and print them on cards so guests can recreate the magic with a little mixology of their own. Or opt to go the simple route and round up a selection of beer favorites from various countries.
14. Keep Things Cool With A Cute Koozie Set
Keep your drinks cool and looking cool with these adorable America-themed koozies with a painted paper bag effect. Perfect for insulating your international beer selections.
Team USA Summer Olympics 2016 Koozie Set, $18.00, Etsy
15. Turn Up An Olympic Games Playlist
It isn't a party without a great playlist, so make your own game day lineup or tune in to Spotify for some specially curated tracks to keep the party going while your attention isn't on the big screen.
16. Printable Olympic Photo Booth Props
Have guests get suited up in silly 2016 Olympic-themed paraphernalia to snap some Instagram-ready photos from your party. These printable props make for an easy photo booth setup, and are a great way to spend commercial breaks.
Printable Olympic Photo Booth Props, $7.30, Etsy
Images: Etsy (10), Half Baked Harvest, The Little Epicurean, The Kitchn, Studio DIY, A Beautiful Mess, Spotify, Pexels