What C.J. Cregg Would Think Of The 2016 Election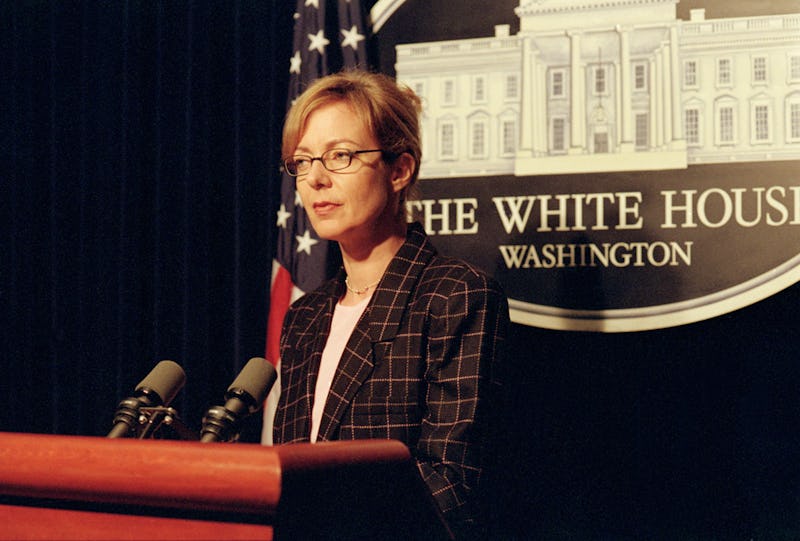 When hearing about the 2016 presidential election, it can often feel so ridiculous as to seem like fiction — really, could we possibly be living in a reality where the host of The Apprentice is the Republican nominee? Yet even on-screen elections don't tend to be this crazy. A White House-set show like The West Wing may have dealt with politics, but actor Bradley Whitford told People that it would've been "terrible writing" if show creator Aaron Sorkin had created a character like Trump to be on the show – in other words, this election is too wild even for fictional TV. Yet if The West Wing characters knew about Trump and the 2016 presidential race, there's no question they'd have big feelings about it all — and White House press secretary C.J. Cregg, especially, would handle the whole thing with grace, according to star Allison Janney.
"She would be classy and swift and she would make you laugh and smile and go yes, C.J.!" Janney tells Bustle, although she jokingly adds that she can't say for sure what C.J. would think about the election because "Aaron Sorkin's not sitting here." Yet even without Sorkin's help, Janney seems confident that her character would be handling 2016's politics with ease, thanks to C.J.'s experience and poise during chaos. "Of all the characters I've ever played, I say she's the one I wish I were most like," Janney says. "She inspires me."
Janney is no stranger to politics herself, having participated in PSAs for drug abuse and veteran care alongside her former West Wing castmates and supported Hillary Clinton in this year's election. Yet she says that she's never felt comfortable being an "actorvist," as she calls it, and so she often relies on politically active friends like West Wing's Melissa Fitzgerald to get her involved. Despite doing things like reprising her role as C.J. during a recent White House press briefing in order to spread awareness for opioid addiction, Janney says she tends to avoid talking about politics — partly because she insists people will expect a C.J.-level discussion out of her.
"I will totally disappoint people, because I'm not C.J. Cregg," she says, with a laugh. "I can memorize the lines and I can inhabit her and relish saying C.J. lines, but yeah, no."
Fans would have to disagree — Janney's political actions have been commendable — but the actor's hesitance to talk politics is understandable, considering the massive legacy of her most beloved character. C.J.'s intelligence, quick wit, and unwavering command even in the toughest of situations (remember that root canal?!) made her a West Wing favorite and one of TV's most inspiring characters. It'd be hard for anyone to live up to her, but Janney, thanks to her own impressive "actorvism," comes as close as you can get.
Image: Warner Bros.