'Last Chance U' Should Get Another Chance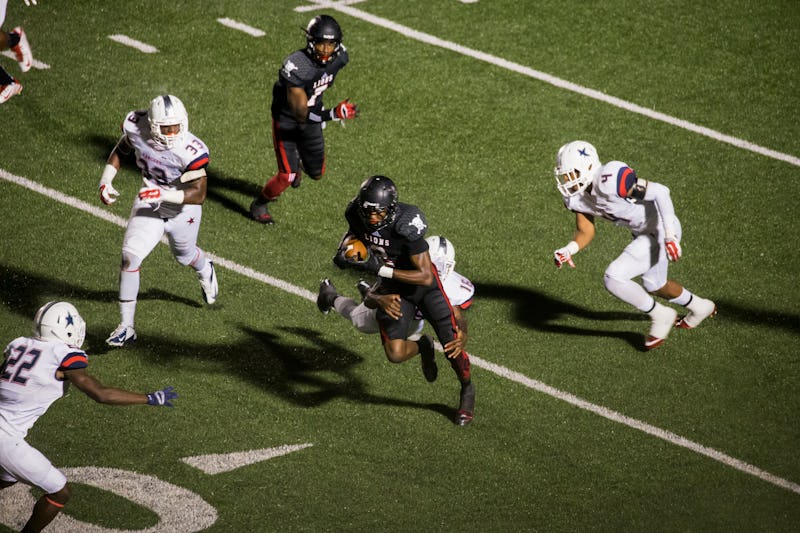 The Olympics may be soaking up most of the attention at the moment, but it's not the only sports event vying for your time. On July 29, Netflix released Last Chance U, a six-part docuseries about the football program at East Mississippi Community College. The school may not be one of the first names that pops into your head when you think of college football, so why did Netflix choose to spotlight it? "One of the most successful but least known athletic programs, EMCC graduates more than 20 players per year into football scholarships at four year universities, and nine of his former players currently play in the NFL," Netflix said in a press release, which goes to show why this college deserves more attention. However, are these six episodes the only recognition EMCC will get or could Last Chance U Season 2 happen? Update: According to Vulture, Netflix has renewed Last Chance U for a second season.
Earlier: Netflix has not yet announced whether or not there will be a second season of the show. It's entirely possible that it can return for another season; director Greg Whiteley doesn't seem to have any other projects announced, and appears to have enjoyed the originality of Last Chance U. He told the Ledger-Enquirer, "We didn't want to repeat anything NFL Films has done. We wanted our aesthetic to be our own. We hope the cinematic quality we set out to capture is different than the tons of sports content that's out there." If he wants to continue the series' uniqueness, there's always the possibility that Last Chance U could follow another football team in its second season, or trace the journeys of EMCC players as they continue their careers elsewhere.
Nothing has been confirmed yet, but if Last Chance U is as successful as other Netflix series, there are many directions it could go in another season. So while we wait for any news, here are some other sports documentaries to tide you over.
O.J.: Made in America
The ESPN documentary about O.J. Simpson is long, covering the athlete's entire life from his college football days to today and working in the history of Los Angeles from the '60s through today. It's a lot to bite off, but worth it.
Hoop Dreams
This is the best, most famous, most Ebert-approved documentary about college athletes trying to go pro. It sets the gold standard for sports docs.
The U
For college football fans, this 30 for 30 installment follows the University of Miami team at a critical juncture. According to Sports Illustrated: "The 1980s in Miami were a time of racial unrest and changing demographics. Rather than resist the change, University of Miami football coach Howard Schnellenberger steered into the skid, recruiting a team of almost all black athletes from some of the poorest ghettos in Florida ... The team ended up winning four national titles between 1983 and 1991." Combining that cultural climate with the triumph of the University of Miami makes for a gripping documentary.
Schooled: The Price of College Sports
Many of these documentaries are framed around the opportunities that athletes get for participating in elite programs. Schooled, on the other hand, shows that it goes both ways, and that sometimes the athletes don't benefit from their own success as the colleges do.
Friday Night Lights
OK, fine. This isn't a documentary. (It is somewhat loosely based on a non-fiction book, though.) But how can I bring up aspiring college football players and not mention it? Clear Eyes, full hearts, can't lose — a motto that fits with Last Chance U pretty well too.
Images: Netflix; Giphy