This Is Kylie Jenner's Favorite Kyshadow Shade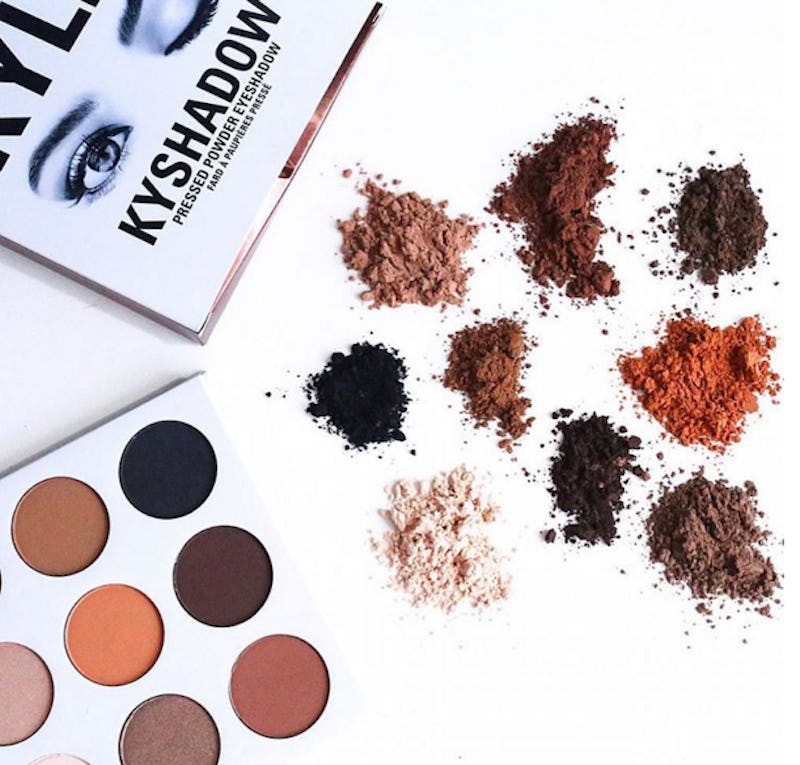 This beauty genius seems to know exactly what she's doing. She's openly admitted that she's created a palette that works for her, using her favorite neutral shades, and she hopes it will work for the rest of us, too. Are you kidding me? Of course it will. But, there's one shade in the palette that stands out. Kylie Jenner's favorite Kyshadow shade is Hematite, according to a recent Snapchat video in which she answered a bunch of fan questions.
This brown shade has a red tint to it, and according to Jenner's makeup artist, Ariel Tejada, it's great for bringing more warmth to your eyeshadow look. In the video demonstrating how to use the palette, he showed that you can add Hematite to your crease to add a little more intensity.
It's really no surprise that Jenner's chosen such a bold shade as her favorite. She's definitely not afraid to go full glam with her beauty, and this shade will add even more pizzazz to minimal, neutral eye makeup. Like I said, she's got everything perfectly planned out. The fact that the colors in the Kyshadow kit go so well together should only prove it to you. And if that's not enough, get a load of how Jenner wears them for all the convincing you'll need.
Hematite is the first shade on the left along the very bottom row. Just look at how pretty!
It's great for creating a neutral, but smokey eye look.
This eye makeup is absolutely incredible when paired with her Lip Kits, too, of course. I'm sure that was part of her plan.
The shade names are based off of crystals and gemstones, making them all the more unique.
When they all come together, it really is quite beautiful.
She really nailed it with this Bronze Palette because while you might be able to pick out a favorite, all of the shades are truly gorgeous in their own way.
Image: kyliecosmetics/Instagram (1)