Avocado Burger Buns Are A Real Thing Now, You Guys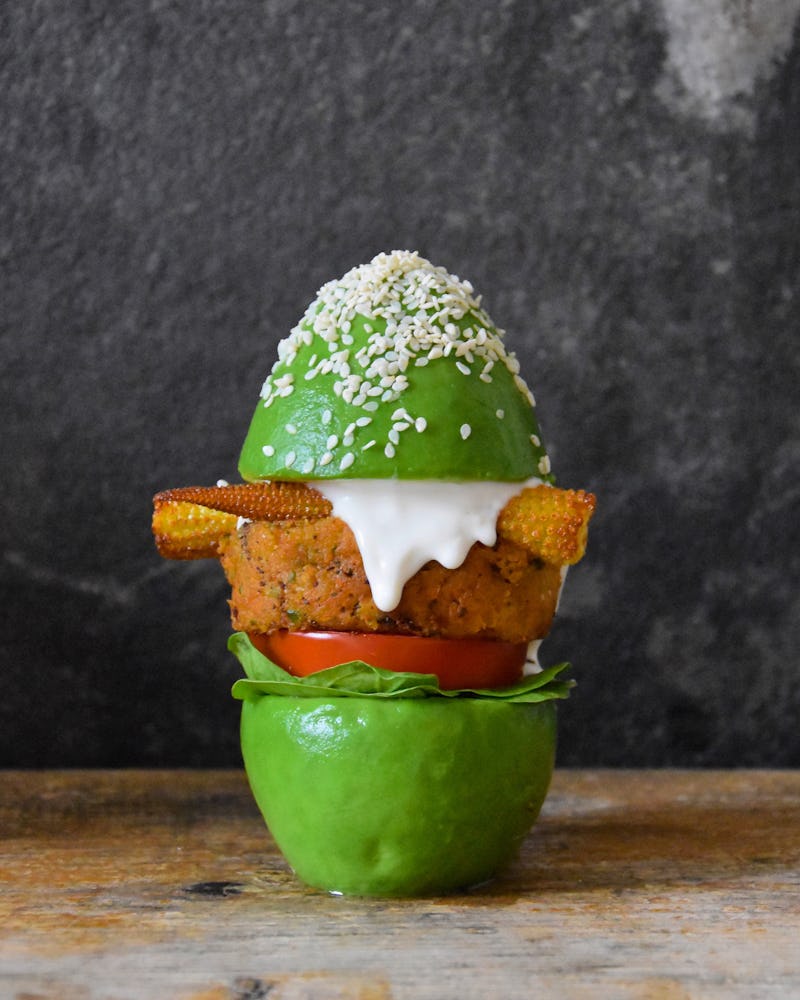 There have always been buns as the backbone of our society, faithfully holding together barbecues, Fourth of July parties, and birthdays. They come in all shapes and sizes, but I am reasonably certain there have never been avocado burger buns — that is, until now. Prepare your mouths for the incoming of delicious goodness, because a genius has come up with a new culinary marvel. If you are a true avocado lover, this news is as big as the avocado roses that swept the internet a few months ago, and possibly even bigger.
Burgers are great — that's a life fact. Burgers with bonuses are even better. What do I mean by that? When a talented and imaginative chef decides to take a different approach to a burger and adds a spin to the classic recipe, we all win. Mac and cheese on top of a lamb burger patty? Yes, please! Goat cheese with bacon bits? Sign me up! Replacing buns with avocado entirely? GENIUS. The result is a mouth-watering creation by certified food genius Colette Dike (known as fooddeco on Instagram) that needs to be shown across the land. It's like getting a protein style burger at In-N-Out but with a slight delicious twist. I fully support it and anyone who wants to only eat burgers like this one!
The only downside to this food innovation is the fact that it's much harder to eat than a regular burger. If you are not afraid of getting a little food on your mouth, hands, and body then have no fear — this burger is for you. And if you are afraid, a simple knife and fork will qualm your fears. If you need motivation to seek one out yourself, say no more. Just look at this bad boy.
I think my jaw just slightly rolled onto my laptop. I'm not even sure how it's possible for something to be so geometrically perfect. Dike's food styling photos make yours look like a third grader using a disposable camera. I'm pretty sure I'm going to have her work printed on glossy paper and placed around my house as food inspiration. Does it get any better than tiny little corn on top of a avocado burger bun topped with sesame seeds? No. No it does not.
In my mind, avocados are king, and their presence is welcome in every meal. Breakfast, lunch, or dinner — it doesn't matter. You can put one in front of me, and I will eat it with glee. So enjoy this amazing creation and try it out for yourself. You never know, this might just become your household staple food!
Images: Giphy (1), Courtesy of fooddeco/Instagram