Jubilee's Life Looks Good Since 'The Bachelor'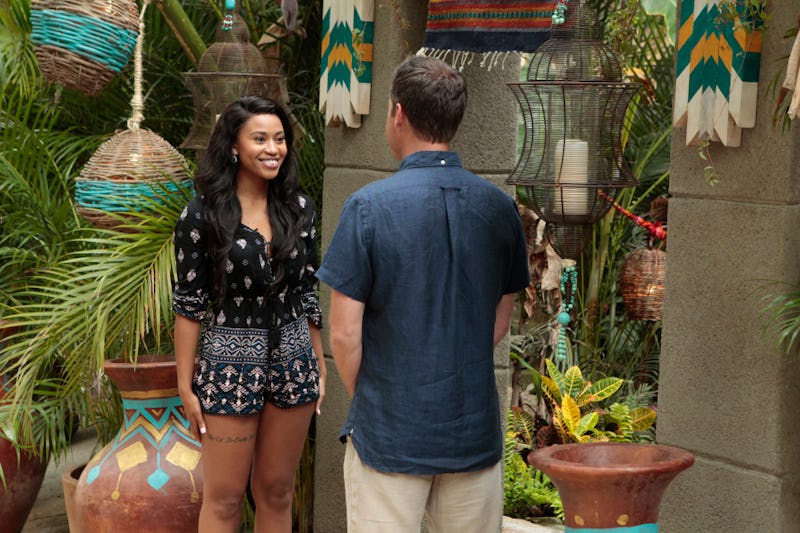 Jubilee Sharpe never really got a fair shake when it came to Ben's season of The Bachelor, but her second chance is about to arrive since Jubilee is on Bachelor in Paradise for Season 3. The tough, but vulnerable Bachelor contestant was someone most Bachelor fans wanted to see on Bachelor in Paradise and that dream is coming true for Season 3. But beyond her search for love, what else has this war veteran from Florida been doing?
Jubilee's time on The Bachelor was complicated with some great moments with Ben, mixed with some of the women in the house ganging up on her. She had opened up to Ben about her devastating childhood with her family dying in Haiti and her being the sole survivor and adopted by an American family. Yet, after this emotional confession, she was eventually sent home by Ben when he didn't see their relationship going anywhere.
Since then, Jubilee has been showing a lighter side to her with her amusing Twitter account that features commentary on TV shows she's watching, beautiful pictures of her, and funny tweets about the depth of her devotion to Chipotle. From her social media, she seems to be having a happy and fulfilling time since The Bachelor, so before Bachelor in Paradise premieres on Aug. 2, see what Jubilee has been doing post-Ben Higgins.
Watching The Bachelorette
Jubilee and JoJo once competed for the same man, but now Jubilee fangirled out by tweeting about JoJo's Bachelorette season with some spot-on assessments.
Partnering With FabFitFun
Jubilee has become entrepreneurial since her time on The Bachelor showing just how smart she is.
Helping Others With Diff Eyewear
Jubilee is using her Bach Nation celeb status to help raise awareness for the company Diff Eyewear, which donates a pair of reading glasses to children in Africa for every pair of sunglasses bought. Plus, Jubilee used the promotion to explain the struggles of feeling like an awkward person — making her even more relatable.
Sharing Her Views On Social Issues
As one of the few black contestants to be a part of Bachelor Nation, I'm glad that Jubilee has been open on Twitter about the Black Lives Matter movement.
Cruising On Motorcycles
I never would have expected Jubilee to be a motorcycle girl, but this woman has a few surprises up her (nonexistent) sleeve.
Listening To Beyonce's Lemonade
Bachelor contestants — they're just like us!
Serving Our Country
In a perhaps less relatable Jubilee post for most people out there, she shared that she's still serving in the military as a Sergeant.
Getting Her Boxing On
You can't post such flawless selfies as Jubilee without working on your body. She shared that her preferred exercise is boxing, which helps explains her toned physique.
Adding To Her Family
Right before the premiere of Season 3 of Bachelor in Paradise, Jubilee shared that she understands the joy of pet ownership by buying two bunnies. From her caption, it appears that true love was easier to find with rabbits than from being on The Bachelor.
Trying To Find Love In A Hopeless Place
Speaking of finding love, Jubilee will be on Bachelor in Paradise starting Aug. 2 where there is sure to be some drama. Yet, I'm hoping she has a more successful time in Paradise than she did on The Bachelor.
Images: Rick Rowel/ABC (2)