This Is Where To Buy Kylie's Mini Matte Lipsticks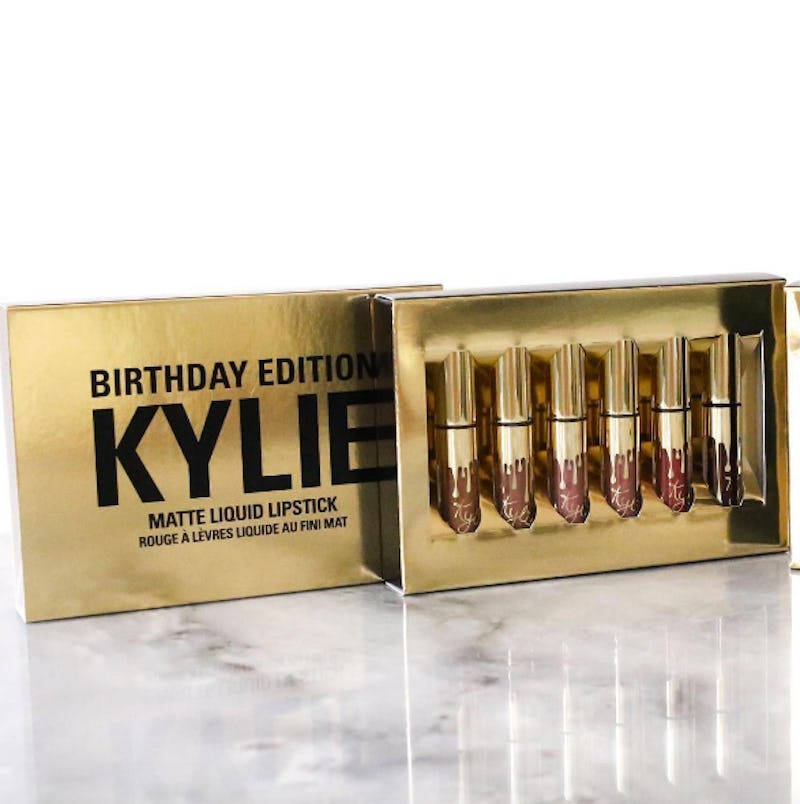 The world of liquid lipsticks is about to get a golden surprise. Kylie Jenner's Mini Matte Set will be available to purchase on Aug. 1. Now that you can finally get your hands around the hot new commodity, you're probably wondering where you can buy Kylie Cosmetics' Mini Matte Lipstick Set. Beginning at 3 p.m. PT time, the latest gem in Jenner's collection will be available exclusively on KylieCosmetics.com.
Jenner teased beauty fanatics on Snapchat with peeks into her "Birthday Edition" Collection on the afternoon of Jul. 31. And it looks like she pulled out all of the stops with this one. The Mini Matte Birthday Edition Set will feature six to-die-for neutral and transitional shades for $36.
If you haven't gotten a chance to snag them yet, fan favorites "Dolce," "Exposed," "Candy," and "Koko" will be included. Plus, Jenner's recent summer liquid lipstick "Kristen" will also be in the set. But the real star of the show is Kylie's "Leo" Matte Liquid Lipstick, the newest maroon lippie to join Kylie Cosmetics. You can already get a feel for the shade via an Instagram photo posted by Kylie Cosmetics in which Jenner is rocking her new baby.
If you think Jenner's launches have gotten out of control before, you better believe that the release of her latest collection will shut the internet down. I recommend having your browser ready to go 10 minutes prior and your card information already at your side. There will be no time for fumbling around when you're racing against the clock to bag these golden beauties before everyone else does. The Mini Set will only be available until Aug. 10 on Jenner's 19th birthday, so time is of the essence if you're hoping to add these to your beauty collection.
I have to hand it to Jenner, because this is the most freaking gorgeous packaging I've ever seen. If you're not quite ready to break the bank over the entire Birthday Edition Collection, I suggest going for the Mini Matte Lipstick set. It'll give you a taste of Jenner's best-selling lippies if you haven't snagged them already, and you can try the newbie out before splurging on the full-sized "Leo" Lip Kit.
Image: KylieCosmetics/Instagram (1)