How JoJo & Jordan Dated Post-'Bachelorette'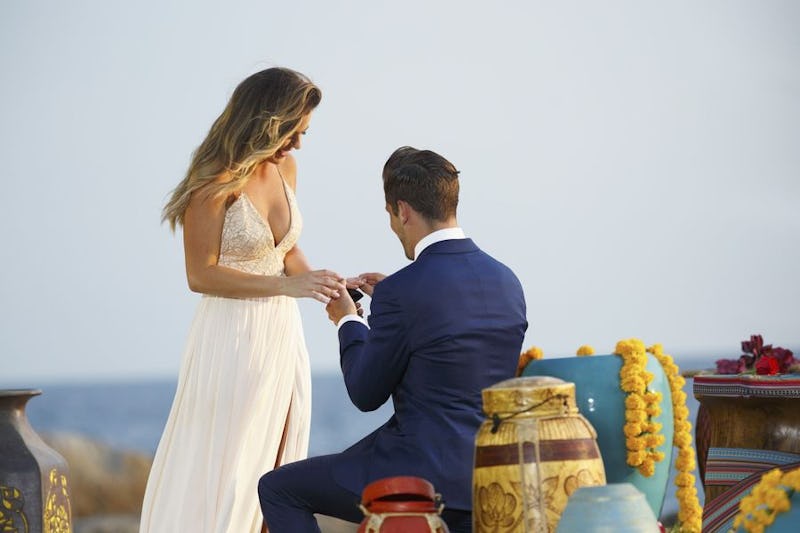 I've always thought that one of the hardest parts of being The Bachelorette — you know, besides having your every move scrutinized by literally millions of strangers — is having to hide your engagement for months. I mean, think about it: Someone you love just gave you a huge, sparkly ring and promised to spend forever with you, and you can't even tell the people you care about or post lame couple selfies on Instagram? Combine that with the fact that you also aren't allowed to go out in public with your new favorite person, and that sounds like total torture. But fortunately, it seems to have worked out well for JoJo Fletcher and Jordan Rodgers, and it's all thanks to their special weapon. Apparently, ABC let Jordan and JoJo use safe houses after Bachelorette filming to hang out in. Wait, what?!
During their appearance on Live With Kelly Tuesday morning (AKA less than 24 hours after they were finally able to make their debut as a couple to the world), Jordan and JoJo talked about what dating has been like while they've had to keep their relationship a secret. And fortunately, they haven't had to stay separated since filming wrapped earlier this year, because there are ways of being together that ABC has been holding out on us all these years.
As JoJo tells it, every few weeks, they were put up in a house for a weekend where no one would be able to find them and spoil the ending of the show (even though it always gets spoiled anyway). She didn't drop too many details, but it sounds like they were put in a different house each time and obviously couldn't leave and go anywhere together. So instead, they watched a ton of Netflix, including four seasons of Bates Motel. Is it just me, or does that sound like anybody else's dream vacation?
As far as I can remember, no former Bachelorette or Bachelor has talked about these houses before. Were they supposed to be a secret? Maybe this is something new they're doing. In any event, it sounds like a really nice thing for the network to do. After all, it's a favor to them if JoJo and Jordan are able to keep their engagement a secret, since it keeps their viewers guessing. Why not help them accomplish that goal?
And although the idea of safe houses sounds so fun, it does seem like Jordan and JoJo are thrilled to be able to live their lives in public without fear of getting caught together. And, like they said on After The Final Rose Monday night, they finally get to go to Chipotle together. And isn't that what real love is all about?
Image: Matt Klitscher/ABC