Aubrey O'Day's Insta Features A Lot Of Pauly D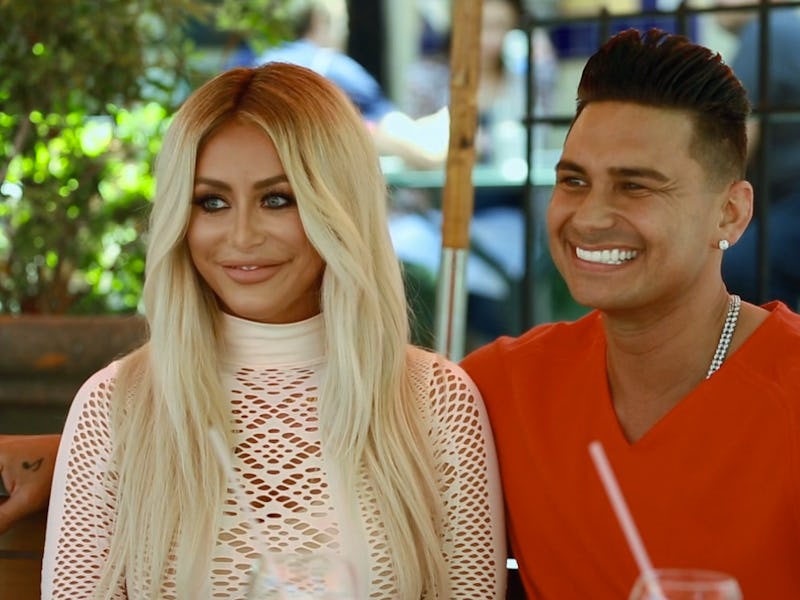 Aubrey O'Day and Pauly D have the E! show Famously Single to thank for setting them up, but while the series documented the pair first getting together, O'Day has used social media to continue highlighting their relationship. Whether O'Day and Pauly are still dating isn't always clear since their relationship appears to be pretty on-again, off-again, but you wouldn't know that from O'Day's Instagram account. The can't be said for Pauly since, according to People, shortly after Pauly deleted most of his photos of O'Day off of his Instagram, he posted a cuddly picture of them on Aug. 2. That was just in time for the Famously Single finale, so while Pauly's Instagram definitely leads to confusion of the status of their relationship, O'Day's seems to prove that this pair is still dating and very much in love.
During the Famously Single finale, relationship expert Dr. Darcy Sterling followed up with the couple to see if they were still going strong after they left the Famously Single house. Both looked to be super comfortable in their relationship with Pauly stating, "She's my person" and O'Day echoing the sentiment. They talked about moving in together, getting married, and having children (O'Day referenced having blonde Italian babies), so all seemed well.
However, before the show's finale aired, rumors were swirling that Pauly had broken up with O'Day without her even knowing it since she is in the UK filming their version of Celebrity Big Brother. This wouldn't be the first time they broke up and his recent Instagram photo of both of them would make it seem that they are back together again. Yet, if you want a less confounding view of their relationship, I recommend turning to O'Day's Instagram since the former Danity Kane member is much more unabashed when it comes to promoting their relationship.
Check out the below photos of the couple courtesy of O'Day and decide for yourself if you think this pair is going to make it.
Feeling The Vacation Vibes
O'Day and Pauly were recently vacationing in Mexico based on a series of selfies.
Being Adventurous
And the couple isn't afraid to get a little dirty on vacation either as shown by them going off-roading.
Promoting Their Show
The couple who stars on reality TV together, stays together.
Going On Date Nights
According to the caption of this photo, O'Day and Pauly have date nights every night.
Showing The Love
O'Day isn't afraid of making her love for Pauly known in public.
Being Marriage Material
The pair talked about marriage and kids on Famously Single and O'Day has been backing that up by frequently referring to Pauly as her "husband" in her Instagram captions.
Enjoying The Holidays
The pair spent Memorial Day together at Pauly's DJ residency at Rehab in Las Vegas.
Visiting Each Other At Work
Speaking of Pauly's DJing, O'Day sometimes joins him in the DJ booth.
Drawing One Another
Only a truly devoted couple would allow one another to draw portraits, amiright? They're just like Rose and Jack!
Saying Goodnight
O'Day shared this intimate photo of Pauly kissing her goodnight 11 weeks ago.
Saying Goodbye
Since O'Day has joined the UK's Celebrity Big Brother house, she said farewell for now to her "hubby" via Instagram.
While this celebrity pair seems almost destined to fail — especially with O'Day currently being in the U.K. — she has shown through Instagram that they've had plenty of good times throughout their relationship.
Image: E!