Anna Gunn's New Movie Couldn't Matter More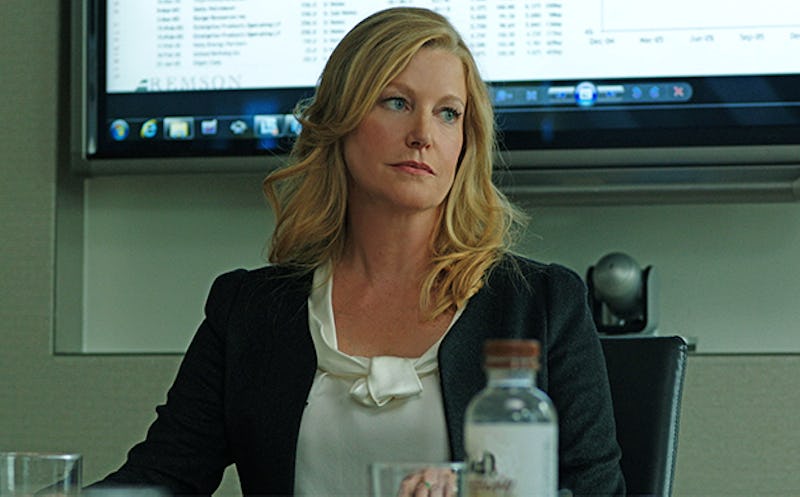 In the three years since Breaking Bad went off the air, actor Anna Gunn — who won two Emmy Awards for her performance as Walter White's beleaguered wife Skyler — tells Bustle that "roles for women [on cable television] have become much richer, they've become much more at the forefront of the storytelling, much more complex." But while the TV landscape may be changing and becoming gradually more diverse, Gunn says that she thinks the film industry has a ways to go to catch up — and that's why a film like her new Wall Street drama Equity matters so much.
"I think it's long past due that we have a story that's driven by women, financed by women, conceived, produced, directed, written … it's the first time I've ever been in that situation, certainly, and it's extremely refreshing," says Gunn, who stars as investment banker Naomi Bishop in the film. In light of the amount of attention received by recent male-dominated Wall Street films like The Big Short and The Wolf Of Wall Street, Gunn says that movies like Equity, which is directed by Meera Menon, are necessary. "It's also important to start telling stories where women are at the forefront of driving the storytelling," Gunn says. "And also that the focus of these women's stories in these films are really about their professional lives and their ambition and their success."
Reviews for Equity , which was released in theaters on July 29, have been strong, but Gunn is most excited about the movie's serendipitous timing; it came out the same week that Hillary Clinton was officially nominated as the first female presidential candidate of a major party in American history. "It's incredible timing. Her speech was extraordinary," Gunn says. "I think there are so many similarities there that we're dealing with in the film."
The actor pinpoints a moment where her character in Equity wonders why a deal fell through, and realizes that it comes down to the fact that "people on Twitter said they didn't like my dress." Gunn calls this "such a telling line," and argues that Naomi deserves the promotion she's pursuing in the film, regardless of what her online critics think. "She's had an incredible winning streak, she's a known commodity and a known name on Wall Street, she's worked 20-plus years to get where she is," Gunn says of her character. "It's not because she's a charming, sweet woman; it's because she has the intellect and the ambition and she's got the track record and she's got the qualifications and the smarts and all of that to back her up."
That's where the parallel to current events comes in. "It's the same as what we're seeing with Hillary Clinton," Gunn says. "It's not about whether or not you like her hairstyle or her choice of clothing a certain day ... I hope that we continue to teach our daughters and the women we help to mentor that it's OK to knock on the door. You have to keep knocking on the door, you have to keep moving forward, you have to keep asking for what you want, you have to go in there and get that promotion or pay raise or whatever it is."
You hear that? Skyler White herself has officially given you permission to become "the one who knocks."
Images: Sony Pictures Classics