When You Should Use Instagram Stories Vs. Snapchat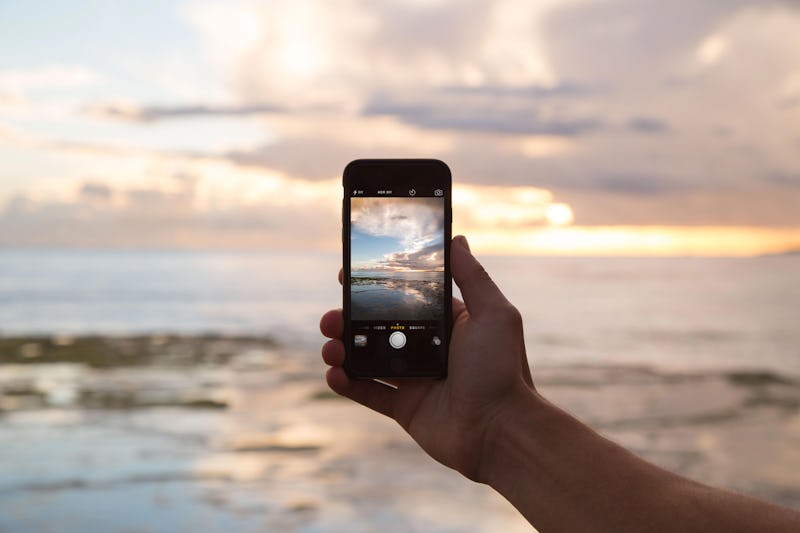 It was the blog post heard (or, well, read) around the world: On Tuesday, Instagram unveiled its brand spankin' new Stories feature, which allows users to post their favorite photos and videos in a slideshow that disappears after 24 hours. If the idea doesn't seem all that brand spankin' new to you, that's because it isn't, really — Instagram pretty clearly drew inspiration from Snapchat for the feature, leaving many users wondering when to use Instagram Stories instead Snapchat itself.
It's a tough question. Instagram Stories are quite similar to Snapchat's ephemeral hallmark, which has been around for several years; on both versions, you can add text and draw directly onto photos or video before adding it to your Story (or, in Snapchat's case, sending it as a Snap). Instagram Stories even have color filters, although Snapchat still appears to have the monopoly on ever-popular lenses. Instagram CEO Kevin Systrom told Tech Crunch that Snapchat "deserve[s] all the credit" for the idea, but he added that it's about how the concept is used rather than who came up with it first. "This is about a format, and how you take it to a network and put your own spin on it," Systrom told Tech Crunch.
Considering how popular Instagram Stories have become over the last few days, he appears to be correct. Many have pointed out that Instagram's version is simpler to use, and unlike Snapchat, Instagram has a built-in sense of community that makes you actually care about other users' Stories. Fortunately, you don't have to choose between Snapchat and Instagram Stories. You can post to one, the other, or both; it just depends on what you're trying to convey.
So, although it's by no means exhaustive, here's a handy guide to posting Stories on Instagram versus Snapchat.
1. If You Took A Good Selfie...
Post to Snapchat.
Hear me out on this one. Snapchat may be known for the kind of selfie wars in which the victor is the one with the most chins, but it doesn't have as many filters as Instagram. Ironically, you might want to save your #nofilter selfies for Snapchat, where there are fewer options to disguise the fluorescent red sunburn you acquired on vacation. (But only if you care about that kind of thing — if not, more power to you.)
2. If You Want To Show Off A Little...
Post to Instagram.
Snapchat's community, so to speak, is a little lacking. Unless they're a celebrity or you know someone's contact information, it's difficult to find new people to follow. In contrast, Instagram makes it easy to find interesting people (or cats) who you wouldn't meet otherwise; while your Snapchat followers may be mostly friends and family, your Instagram followers probably include a fair number of strangers who think you're interesting. If you're having the kind of day you want to brag about to strangers, post to your Instagram story.
3. If You Don't Care Who Screenshots It...
Post to Instagram.
Snapchat still notifies you when someone screenshots your posts, whether it's a Chat or a picture in your Story. Instagram doesn't have this feature, so only post to your Instagram Story if you don't care who sees (and maybe saves) your content.
4. If You Can't Get Enough Of Lenses...
Post to Snapchat.
If you're a fan of face-swapping, stick with Snapchat — it's still the only place to find lenses (for now).
5. If You're Resisting The Urge To Insta-Spam...
Post to Instagram.
Until recently, spamming was far more encouraged on Snapchat than it was on Instagram. The former is more of a stream-of-consciousness, while Instagram tends to be the place you post the artsy highlights of your week. With Instagram Stories, however, you can spam to your heart's content — the content doesn't show up on your profile grid or in the main feed (you have to tap someone's profile picture to see any available stories), so if they're stuck watching 15 videos of your cat drinking from a faucet, it's by their own choice.
6. If You're Intoxicated...
Don't post to either.
Do yourself a favor and put your phone on airplane mode anytime there's more than two glasses of wine involved.
Images: Jordan McQueen/Unsplash; Giphy (6)