Now You Can Experience 'Stranger Things' Yourself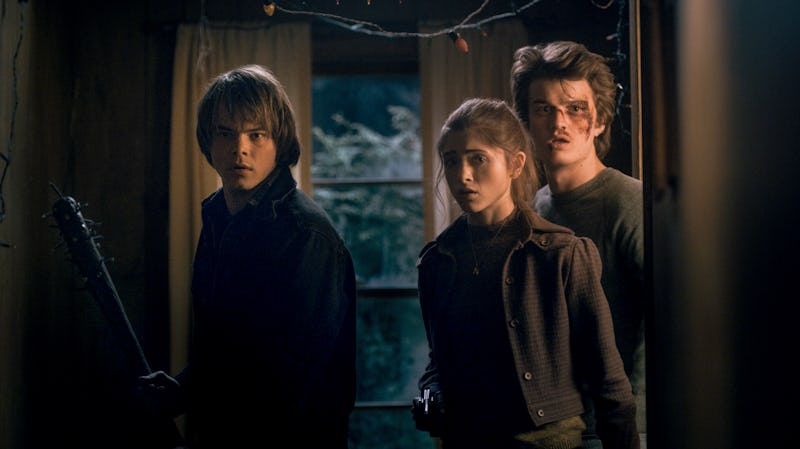 Whatever formula Netflix is using to make their original programming so great sure is working. So far, the streaming service has tapped into their subscribers' love of dark political thrillers (House of Cards), diverse and complex female characters (Jessica Jones), quirky Tina Fey-scripted comedies (Unbreakable Kimmy Schmidt), and Marvel superheroes (Daredevil), all to great success. Now, in a year that is seeing the resurrection of Pokémon, The X-Files, and Power Rangers, they've also tapped into our heavy sense of nostalgiaand brought us the '80s-themed sci-fi series Stranger Things . And if those eight terrific episodes weren't enough for you, now there's a Stranger Things virtual reality experience, so you can live through the events of the show yourself.
That's great news, because somehow — mystifyingly — Netflix has yet to renew Stranger Things for Season 2. Even though the show proved to be the most well-reviewed and buzzworthy program that Netflix put out since Marvel's Jessica Jones debuted almost a year ago — and despite the fact that creators Matt and Ross Duffer have already stated they have plans for a "sequel" — the streaming service has been slow to officially announce that the series will return.
The premature end of Stranger Things is a terrifying thought… which is why it's a good thing they've put out this virtual reality experience, to terrify us even more and kill time while we wait for word of the show's renewal.
The experience is optimally designed to be viewed with a Google Cardboard headset — but if you're like me and don't happen to have one of those lying around, your computer or your phone will do just fine, even if it won't be quite as immersive. Essentially, the video plops you down in the Byers house right in the middle of a version of one of Season 1's scariest scenes, as Joyce contacts the missing Will via impromptu Ouija board… and promptly receives the command to "RUN" as the monster pops through her wall. (If you need a refresher, or a good fright, you can watch the scene in question above.)
The video isn't a direct translation of that scene, because then you would know what was coming and where's the fun in that? Rather, the experience riffs on it in ways that will unsettling you and keep you scanning the corners of the screen for things that go "bump" in the night. I won't spoil it for you, but turn off the lights, pull up the video full-screen, and experience the world of Stranger Things for yourself… if you dare:
Hopefully, while Netflix keeps us in suspense about the future of the show, they'll release even more fun videos like this. I can just imagine a series of these virtual reality experiences that take us from the creepy Hawkins Laboratory, through the portal, and into the haunted world of the Upside Down. There are bound to be plenty of mysteries to explore in that parallel dimension, right? Let the games begin!
Images: Netflix