You Should Root For This 'BiP' Couple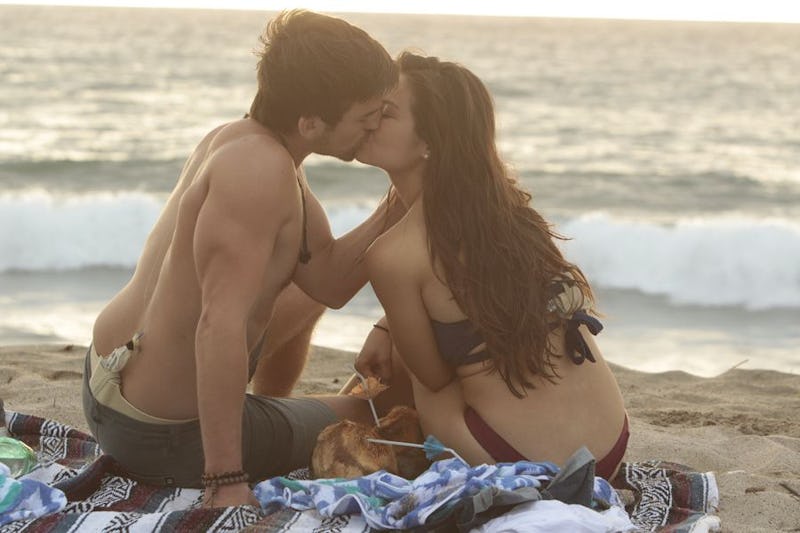 Season 3 of Bachelor In Paradise is officially underway and we have a whole new crop of romantic hopefuls to root for. If you remember, Jade Roper and Tanner Tolbert set the bar extremely high last season by immediately pairing off and eventually getting married. Those two seem to be everyone's #goals, and most of the women on the first episode of this season actually vocalized that they came to the island looking for something like what Jade and Tanner had. It was actually super exciting to watch those two fall in love during the entire season and I am so hoping we get another amazing story out of this one. So, who will be the couple to root for this season of Bachelor in Paradise? Well, judging from the previews of who will be pairing off this season, I am gunning for Caila and Jared.
These two almost seem destined to come together, right? They are pretty much a perfect fit. They are both adorable and sweet as pie. Caila had a really rough exit from Ben Higgins' season when he took her to the Fantasy Suite and then cut her loose the next day. Jared was known as the object of Ashley I.'s affection (and sometimes obsession) last season on Bachelor In Paradise. They both deserve a fresh start and a new romantic partner. BiP could be the start of something great for them for these reasons.
They Are Both New Englanders
Caila hails from Boston, while Jared is straight out of Rhode Island. Us East Coasters stick together!
They're Active
These two clearly love sports and the outdoors. Also, they are both paddle boarding. That's love. That's destiny.
They Both Have Amazing Hair
I mean, come on. That's a lot of luxurious hair to manage and you might as well manage it together. #HairGoals.
I think the two of them together is a match made in heaven. The only feasible issue I see arising is in the form of Ashley I. It seems like she will not be super psyched to allow Jared to be with another human. There is sure to be drama surrounding this relationship, but I am hoping that they can work it out. They both deserve each other.
Images: Rick Rowell/ABC