Hear Meryl Streep Sing Badly In 'Florence'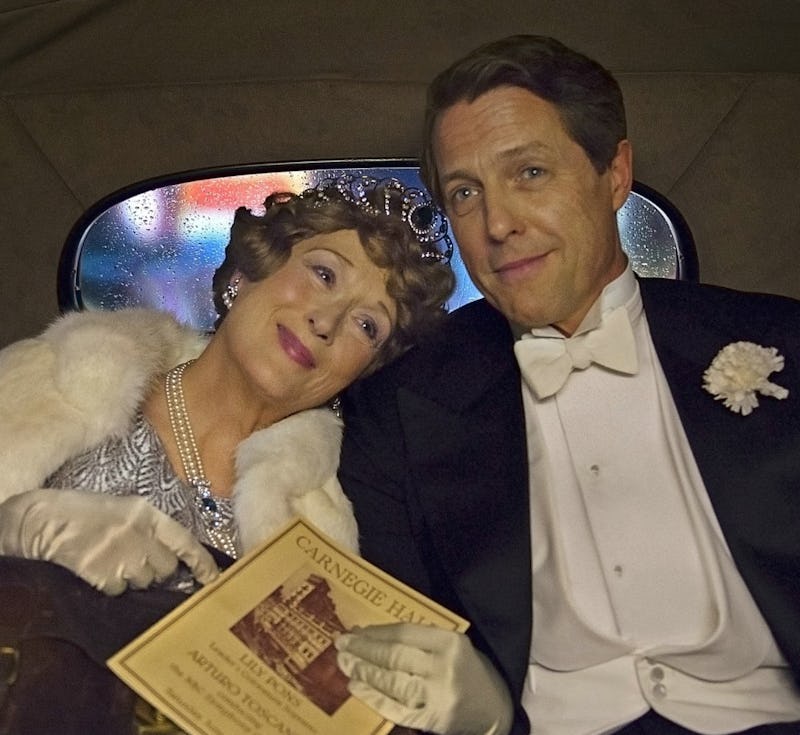 It's only suitable that a movie about a singer would have an outstanding accompanying soundtrack, and the soundtrack to Florence Foster Jenkins is just that. The new film features Meryl Streep as the real-life titular character, and the star lends both her acting ability and vocals to the role. The movie depicts the life of Jenkins as she obsessively and compulsively strives to achieve her dream of becoming an opera singer, despite her lack of actual singing ability. Also starring Hugh Grant and Simon Helberg, the film features Streep's singing as Jenkins in more than five songs, making the soundtrack to Florence Foster Jenkins an absolute must-listen.
Luckily, in this day and age, it's pretty easy to find any music you desire. The first place you'd be able to find the Florence Foster Jenkins soundtrack is on Amazon. You can buy the Audio CD here once it's released on Aug. 12 for $17.13. At this time, it doesn't seem that Amazon has the soundtrack available for streaming purposes, but perhaps that'll change. You can also find the album on iTunes, which has the entire soundtrack for $7.99, and I'd say that's a pretty great price for a 28-song collection. And while it's not yet featured on Spotify, it should be available for streaming after its release.
Now, while listening to the soundtrack, you might be a bit shocked by what you hear. After all, Florence Foster Jenkins is a film about a woman who couldn't sing, but did it anyway. That means that Streep had to... well... sing badly. On purpose. I mean, Streep has played both The Witch in Into the Woods and Donna in Mamma Mia, plus, she sang her heart out in Ricki and the Flash — and yet she's forced to sing terribly for Florence. It's so convincing that you'll forget she's actually a more than capable singer. Here's Streep singing "The Last Midnight" from Into the Woods.
Now, let's compare that incredibly sung Sondheim number with this audio clip from Florence Foster Jenkins where Streep sings "Die Fledermaus" as Jenkins.
It's easy to hear that Streep definitely took some lessons on how to sing badly. And I think she does a pretty great job of it. But Florence Foster Jenkins isn't about the lack of singing talent so much as it's about following your dreams, even when people doubt you, which is pretty beautiful. So whether you're into CDs, iTunes, or Spotify, there will be a way for you to listen to the Florence Foster Jenkins soundtrack and embrace the beauty that is its titular heroine.
Images: Paramount Pictures; Giphy