Sarah & Daniel May Leave Their Love In Paradise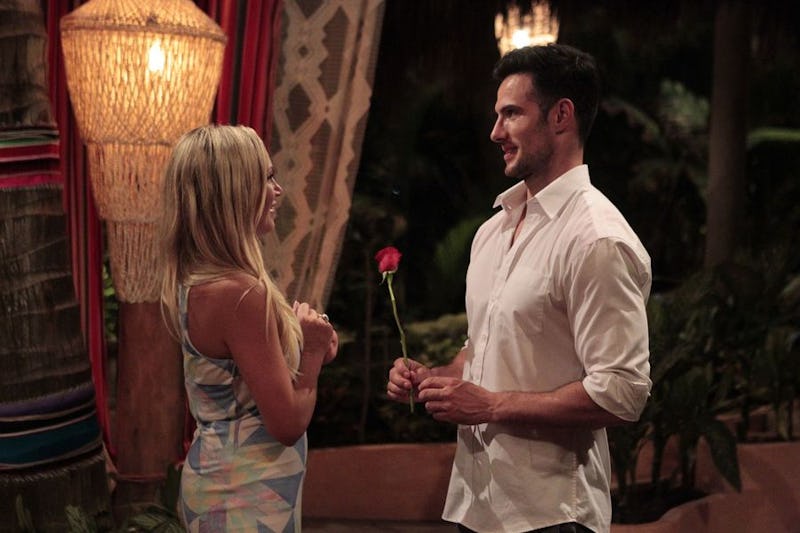 The first two episodes of Bachelor in Paradise Season 3 have already been an incredible roller coaster ride. While the season premiere mainly focused on "Hurricane Chad," the second episode has gotten into what paradise is all about: love, and the "gimme dat rose" mentality. In episode 2, Daniel gave his rose to Sarah because he felt he shared a genuine connection with her that he hoped to explore further. So, are Daniel and Sarah still together after Bachelor in Paradise ? I have a better question: Do they even last through Episode 3?
If I had to wager a guess, I'd say the answer to both questions is, "No." First off, though, let's take a look back at Sarah and Daniel's brief flirtation. They didn't seem to interact much prior to the first rose ceremony — he certainly didn't stand up for Sarah when Chad hurled insults at the former Bachelor contestant. But, during the cocktail party leading into the rose ceremony, Daniel concluded his "speed dating" with Sarah and the two seemed to hit it off (at least, more so than Daniel with any of the other ladies). So it wasn't a complete surprise when he gave her his rose — even though I'm still convinced it had more to do with Daniel distancing himself from Chad than anything else.
Still, although Daniel assures Sarah that he's intent on getting to know her better and exploring their connection (and, of course, getting her rose), the preview for Episode 3 of Bachelor in Paradise reveals there will already be trouble in paradise for these two when Christian, from JoJo's recent season of The Bachelorette, arrives. When Lace asks if Sarah thinks Christian is cute, she responds, "Yeah, he's hot." Plus, Sarah and Christian can be seen going on a (really fun looking) ziplining date, and sharing a kiss.
Of course, a little competition with Christian doesn't scare an eagle like Daniel, but I've done some digging into both Sarah and Daniel's social media to see if there are any hints as to how this triangle plays out in paradise. Although Sarah tweeted about Daniel giving her the rose during Episode 2, saying "Daniel. Damn. What a guy," neither Sarah nor Daniel have posted any pictures of the two of them together.
Now, that wouldn't normally be totally suspect since ABC stresses secrecy surrounding its Bachelor series. But, both Sarah and Daniel have posted photos with their fellow Bachelor in Paradise cast mates, which makes it seem like they haven't interacted at all after filming wrapped. Considering other Bachelor in Paradise Season 3 couples haven't been able to hide their post-show romances, it's not looking good for Sarah and Daniel.
So, Sarah and Daniel are either still together and very, very good at keeping it secret or — what I think is more likely — they aren't together. In fact, I'd go so far as to say they probably break up in Episode 3 and I suspect Sarah gives her rose to Christian during the next ceremony. Sorry fans of Sarah and Daniel, it looks like this Bachelor in Paradise romance burned twice as bright and lasted half as long.
Images: Rick Rowell/ABC