This 'Sausage Party' Cameo Is Perfection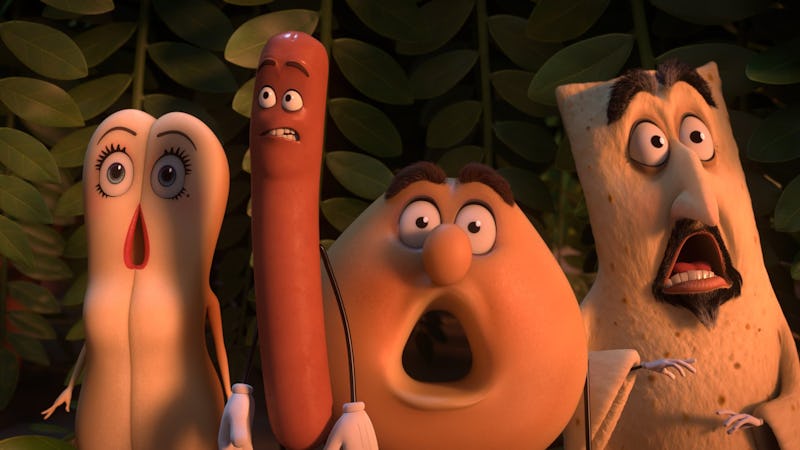 I have to admit, when I first saw the trailer for Sausage Party, I was horrified. Then I watched it again and couldn't stop laughing. Of course Seth Rogen and Evan Goldberg (the team behind the incredible Superbad) would conceptualize a filthy, dirty, MPAA nightmare about food. It's completely, utterly genius. There are so many great food-related jokes they could make, not to mention it must have been so much fun to come up with personalities and backstories for characters like, say, a jar of mustard. The possibilities for Sausage Party are endless. Which is why it's not much of a surprise to find out that meatloaf, the food, has a bit of a fun karaoke moment in the movie, singing (what else?), "I'd Do Anything For Love (But I Won't Do That)". The song, of course, was made popular by the singer Meat Loaf, and so it's a bit of an inside joke for audiences — especially because it's actually Meat Loaf who sings in Sausage Party .
Yes, really. The notable singer does indeed provide the vocals for the animated meatloaf in the new movie. It's quite genius, honestly. But more importantly, how did Rogen manage to convince the famous Meat Loaf to lend his voice to such a raunchy film?
According to Emily Rome of HitFix, at a Q & A after the Comic Con Sausage Party screening, Rogen revealed that he pitched the weird scene to Meat Loaf himself. And then, Rogen said, "there was just 20 seconds of silence, and then he said 'Yeah, I get it.'" It's lucky for fans that Meat Loaf did say yes because honestly, I don't know who else could have actually voiced meat loaf and sang that classic song.
In addition to "I'd Do Anything for Love (But I Won't Do That)" Sausage Party boasts an impressive soundtrack with classic hits like "Hungry Eyes" by Eric Carmen, "Wake Me Up Before You Go Go" by Wham!, and "Gone" by JR JR. So far, this movie is shaping up to be one giant music sensation.
And if you think Meat Loaf is the only heavy-hitter in the movie, you'll be surprised. The cast is stacked with the voices of Kristen Wiig, Jonah Hill, Michael Cera, James Franco, Bill Hader, Selma Hayek, Paul Rudd, and Danny McBride, just to name a few. Rogen leads this insane cast as Frank, the lead sausage. There is so much talent stacked in this movie it's crazy to think that they're all voicing different foods, of all things. But hey, I'm not complaining. There's no doubt with a cast like this, Sausage Party is going to be pure gold.
Images: Columbia Pictures; Giphy