'The Get Down' Cast Displays Their Artistic Skills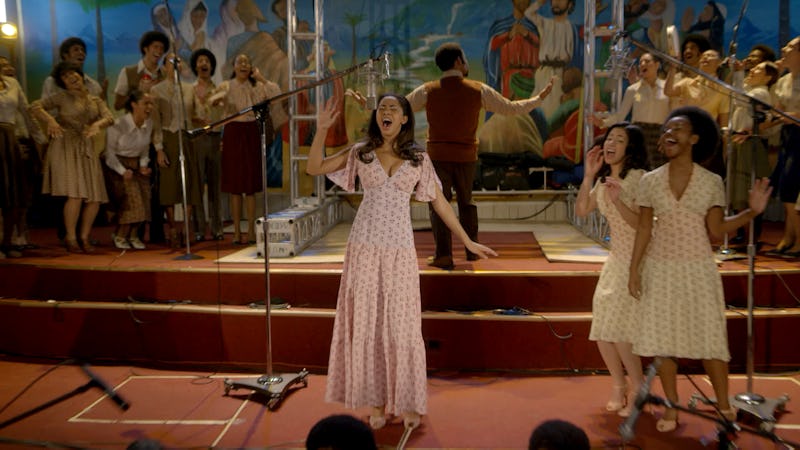 Baz Luhrmann proved with Moulin Rouge! that he can create a musical without it being your standard song-and-dance fare and he's doing it again with the Netflix series The Get Down, which focuses on the start of hip-hop in the 1970s. Because of the subject matter, the cast of The Get Down sings and raps in the series, but is it really the actors performing? The cast has a lot of relatively unknown actors, but that doesn't mean they aren't multitalented since based on their backgrounds, it appears they mostly provided their own raps. With songs written by Nas and Grandmaster Flash as a producer, the young cast of The Get Down had a lot to live up to and when the first half of the series premieres on Aug. 12, you'll see that they delivered.
Moulin Rouge! is still one of my favorite movies and besides loving the cinematography and story line, I was blown away by how musically talented Nicole Kidman and Ewan McGregor were. Although they were both already established movie stars, I had no idea what great singers they were. While you may not be familiar with the cast of The Get Down — like you inevitably were with Kidman and McGregor — you'll still be surprised with the wide range of talent that these young actors display. And while some of the cast had previous experience with rapping, singing, or dancing, others were completely new to it.
For example, Hamilton 's Daveed Diggs portrays the adult version of lead character Ezekiel "Books" Figuero. He rap narrates the series, but Bustle has confirmed that while Diggs portrays the older Zeke, aka Mr. Books, those vocals and lyrics are actually done by Nas. On the other side of the spectrum, Tremaine Brown Jr., who portrays Boo Boo Kipling, is an unknown who you should expect to hear rap. The teenager used to perform his raps on the New York City subway and was discovered when a casting director for The Get Down approached him on the train, according to an interview Brown Jr. gave to the New York Post.
While those are two extreme examples of experience, the rest of the actors fall somewhere in between. But no matter their experience level, everyone needed practice to master the 1970s style of rapping and singing. In order to prepare, actor Justice Smith — who plays the younger Books — told Interview that the cast trained with some classic hip-hop and rap artists. "We had rap classes with Kurtis Blow, Rahiem from the Furious Five, and Grandmaster Flash," Justice said. "They would teach us how to move and rap, and the difference in intonation and cadence from early rap to modern rap." In the series, Books is a poet with a knack for beats and rhymes, so it was essential that he learned from the best for his role. Amusingly enough, when Interview asked if he could rap now after filming the series, Justice said he can only do it with Books' South Bronx dialect.
Another starring character in the series is Shaolin Fantastic and the actor behind him actually is fairly well versed in the art of rap. While Shameik Moore is more known for acting in the film Dope, the man behind the character Shaolin has already recorded some of his own music, including the seven-song EP 30058. You can download most of Moore's music on his website, but he also released a mixtape in 2012 called I Am da Beat , which is not available on the artist and rapper's site.
Moore isn't the only actor in The Get Down to have already recorded his own music since Jaden Smith has released music throughout his young career. With parents like Will and Jada Pinkett Smith, it's not too shocking that Jaden has recorded two mixtapes and collaborated with Justin Bieber. His latest foray into music was 2015's This Is the Album, which featured his song "Scarface."
Of course, rapping and singing ability is integral to the actors' roles in The Get Down, but they also have to be able to move. Disco still reigned in 1977 and the character whose moves you'll be watching is Cadillac, portrayed by Yahya Abdul-Mateen II. Abdul-Mateen II does his own dancing, but confessed to Esquire, "I never had any training. The first dance I ever learned was for the show, and it was the Saturday Night Fever dance." And as his moves will prove, sometimes you just can't deny raw talent.
And I can't ignore the women in the cast even if they are outnumbered by the men. Herizen Guardiola's Mylene is a highlight of the trailer for the series as she is shown transforming from her church robes to become a disco diva and Guardiola is a true triple threat on and off screen. As she told InStyle, "Music has always been my first love" and it runs in her veins since her father is a reggae musician — she even used to sing backup vocals for him as a child. She auditioned for The Get Down by singing "Falling" by Alicia Keys and prepared for Mylene by watching videos of '70s icons like Donna Summer and Diana Ross.
Even though The Get Down is tonally different from Moulin Rouge!, I anticipate that like in Luhrmann's film, the musical performances will be the highlight of his new series. Whether the actors have been singing and dancing their whole lives or just somehow mastered the arts on set, one thing is for sure — this cast is outrageously talented, so don't expect anyone else to be subbing in for their heartfelt performances.
Images: Netflix (2); ripleys/Tumblr (2); Caitlin Gallagher/Bustle