We're Getting Our First Major Gay Superhero Soon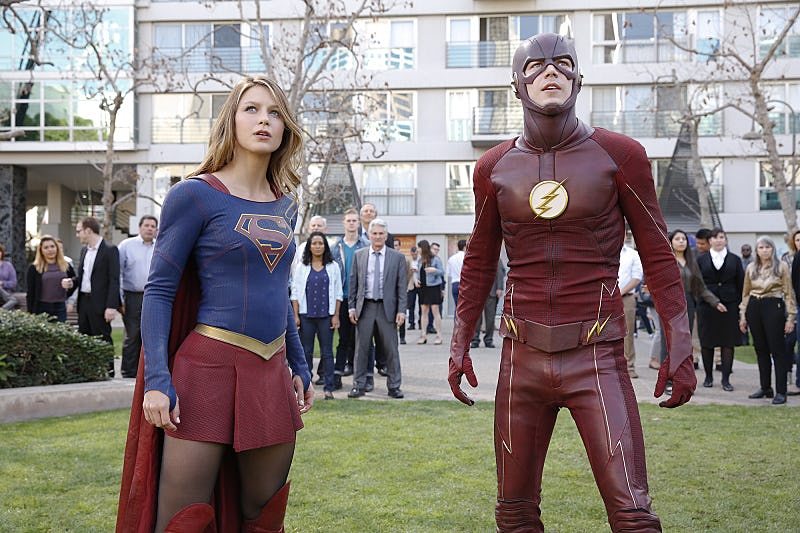 It's a bird, it's a plane… it's the world's first gay superhero! Although comic books have contained LGBT characters for decades, the feature film and television adaptations of those comics have taken a while to catch up. Neither the Marvel Cinematic Universe nor the DC Extended Universe have featured a single queer character in any of their movies; even in their TV shows (which contain LGBT characters in supporting roles, like Jessica Jones' Jeri Hogarth, Marvel's Agents Of S.H.I.E.L.D.'s Joey Gutierrez, Arrow's Canary, and The Flash's Pied Piper) still, neither franchise has ever had an LGBT hero headline their own series… until now. According to TVLine, gay DC hero The Ray is joining The CW's Arrowverse with his own show in 2017 — but there's a catch.
First of all, who is The Ray? First introduced in 1940, The Ray was originally a reporter named Langford "Happy" Terrill who was exposed to a "light bomb" that altered his genetics and gave him the power to store sunlight and process it into energy that he can use to shoot at his enemies, fly, or build solid objects from nothing. However, per TVLine's report, The CW's take on the superhero will actually be based on the version in Grant Morrison's Multiversity series from 2014-'15, in which The Ray is an out gay man named Raymond Terrill who is part of an Avengers-like group of heroes called the Freedom Fighters, led by Uncle Sam and containing the likes of Black Condor, Phantom Lady, and Doll Man.
This is where the catch comes in. Although the upcoming series, officially titled Freedom Fighters: The Ray, will be the sixth show to join The CW's DC multiverse (after Arrow, The Flash, DC's Legends Of Tomorrow, Supergirl, and Vixen), it won't actually be airing on The CW… nor will it even be live-action. Rather, like Vixen — which completed its first season last September and will be coming back for a second this fall — The Ray will be an animated half-hour program streaming on the network's online platform, CW Seed.
However, that doesn't mean The Ray will never cross over with the rest of the Arrowverse. Plenty of CW stars like Stephen Amell (Arrow), Grant Gustin (Flash), Katie Cassidy (Black Canary), and Brandon Routh (Atom) have guest starred on Vixen, voicing animated versions of their live-action characters; and Megalyn Echikunwoke, who voices Vixen, appeared as a live-action version of her character on a Season 4 episode of Arrow last February. So it's reasonable assume the same possibilities exist for The Ray; although the role of Ray Terrill is yet to be cast, Vulture reports that "the network said it is looking for an actor to both voice Ray in the Seed series and play him on TV."
The Ray represents the fulfillment of a vow for executive producer Greg Berlanti, who developed all of the The CW's Arrowverse shows. Speaking to The Advocate last year about his commitment to diversity, the showrunner — who is an out gay man himself — made this promise:
The next step is to add a regular character, not just a recurring one, who is openly gay on the next round of these shows, because I think that's important and I'd like to do that in the next year. I can remember when there were storylines with gay characters on shows like Family and Dynasty and thinking, 'I have something in common with that person.' This was way before the internet and all the visibility that has brought with it. But back then, you really felt alone and when I saw those characters on TV, I knew I wasn't alone.
In an interview with Comic Book Resources in January of 2015, Vixen producer Marc Guggenheim (who will also produce The Ray) stated that he'd love to see his animated series transition to The CW someday. "I would love to be in a position where CW said to us, 'Hey, we want a Vixen live-action show,'" he said. "That'd be wonderful. We'll have to sort of see how things play out." Hopefully the same holds true for The Ray; if it does well enough on CW Seed, the network should seriously consider letting it make the jump to The CW proper.
A gay superhero during primetime on a broadcast network? Now that would be truly groundbreaking.
Images: Robert Voets/The CW