Bridgette Talks Living With 'BB18's Paulie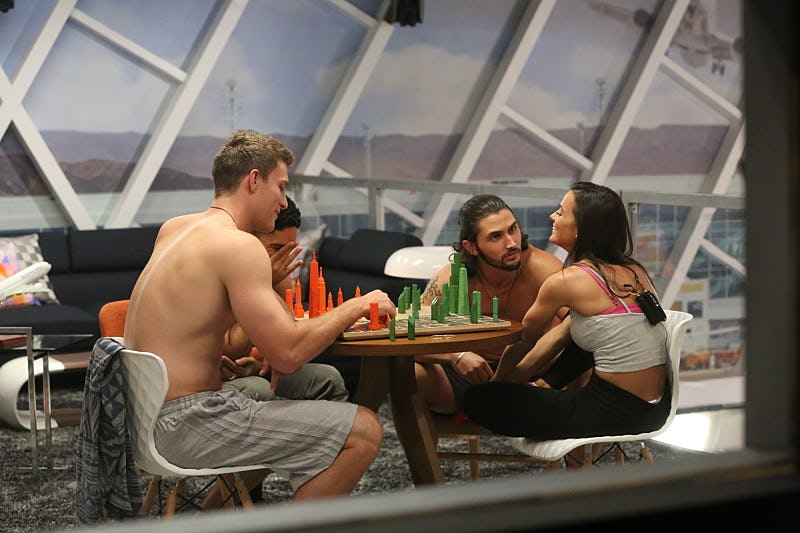 Like many feminists, I am particularly sensitive to the smell of misogyny. I can sense it a mile away these days, so it's no wonder that, during this season of Big Brother, my nose has been working overtime. From inappropriate comments about the female contestants' bodies to calling out the ladies in the house for being "emotional," the Big Brother 18 house is definitely becoming male-dominated in a way that makes me pretty uncomfortable. But, it's not just hard for a viewer like me to watch; according to recent evictee Bridgette, it was hard inside the house, too. In an email interview with Bustle, Bridgette addressed the animosity towards Paulie that contestants like Michelle, Natalie, and Bridgette herself displayed on Thursday.
"I can only speak for myself when I say towards the end of my stay in the house, the atmosphere felt a little threatening. Paulie, in particular, did his best to frighten, intimidate, and threaten myself, Natalie, and Michelle… three out of the five women in the house. It was definitely uncomfortable. It may have hurt my game play but I am absolutely proud of the three of us for standing up for ourselves and not backing down. I wouldn't change anything."
Now, those are some big accusations to be throwing around, and Paulie can't comment on the claims since he's still secluded from the outside world while playing the game. It's important to remember that every story has two sides, and we're just hearing Bridgette's here. But, Big Brother does have cameras on the houseguests at all times, and there have been some moments caught on camera that have angered BB fans and houseguests alike.
Initially it was Natalie who took issue with Paulie, saying she felt it was inappropriate for Paulie to be in a showmance with Zakiyah, but then allegedly flirt with other women in the house. Paulie denied that he was flirting, and when Paulie found out that Natalie told Zakiyah about her claims, he said that Natalie was acting like a "Jersey girl."
When Bridgette asked what Paulie meant with the comment, Paulie said, "I was relating her fake boobs to her fake personality."
During a meeting with several houseguests in the HoH room Thursday, Natalie also claimed that Paulie sometimes makes her uncomfortable. "No other guy in this house makes me feel that way," she added.
Paulie was defensive throughout the conversation, and took issue with several things Natalie said. "When you use words like 'uncomfortable' and 'attacking'... don't try to play the victim, sweetheart," Paulie told her. "The only reason you haven't been on the block every week is because of [James], and you don't even appreciate what he does for you in this game."
The fight was rather heated, and Bridgette was there for the whole thing, so it stands to reason that the day's earlier tensions towards Paulie were on her mind as she exited the house on Thursday. Will these tensions affect her vote come finale night if Paulie makes it to the end? We'll just have to keep watching to see.
Catch an all-new episode of Big Brother Sunday at 8:00 p.m. ET.
Image: CBS (2)