El Diablo Could Bring His Fire To A 'Squad' Sequel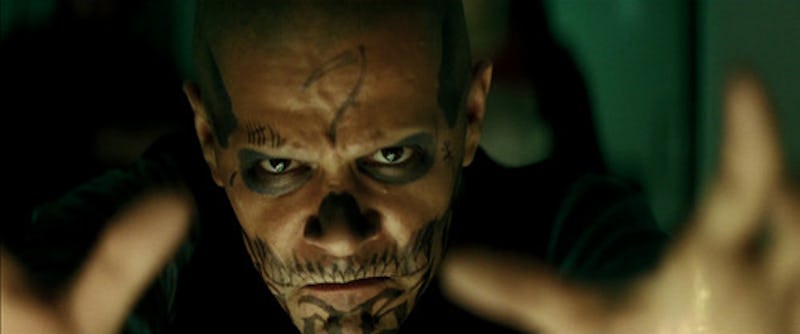 Suicide Squad continues to dominate the late summer box office, as legions of fans have flooded theaters to catch their favorite bad guys doing some good. Harley Quinn, Deadshot, and the Joker all have plenty of admirers, but the film's lesser-known characters are drawing praise as well. One of the most popular has proven to be El Diablo, the pyrokinetic former gang member with a heart of gold. Spoiler alert: The character sacrifices himself in one of the film's most devastating moments, but fans are wondering if El Diablo is really dead, or if there's a chance Diablo will return for a Suicide Squad sequel.
As far as anyone knows, El Diablo is indeed dead. However, the way his death came about does seem to leave some wiggle room. When he sacrifices himself, he does so by essentially turning into some kind of ancient fire demon. This means there were supernatural circumstances surrounding his demise, and any follower of comic books knows that when ancient deities are involved, all bets are off. Plus, there's one significant person who is holding out hope that fans haven't seen the last of El Diablo: The actor who portrays him, Jay Hernandez. Here's what he told Comicbook.com about his character's death.
"I didn't know that's how the end was going to happen, early on ... For me, it was important to make it good, make it impressive, and to go out in a blaze of glory. Ultimately, I think it worked, I think it was a nice way to give some meaning, some sort of emotional weight to the end of the film ... Of course there is [a chance he could come back]! I'm not saying anything, just that it's a possibility."
So in spite of his meaningful death, Hernandez isn't dismissing the chance that El Diablo could return in a future DCEU film, and neither should you. After all, the DCEU has already shown that dead doesn't necessarily mean dead for good. Superman dies at the end of Batman v Superman, but it's already well-known that he'll somehow come back to life for Justice League (and for the just announced Man of Steel 2 ).
Even though there's been no announcement that El Diablo will return in a Suicide Squad sequel (or an announcement of a Suicide Squad sequel, period), that doesn't mean it won't happen. If the Squad returns for another go-round, there's a good chance El Diablo could resurface in yet another blaze of glory.
Images: Warner Bros. Pictures; Giphy