Here's What Went Down With 'BiP's Jen on 'Bach'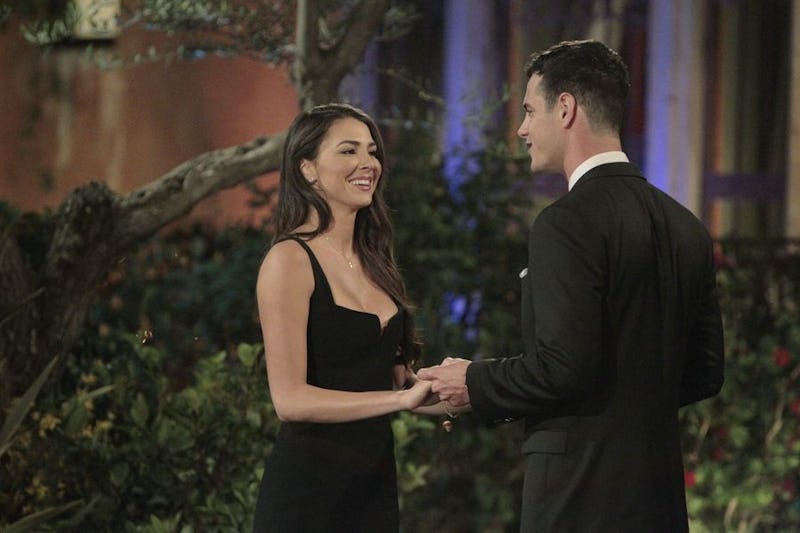 Now that we're well into the swing of things on Bachelor in Paradise Season 3, new contestants are showing up each episode and if Chris Harrison's reaction (as well as the reaction from everyone in Bachelor Nation) is any indication, not all the newbies are easily recognizable. Or, even if they are, some of us may find it difficult to keep all their history in ABC's dating franchise straight. So, with the arrival of new Bachelor in Paradise contestant Jen Saviano, let's take a look back at her history. Here's what happened to Jen on Ben Higgins' season of The Bachelor earlier this year.
If you don't quite remember Jen from Ben's season, it's probably because she hung out around the middle of the pack of contestants; she wasn't as controversial as Jubilee or Olivia, but she also wasn't necessarily a frontrunner like Lauren B. However, she did have the honor of being Ben's first official kiss on Season 20 of The Bachelor — that is, of course, if we're discounting Lace's kiss immediately after exiting the limo and introducing herself. Ben and Jen's kiss was during the first group date in which The Bachelor forced all the women to go back to high school (which is an actual recurring nightmare of mine).
Unfortunately, after that first group date, Jen sort of faded into the background. She never received a one-on-one date, though she was asked on a number of group dates. Jen went on the talent show date in Las Vegas (where she hit some tennis balls as part of the montage of talents), she was on the losing team of the soccer date, and she participated in the cooking date in Mexico City before being eliminated at the following rose ceremony.
Honestly, for most of the season Jen was simply overshadowed by other things going on. Even the rose ceremony in which she was sent home — which featured a cliffhanger ending — was focused on Olivia and many of the women coming clean to Ben about Olivia's interactions with the other contestants. So, we didn't really get to know Jen as well as some of the other ladies from Season 20, but she must have made it far in the competition for a reason.
Now, Jen is heading to Bachelor in Paradise , where it's already been teased she'll go on a date with Nick that will potentially be the start of a lasting relationship. Personally, I'm hoping we actually get to know more about Jen — which seems like a given since she'll get to go on her first one-on-one date! Still, it seems Jen may get the happily ever after (or at least the attention) she didn't get during her time on The Bachelor once she arrives on Bachelor in Paradise.
Images: Rick Rowell/ABC