Does The "Nikes" Video Have A Yeezy Cameo?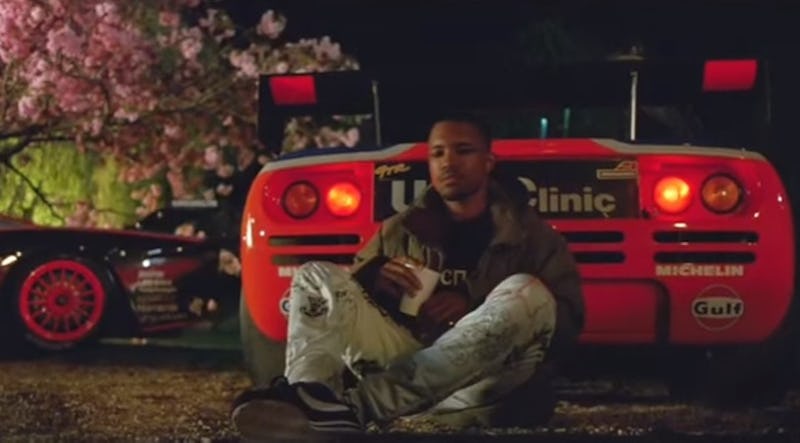 You have no doubt been basking in the glow of the sudden influx of Frank Ocean goodness. Ocean not only released the surprise visual album Endless on Aug. 19, but on Aug. 20, he also debuted the first single from his other upcoming album, "Nikes," along with a new music video. The "Nikes" video is full of celeb cameos, but a new fan theory posits the biggest cameo of them all is hiding in plain sight. Is Kanye West in the "Nikes" video? Or rather, is his jawline in the "Nikes" video? Well, a few Reddit users think so.
If Yeezy fans know one thing about West it is he loves being the center of attention. The man has declared himself the greatest, after all. Imagining him making such a vague cameo in another artist's video sounds preposterous. It's not that West doesn't do collabs — he does, sometimes ones where he doesn't really do anything, like in Francis and the Lights' "Friends" video — but they are generally the kind where you can see West in all of his glory, not just an obscured profile shot of his jawline and grin.
West and Ocean collaborated on West's most recent album The Life of Pablo, and there is no denying "Nikes" takes serious inspiration from the video for West's "Wolves." Having West sneakily guest star would be the perfect coup!
But sadly this is one Internet theory I fear doesn't hold up. Here is the jawline in question, seen around the 4:50 mark:
And here is West showing off his smile...
West does have a distinctive grin, but I don't think those two match up. Those pearly whites are way more likely to belong to Ocean, and Ocean is seen in the exact same position earlier in the video. The shot is tucked away at the very end of the video which is the perfect place for a secret cameo if you are going to have one — but still, the facial hair matches up with Ocean's just a little too well for this to be West's.
While I would love to see this theory confirmed — artists being there for other artists is the best — I'm filing this conspiracy theory in the false bin for now. However, I will still entertain any and all theories about whether or not that is the original Taco Bell chihuahua rapping his heart out in "Nikes."
Images: Apple Music (2)