It's Brett's Time To Shine On 'BiP'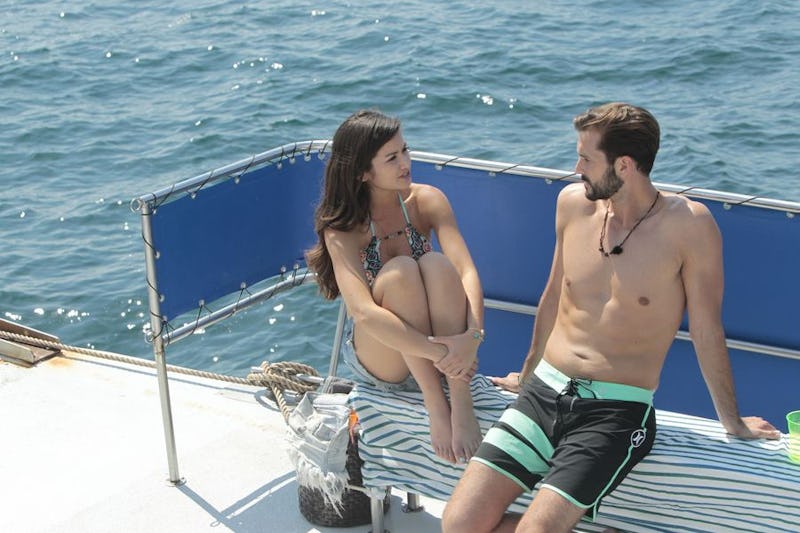 If you have ever watched Bachelor In Paradise, then you know that the cast is basically a mash-up of all sorts of Bachelor nation alums from old season and new seasons. It always seems to be made up mostly from the most memorable contestants from recent seasons but sometimes, a head-scratcher will make his or her way onto the island. This year, Brett from Andi's season is joining Bachelor in Paradise. I'm sure all you can remember from that particular season was the intense rivalry between Nick Viall and Josh Murray, but Brett was also there for some of it. So, what happened to Brett on The Bachelorette?
Unfortunately, not a whole lot. This guy is like a brand new kid on the block. He only made it to Episode 3, so he was eliminated quickly. It's always kind of a bummer when that happens because, as an audience, we are cheated out of getting to know a potentially really interesting dude. He had a pretty sweet mullet, introduced himself with a lamp he took from the hotel, and kind of failed to get any camera attention during his brief time competing for Andi's heart. But, the lamp will forever live on in Bachelorette limo exit infamy.
Things may be different for this guy on Bachelor In Paradise, though. By the looks of things, he comes in and tries to snag Caila away from Jared. Intrigue!
So what else do we know about Brett?
He Was A Men's Fashion Blogger
Brett once listed on his Instagram that he had a men's fashion blog called, BrettRx, which delivered "your daily dose of style." I am sorry to report that the site no longer exists. Bummer.
He Is Insanely Stylish
Sure, he may not be blogging about it with authority anymore, but he is a seriously stylish dude. This guy can dress. Not a bad quality, not bad at all.
He's A Professional Hairstylist
I mean, could a girl ask for more? Brett received his license through the Paul Mitchell Academy, according to Wetpaint.
He's A Family Guy
Brett's an uncle, and he seems to take his duties pretty seriously. How adorable is it to see a guy spending time with his niece? Swoonage of the highest order.
I don't know about you, but I am looking forward to getting to know this guy. He hasn't received the attention he deserves, but it's nice to know that he will have his time in the spotlight in Paradise.
Images: Rick Rowell/ABC; Giphy