'Supergirl's Superman Should Learn From The Past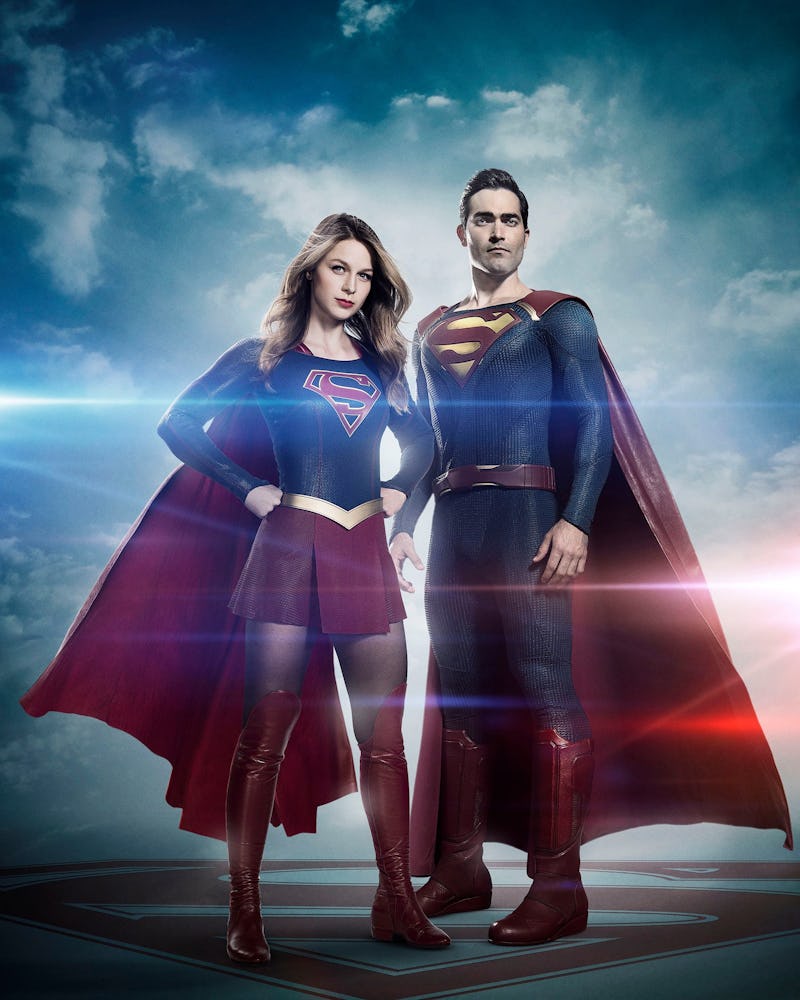 Superman's blue spandex and red cape might look comfortable to outsiders looking in, but ask any of the many actors who have donned the iconic uniform on screen, and they'll tell you it's not as nice as it looks. As arguably the world's most well known and beloved superhero, Superman brings a lot of fans to the table, and not all of them are ready to embrace whatever brown-haired actor lucky enough to book the part in whatever movie, television show, or video game being made this week. Tyler Hoechlin is the newest actor to step foot into the minefield that is playing Superman on-screen, with an upcoming role on Supergirl, and he could learn a few lessons from the movie and TV Supermen before him.
Joining the likes of Tom Welling, Dean Cain, Henry Cavill, and Christopher Reeve, Hoechlin is the newest actor cast to play Superman. Hoechlin, of Teen Wolf fame, is set to appear in a few episodes of Supergirl as a special guest star to kick off the show's second season (though it's likely he'll be invited back for more). He is the second actor to play Superman on The CW, following in the footsteps of Welling, who played a young Clark Kent and budding Superman in the network's hit series Smallville for 10 years. He's also the second actor currently starring on The CW to have donned the cape — Brandon Routh, who played Superman in the underwhelming Superman Returns (2006), currently stars as Ray Palmer/The ATOM on DC's Legends of Tomorrow. With all the Superman actors surrounding him, it's likely Hoechlin will get a word or two of advice before he suits up alongside Supergirl. Here are a few pieces of Superman wisdom he should listen to before putting on the cape.
1. Be Prepared For A Little Manscaping
Cain, who played Superman/Clark Kent on four seasons of Lois & Clark and also appears as Jeremiah Danvers on Supergirl, recently told Access Hollywood that Hoechlin might have to do a bit of grooming before getting into his super suit. "My first piece of advice for Tyler is — 'cause he seems a little more hairy than me — is that he's gonna have to wax his chest," Cain said. The reason? "You can't have any hair peeking over that 'S' there." Noted.
2. Ration Your Water
When shooting in the suit, bathroom breaks become a huge ordeal — we're talking a multi-person operation that shuts down the set. At least, that's what current big screen Superman, Cavill, told VH1 on a Man of Steel red carpet.
3. Talk To Your Costume Designer
While you're at it, you might want to talk to the costume designer and see if you can get a zipper installed in your suit for easy access. This tip isn't just Superman specific. When asked about any Batman advice he had received from Christian Bale, current star Ben Affleck told the audience at Warner Brothers' 2015 Comic Con panel that Bale had told him, "Make sure you can piss in the suit."
4. Don't Be A Snob
Take it from arguably the most iconic actor ever to portray Superman on screen, Reeve, that to play Superman, you can't have illusions of grandeur, at least not when it comes to pop culture. "[Playing Superman] led to my dropping a lot of snobbishness about culture, the actor's responsibility and my own ideals," Reeve once told Interview Magazine.
5. Trust The Fans
Taking on a role like Superman can be daunting. Even before you start filming, everyone has an opinion, but it's important to remember that fans pull through for you in the end. Speaking to Shortlist on preparing to play Superman in Man of Steel, Cavill said that he got advice from Marvel hero, Chris Hemsworth (aka Thor). "Don't worry about it. The fans are a lot more supportive than you think. They're behind you the whole way, so just enjoy it," Hemsworth reportedly said.
6. Embrace The Love
For better or for worse, once you go Superman, you can't go back. Hoechlin, get ready to be called "Superman" at least once a day, every day, for the rest of your life. Take it from Smallville's Welling, who, after playing Clark Kent on television for 10 years, says he takes being called Superman as a compliment. As he revealed in an interview with BuzzFeed, "I guess the joke is when people say, 'Hey, Superman,' I have a tendency to reply, 'Well, I've been called worse.'"
7. Work Out
Superhero workouts are legendary in the movie business — seriously, have you seen Chris Evans' biceps? Or Chris Hemsworth's? Or any of the Marvel Chris' anything for that matter? Hoechlin's going to have to get comfortable in the gym before he can get comfortable as the last son of Krypton, that's a given.
None of the previous Superman actors have gone on record with more specific character advice, but I'm guessing there's a lot of behind-the-scenes gossip on how best to pad one's body and get that perfect curl on a forehead. Oh to be a fly on that wall...
Images: Frank Ockefels III and Diyah Pera/The CW; Giphy (7)