Kelsey Poe's Post 'Bach' Life Is A Total Mystery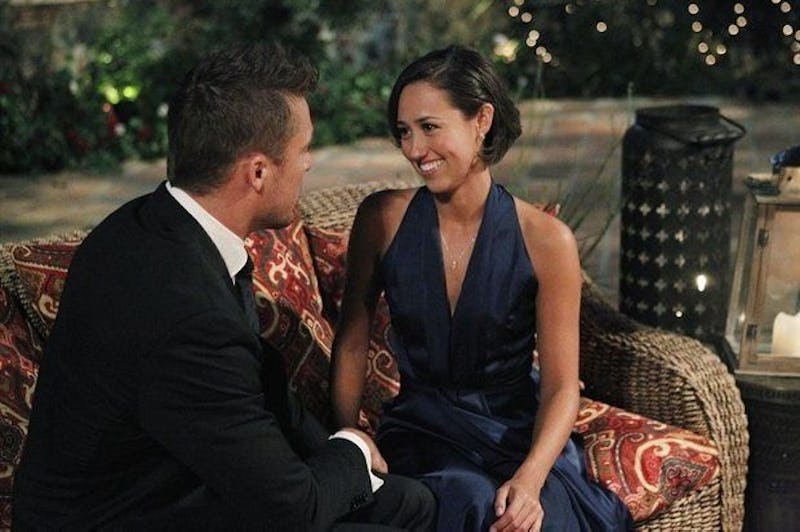 There have been a lot of villains over the history of The Bachelor and The Bachelorette, but one who will always stick out in my mind is Kelsey Poe. On Chris Soules' season of The Bachelor , Kelsey fought hard for Prince Farming's affection — so hard that her schemes usually involved breaking the rules and putting the other women (like Britt Nilsson) down. And once she started talking about her "amazing story," forget it. She'd officially sealed her fate as one of the most memorable contestants ever. Love her or hate her, Kelsey definitely left a pretty big mark on Bachelor Nation. So what is Kelsey Poe doing today?
Unfortunately, there's no real answer to that question. For someone who reveled in the spotlight on The Bachelor, Kelsey has been surprisingly silent on social media for the last year or so, disappearing from Instagram, Twitter, and the blog she launched after the show entirely. But there is at least evidence that she isn't still stranded in the badlands where Chris left her and Ashley Iaconetti after their disaster of a two-on-one date. She might be MIA now, but it wasn't always that way.
Here's what Kelsey was up to before she disappeared off the grid. Maybe she'll come out of hiding soon?
She Moved To Paris
And from the looks of the last photos she's posted, it seems like it's been a total adventure. She's been eating yummy food, traveling to neighboring countries... and basically living the dream. So jealous!
She Was Dating Someone New
So who's Kelsey's new guy? According to what she told Radar Online in 2015, his name is Mickael, and she met him when she visited France in 2014 before moving there. No word on whether or not they're still together, but he appeared in plenty of her Instagram photos before she stopped updating her account.
She Spent Time With Her Family
Kelsey always talked about her sister a lot on social media, and made it obvious she's pretty close to her sister's kids, too. Wonder if they've been visiting much since Kelsey left the country? These are the kinds of things we'd know the answer to if she'd just post an update!
She Wrote An Essay On Being A Widow
Toward the end of 2015, Kelsey won a writing contest, which meant that her essay was featured in an anthology called Unfinished Chapters. It seems like she's pretty proud of her work, but who wouldn't be?!
If Kelsey's latest updates still hold true, it looks like her life has calmed down a lot since The Bachelor... and definitely for the better. Here's hoping she decides to rejoin the world again soon. I'm dying to know what she's been up to lately!
Image: Rick Rowell/ABC