'The Night Of' Would Start Fresh In Season 2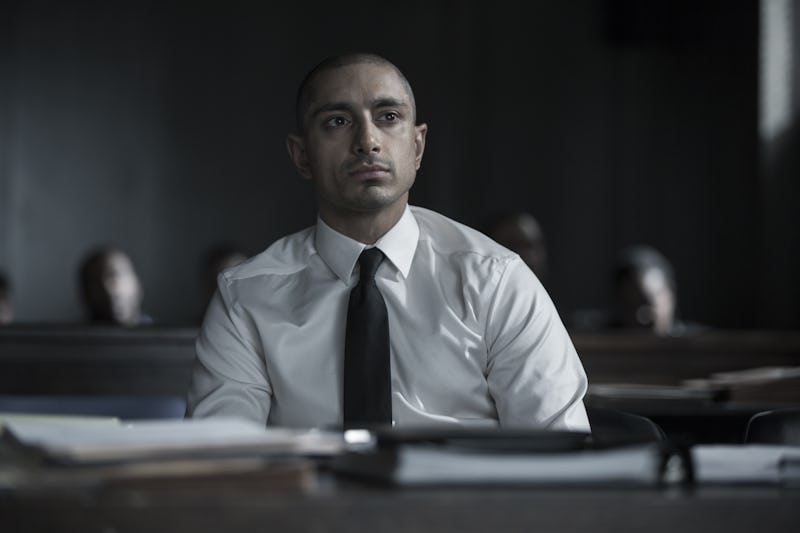 With its in-depth look at the justice system, engaging characters, and subtle humor, The Night Of is the type of drama that viewers come to expect from HBO. Although it has been advertised as a "limited series," there's a possibility that The Night Of on HBO could become an anthology series. If you are as unprepared to say goodbye to The Night Of after the eighth and final episode airs on Sunday, Aug. 28 as I am (thankfully it's 96 minutes long), you don't need to give up hope just yet. If the TV show follows in the footsteps of the series that inspired it, The Night Of could turn into a collection of criminal cases while maintaining its superb storytelling.
While The Night Of seems to be directly referencing true crime pop culture sensations like Season 1 of Serial and Making a Murderer, The Night Of is based off of the British TV series Criminal Justice, which had two seasons (in the U.K., they call seasons "series," but I'm using the American term). The Night Of is specifically pulling from the five-part first season of Criminal Justice that aired back in 2008. The premise of the HBO series is identical to the first season of Criminal Justice with a young man taking his parents' cab and ending up with no memory of how the woman he just met, done drugs with, and had sex with is dead. The main difference between the U.S. and UK shows when it comes to the setup is the race of the defendant — in Criminal Justice he's white, not Pakistani American.
Criminal Justice was renewed for just one additional season and the second season had the same format as the first season with each of the five episodes airing in one week. Yet, while Season 2 carried on with the similar theme of following one person through the criminal justice system (thus the name), it told a completely different story with a new cast of characters. Writer of Criminal Justice, Peter Moffat, wrote in The Telegraph how he spoke to a former female prisoner to gain insight for the second season. "I was talking to her because after writing the first Criminal Justice, I knew I had a lot more to say and stories to tell but I wanted a different angle and a fresh perspective," Moffat wrote.
Moffat is also credited as an executive producer on The Night Of, so it makes sense that if The Night Of is renewed, it could possibly be based on Criminal Justice's Season 2 plot of a domestically-abused woman who is under investigation for killing her husband.
Now before theories about Season 2 or talks of The Night Of becoming an anthology series can be taken seriously, the show would have to be renewed. Considering that HBO reminds viewers that The Night Of is a "limited series" (which I interpret as a miniseries), the network has made it abundantly clear that the show does stand on its own — meaning you should anticipate Naz's story coming to an end on Aug. 28. However — joy of joys — talks of a second season are not out of the question.
The Hollywood Reporter wrote that The Night Of executive producer, writer, and director Steven Zaillian spoke at the Television Critics Association's summer press tour about the potential of a Season 2. "We're thinking about it and if we come up with something we all feel is worthy of doing, we'll do it," Zaillian said. "This was designed as a stand-alone piece. . . . That being said, there are ways of certainly kind of taking what it feels like and what it's about and doing another season on another subject." Based on Zaillian's comments, it's safe to say that if The Night Of does get picked up for a Season 2, it would tackle a fresh story just like Criminal Justice did — or what another HBO series, True Detective, did.
Even if you were sorely disappointed with True Detective Season 2 (as you should have been), the prospect of The Night Of being renewed makes me have faith that HBO could get the sophomore season of a crime anthology series right, especially because of Zaillian's comments. The only downside of The Night Of being renewed is that if you've been loving the performances of John Turturro, Riz Ahmed, Michael Kenneth Williams, and Amara Karan, you most likely wouldn't see them in Season 2. With a new story comes new characters and while Ben Whishaw (Skyfall) and Ruth Negga (Preacher) were in Season 1 of Criminal Justice, Season 2 starred Maxine Peake (The Theory of Everything) and Matthew Macfadyen (Pride and Prejudice). Yes, it's depressing to think about The Night Of without Turturro and Ahmed, but at least take comfort thinking about what other phenomenal actors a Season 2 of The Night Of could get — just no Vince Vaughn please.
I would continue to watch John Stone and Chandra Kapoor defend Naz for seasons upon seasons, but I respect that The Night Of is just a snapshot of one profound story. I wouldn't want the series to be extended unnaturally as an effort to bank off of its success since that would compromise the artistic integrity. Just knowing that there's the potential to see what else the showrunners could come up with for a Season 2 is good enough for me. Yet, if another season does come about, prepare to wait a long time for the next The Night Of.
Images: Craig Blankenhorn/HBO (2); BBC One (2); Giphy (2)