Carly & Evan's 'BiP' Relationship Is Complicated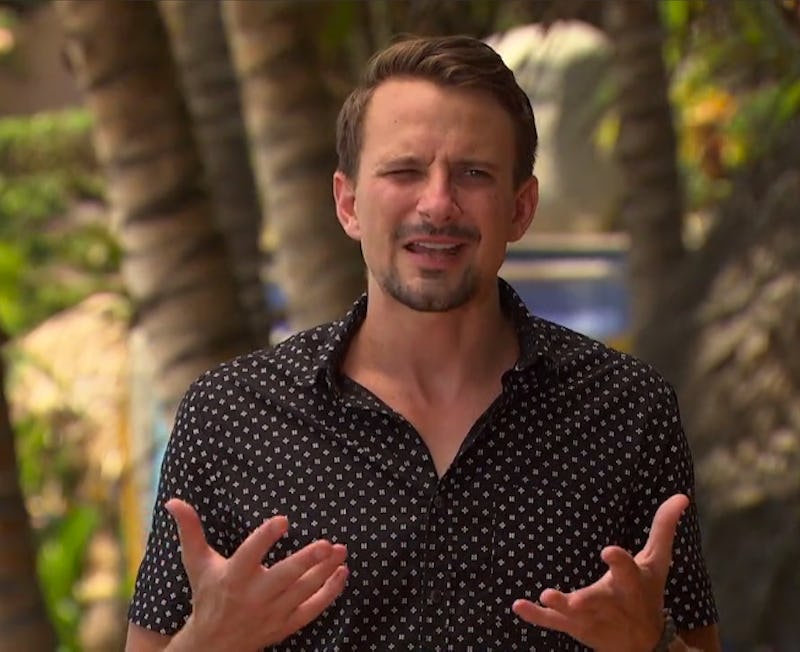 Season 3 of Bachelor in Paradise has been filled with all sorts of different relationships. There's the instant chemistry of Josh and Amanda, the new blossoming love of Nick and Jenn, the love at first sight of Grant and Lace, and so on. But the oddest couple to be kissing on the beaches of Mexico is easily Carly Waddell and Evan Bass. At times it seems like these two have a pretty solid relationship forming. Other times, though, it seems as if Carly can't stand the love-stricken erectile disfunction dad of two. So it'd make sense if Carly's brother Zak doesn't like Evan, either. Yet in actuality, that might not be the case, and Zak might be totally on-board with his sister's new romance.
As BiP fans know, Zak Waddell is a part of the Bachelor world just like his sister. Zak was on Desiree Hartsock's season of The Bachelorette and has publicly supported his little sister being on the franchise. Carly, of course, appeared on Chris Soules' season of The Bachelor, the second season of Bachelor in Paradise, and now, the third season of Bachelor in Paradise . After all those attempts to find love, Carly deserves somebody's final rose or at least a medal, and it appears that Zak is supportive of that mission.
While he hasn't commented specifically about Carly's romance with Evan, Zak is definitely paying attention to his sister's journey in paradise. He was clearly excited to see Carly and the infamous Chad interact:
It seems that Zak just wants to see his little sis happy, no matter who she ends up with. Earlier this season, Zak retweeted the below tweet from Bachelor creator Mike Fleiss, who explained that multiple dudes were fighting over Carly, and that action makes it appear that he's interested in Carly's journey on BiP.
Perhaps Zak is so invested in his sister's romantic life because his own is currently going so well. In 2015, Zak married a lovely non-Bachelor world lady, Elizabeth. They seem like a sweet and beautiful couple, who regularly post adorable pictures on Instagram. I'm sure that Zak wishes the same happiness for his sister.
It must've been hard for Zak to watch, last summer, when Carly got her heart broken by Kirk Dewindt. Any brother who sees his little sister cry on national television has got to be rooting for her to find a man who won't leave her in tears. As odd as the Carly and Evan dynamic is, Evan is clearly very into Carly; he runs around the beaches of Mexico like a schoolboy in love. For all these reasons, I'm sure Zak is rooting for Evan and Carly to work out.
And even if Zak does reveal that he doesn't like Evan, it's likely that his mind will be changed — after all, even Carly didn't like Evan at first. Oh, the complications of TV love.