Why JoJo & Ben's 'Bach' Friendship Is So Awesome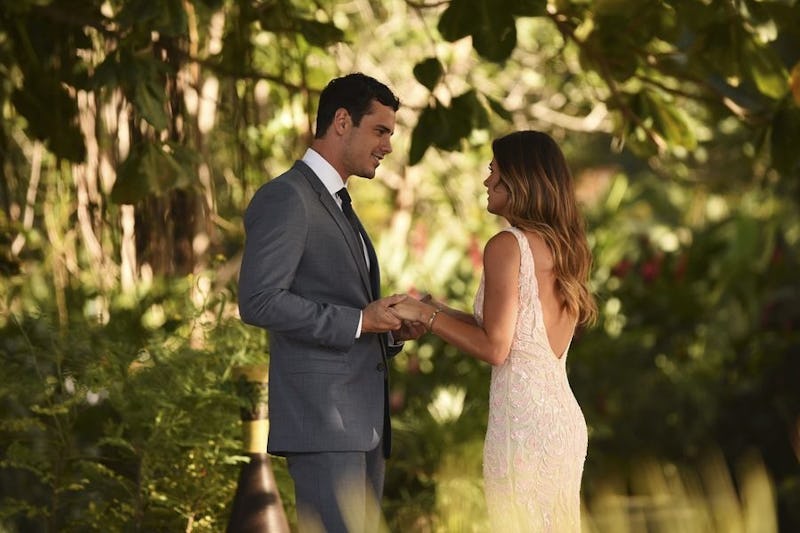 I think now that both Ben Higgins and JoJo Fletcher are seemingly happily engaged, it's time for any remaining BoJo or Jen fanatics (I made those couple names up, but they work so well, right?) to stop holding onto the hope that Ben and JoJo will fall in love and become a legendary love story together. As sad as we all were to watch poor JoJo get her beautiful little heart broken into a million pieces by Ben after he told her he loved her, it seems like things are on the up-swing for these two. Recently they were seen out on a double date with their significant others, and, guys, I have to admit that Ben and JoJo's friendship is actually really adorable.
I was a Ben and JoJo purist, and I even continued my campaign for their love after JoJo picked Jordan on The Bachelorette (don't get me started). But, the fact is that after seeing the two of them have a lovely lunch date and act like grown adults together, I can't help but cheer for them to be good friends now. I don't think they belong together, romantically. Their friendship is adorable enough to satisfy me for these reasons.
It's Mature
It would be so easy for these two to just go their separate ways and never speak again. After all, they ended their romantic relationship in a pretty heart-wrenching manner. It's nice to see them be so mature and put their old feelings aside for the sake of an adult friendship.
They Always Seemed Like Good Friends
Honestly, when you look back at Ben's season of The Bachelor, it was clear that these two had a great base of friendship. Even when I was rooting for them to get married, It was always so apparent that they dug each other as so much more than just as romantic partners.
Now She & Lauren Can Get To Know Each Other
It cannot be easy to really befriend another woman while you are living in a mansion and competing for one man. I am sure that Lauren and JoJo were not getting to know each other under the best of circumstances. Now, they can really give true friendship a shot.
Maybe They Can All Have A Show
I feel like this is begging for a reality show, no? Now we know that Ben and Lauren have a show, Ben and Lauren: Happily Ever After?. Wouldn't it be amazing if it was Ben and Lauren and JoJo and Jordan (I guess): Happily Ever After? We can nail down the title later.
Basically, I am all in on this new friendship. It's great to see that they really do care about each other, and it wasn't all for the sake of television. Let's see if they take my idea about the reality show seriously because, let's be real, that would be everything.
Images: ABC