A Carly-Evan 'BiP' Engagement Is Totally Plausible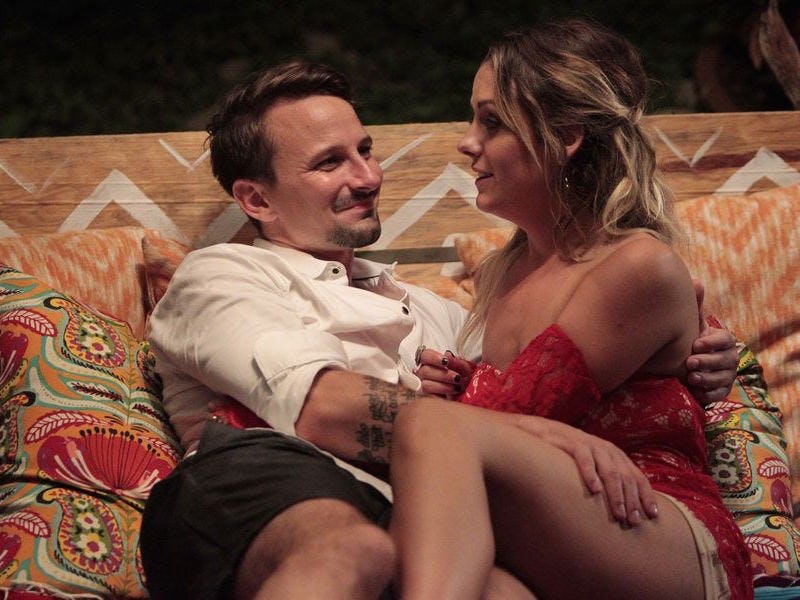 The voice of reason on Bachelor in Paradise may have found some true love. Carly Waddell finally accepted that she cares for Evan Bass and as their relationship continues to develop, it's possible that Evan could propose to Carly on Bachelor in Paradise . I know, I know — this would have sounded completely insane a couple weeks ago and perhaps it seems like an unrealistic prospect even now. Frankly, Evan proposing wasn't out of the question (he's not the best at reading signals), but Carly accepting definitely didn't seem feasible. While I'm still not 100 percent confident that Evan won't get dumped by Carly again, Carly's candor after their spiritual Aug. 23 date about how much she has started to genuinely like Evan does bode well for this couple's future. So as crazy as it seems, perhaps you should be preparing for the best and most down-to-earth Bachelor wedding special ever because there is a chance that Carly and Evan get engaged.
If you had told me when Season 3 of Bachelor in Paradise started that these two would end up engaged, I would have said that you were obviously not paying attention since Carly was making it abundantly clear that she was not interested in the erectile dysfunction specialist. And Evan only helped fuel that fire since when a fan asked both Carly and Evan on Twitter, "do I see a romance sparking," Evan retweeted and replied with a simple, "No." That was back on Aug. 8 — only 45 minutes into the second episode, which was even before their spicy and supremely awkward Guinness World Record kiss.
Evan's tweet at the time made sense since Carly was often shown talking about how much Evan repulsed her. While she described her lack of interest in Evan on camera during Bachelor in Paradise in a highly hilarious fashion, Carly did acknowledge on Twitter that her words were cruel by tweeting that she was "more asshole than funny" after the Aug. 8 episode.
When she first tweeted that, it appeared she was just being a decent person and had realized there are repercussions to saying things on reality TV since you can hurt people's feelings. However, knowing what viewers know now, her apology seems more loaded. If she is still with Evan — and possibly engaged to marry him — then her admitting she was wrong to be so cruel to Evan (though, thanks for the laughs, Carly!) is a much more significant move.
Along with her apology (she didn't say "sorry" outright, but I believe the tweet did the job), there's some more social media evidence that backs the theory that this pair is together after Bachelor in Paradise. Evan tweets along with the episodes — also in a highly hilarious fashion mixed with a hearty dose of self-deprecation — and during those initial weeks where Carly spent a lot of airtime mocking him, he responded in kind by tweeting "Screw you Carly" on Aug 9. Yet, if you go to his Twitter page now, that tweet does not appear and it looks as if Evan deleted that not-so-nice message about Carly. If he did, it wouldn't be the first time since he wrote that same day how he deleted some of his booze-fueled Bachelor in Paradise tweets.
It would seem just like Evan to post something nasty (but not completely unwarranted) like "Screw you" about Carly as a way to throw off Bachelor Nation about his true status with her, then feel guilty and take it down, right? Even Evan writing "No" in response to that fan asking if there would be romance between them is totally in line with Evan's brand of dad humor. He probably thought he was super clever in his efforts to throw viewers off with such a tweet, but at this point, it actually seems to be evidence that they are in fact together.
Since those early episodes, Evan hasn't stopped using his Twitter to attempt to confuse viewers about his relationship status after Bachelor in Paradise. The below tweet from Aug. 16 about going on a date with a server is a joke (definitely? probably?) and yet again, because he's Evan, it only makes me more confident that he's still with Carly.
Carly also frequently tweets about Bachelor in Paradise, but does not comment about Evan as much as he comments about her (typical). While social media stalking will only get you so far in figuring out if this pair is together and engaged, I'm feeling pretty good that these two will end up being a success story from Season 3 of Bachelor in Paradise. And while I can't believe I'm saying that, I'm certain that the person who is the most surprised about this potentially happy ending is Evan.
Keep watching to see if this relationship will make it down the aisle and hopefully, Bachelor in Paradise will give Carly and Evan the type of date that Caila and Jared get to go on. Because as awkward as Evan can be, he does deserve a simple romantic night out with Carly to help him seal the deal.
Image: Rick Rowell/ABC