Toby's Fate Is Unsure On 'Pretty Little Liars'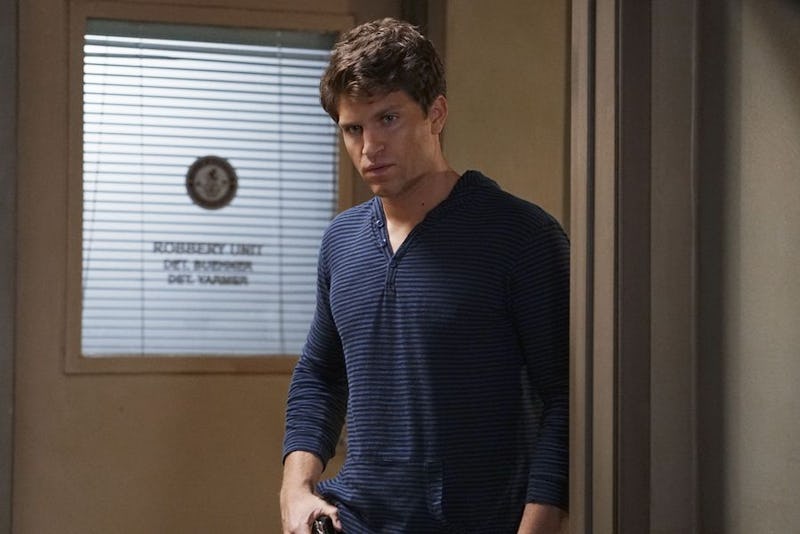 Man, the first half of Pretty Little Liars Season 7 has been a trip. I don't know if it's the switch from ABC Family to Freeform or the fact that theLiars are in their twenties now, but this show has gotten dark and fast. Things are about to get even darker with the Aug. 30 episode, as the synopsis reveals that someone will die in the Pretty Little Liars Season 7A finale. I'm still not convinced that I. Marlene King would ever kill off one of the main Liars, but it could be someone very close to them. Right now, many theories point to Toby dying on Pretty Little Liars and though he certainly fits the bill of someone close to the Liars, I don't think he'll be the one to go.
In the preview for the Season 7A finale, Jenna is waving a gun around like its nobody's business, and boom — it goes off. Spencer can be heard in the background screaming, "What did you do?" which I assume means that someone was struck by a bullet. If Toby had been shot, Spencer would be freaking out, which is just part of the reason why I don't think that's what happened.
However, Keegan Allen, who plays Toby, hasn't exactly been helping my case. He's tweeted about how he'll miss being on Pretty Little Liars and the cast, which sure sounds like he's not coming back. However, I don't think Allen would blow a major plot point by tweeting something about him being killed off — I think he's just going to miss the show after it ends, which I. Marlene King confirmed will be when Season 7B wraps up in 2017.
Of course, King likes to stir the pot, too. When a fan asked for a line from the Season 7A finale for Spoby on Twitter, she replied, "Would it be okay if I kissed you?" Tumblr user WrenIsCharles theorized that the line is going to actually be Toby asking Spencer for one last kiss because he's been very badly injured and is dying. And that's not the only clue fans are using to predict that Toby will die.
The theory explained in the Instagram below explains that one fan claims to have seen a car crash being filmed on the Pretty Little Liars set while on a studio tour, which some fans think will be how Toby dies.
However, that could've been the car crash that killed the artist formerly known as Elliott Rollins earlier in the season. Having two big car crashes in the span of just a few episodes seems unoriginal, especially for PLL. Plus, the claims that Troian Bellisario was seen filming with a cast on her arm cannot be verified, and I couldn't find any evidence of a photo of Spencer and Toby in a car together on King's Instagram either. Basically, we should take this theory with a grain of salt.
Then there's the matter of the effect that losing Toby would have on Spencer. Let's forget Marco Furey (aka DJ from the second season of The O.C.) — Spencer doesn't really care about Rosewood's newest detective. Killing off Toby would send her into a spiral worse than when she was admitted to Radley (which, let's not forget, stemmed from her thinking Toby was dead). While it could be interesting for Spencer to work through the loss of her first love while trying to find the next psycho who is hunting her and her friends, it just sounds like too much. There can only be so many episodes of Spencer snapping like Marissa Cooper throwing lawn chairs into a pool.
My favorite theory about Toby so far comes from reddit user futuresobright_, who thinks that Toby won't really die — he'll fake his own death so he can go undercover and try and find out who the Uber A is once and for all. Toby's death would probably motivate Spencer to go after Uber A even harder as well, helping them to resolve this mystery before PLL comes to an end.
This would also solve one problem that I have with the theory of Toby's death — he's not important enough to kill anymore. He's barely even been in Season 7, especially since he decided to move to Maine with Yvonne. He was in and out for some police work, but that's mostly it. Right now, the Aria-Jason-Ezra-Nicole square and Hanna-Caleb-Spencer triangle are the show's romantic priorities, making Toby's hypothetical death much less emotionally effective.
One thing we know for sure is that Toby is in the Season 7A finale, and I suspect that he will not only live, but also play a role in disarming Jenna. Maybe he can save the day and realize that he truly loves Spencer, which would be two romantic epiphanies for him in one season (the first was needing to move to Maine with Yvonne). Stranger things could happen in Rosewood, but one of those stranger things is not going to be Toby's funeral.
Images: Eric McCandless/Freeform; Giphy