Amanda Is Head-Over-Heels For Josh After 'BiP'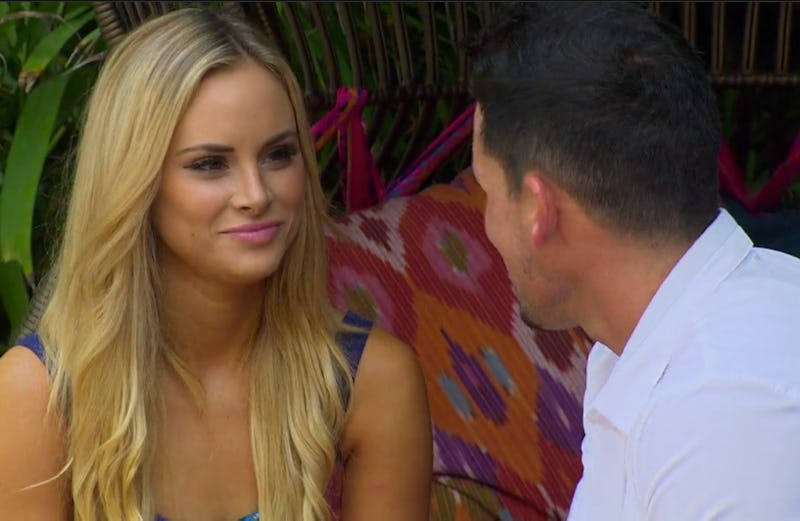 Bachelor in Paradise is an amazing show. An endless parade of Bachelor Nation singles enter the beaches of Mexico looking for love. There is a silliness to Bachelor in Paradise that I appreciate. Contestants "talk" to animals, sound effects are added into scenes willy nilly, and most of the contestants' time is spent drinking and lounging in pools. Despite the goofy exterior, some real connections have formed on this funky Bachelor spinoff. Last summer, the adorable 'Janner' (Jade Roper and Tanner Tolbert) was born under the Bachelor in Paradise sun. This summer, many of the singles wished to be the next 'Janner'. One of the ladies who entered Mexico single and ready to mingle was mom of two Amanda Stanton. But is Amanda single now after Bachelor in Paradise? The evidence would suggest she is very much taken.
Amanda was the very first lady to enter Paradise. In Bachelor world, order is important. Often, on The Bachelor and Bachelorette, the first and last limo exits are reserved for potential frontrunners. Last summer, Jade Roper was the first to enter Paradise and we all know how that turned out for her. This year, Amanda went on a date with Nick Viall first only to be swept off her feet by latecommer Josh Murray. While much of the attention has been focused on the rivalry between the two men, a real couple in Amanda and Josh formed.
Most of Amanda and Josh's air time on Bachelor in Paradise involve them making out, Nick looking sadly on, or Josh eating pizza. As shown above, both have been very vocal on social media defending their connection to the world. Amanda tells her side of their love on her blog and supports Josh on twitter and Josh does the same. These supportive messages are evidence for them holding strong post show despite any negativity they receive.
Amanda and Josh have also not hidden from cameras when spending time together after filming was done. The two have been spotted out at Target and playing with Amanda's kids. If the supportive tweets and photos weren't enough, the two confirmed to US Weekly that they have moved in together. Josh made the move from Atlanta to Irvine California to live with Amanda and her kids.
The couple has faced backlash. Josh was one of the main subjects in ex Andi Dorfman's tell-all book. Her accusations of emotional abuse and a controlling nature have followed him around Bachelor in Paradise and after the show. Josh firmly denied all of Andi's book claims during a talking head on BiP. "I can't comment on specific things in any kind of book that my ex has written, because it's a fictional story," he said. "There's stuff that's so ludicrous; how do you comment on stuff like that?"
Andi seems to be standing behind her words, and she tweeted this the other day:
The exact status of Josh and Amanda will be confirmed when the show is done airing, but it is clear that Amanda is no longer single. When asked about her relationship by US Weekly, Amanda praised her partner saying, "[Josh is] sweet and thoughtful and caring — it's not just something he turns on for the cameras."
It's hard not to root for Amanda. She's well spoken, stands her ground, and also has two adorable daughters. I wish more of the show aired her narrative and not just that of the men. All the evidence points to her being coupled up now and perhaps even ring-ed up. Either way, I hope Amanda really has found love on the beaches of Mexico, on the best show ever created.
Image: ABC