You've Seen 'Don't Breathe's Star Before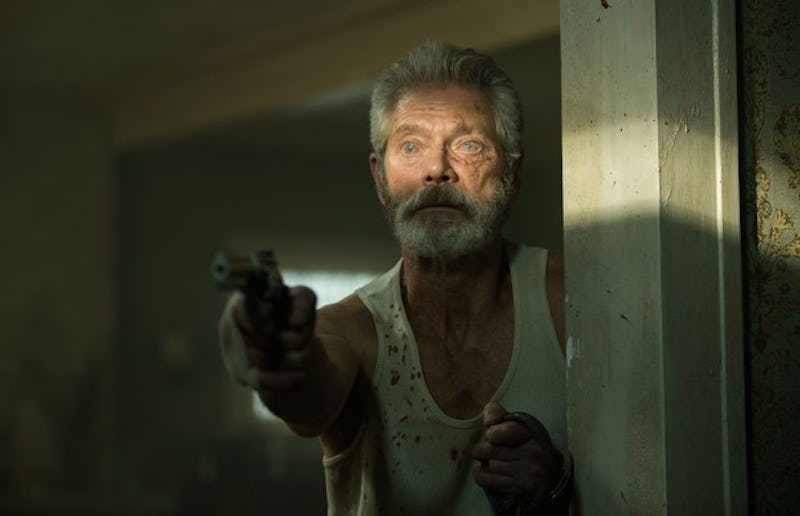 It's official: Don't Breathe is a sensation. The low budget horror film took the top spot at the box office in its opening weekend, bringing in $28 million and nearly tripling its $9.9 million budget. The film's bizarre concept, about teen robbers fleeing a murderous blind man after attempting to burglarize his home, is no doubt driving the movie's success; with the unorthodox antagonist especially drawing people to theaters. And although many fans might not realize at first who plays the blind guy in Don't Breathe , they'll be even more drawn to the movie after finding out why that actor looks so familiar.
There's a reason he's so scary. Stephen Lang portrays the film's villain, and if he looks familiar to you, it's probably because the actor has a history of playing menacing badasses on camera. Most notably, Lang portrayed the main villain in the highest-grossing film of all-time, Avatar, so you've definitely seen him before. As Colonel Miles Quaritch, Lang's ruthless nature and black and white philosophy made sure the audience rooted against humans in their fight against the Na'vi, just as his sadistic nature and imposing presence make them root against his blind antagonist in Don't Breathe. Making people turn against characters they would naturally want to side with is no easy task, and it's part of what makes Lang such a great villain. But those are just two examples of bad guys he has played over his long career, so take a look at some of Lang's other best bad performances.
Conan The Barbarian
In this reboot, Lang plays Khalar Zym, an evil warlord who raids villages in search of an artifact that he needs in order to resurrect his dead wife, who's also evil.
Isolation
You'll never stay at an Airbnb again after seeing Lang's performance as the world's creepiest beach house host.
Band Of Robbers
Lang is the murderous Injun Joe in this modern reimagining of the works of Mark Twain.
Salem
In this series, Lang plays a real villain from history — notorious witch hunter Increase Mather.
Lang certainly has a knack for playing the bad guy, often giving them a nuanced twist as characters whom you might otherwise root for. That's certainly true in Don't Breathe, and is undoubtedly a big reason why the film has found such success.
Images: Screen Gem/Stage 6 Films