Let The Zodiac Decide Which Haunt You Should See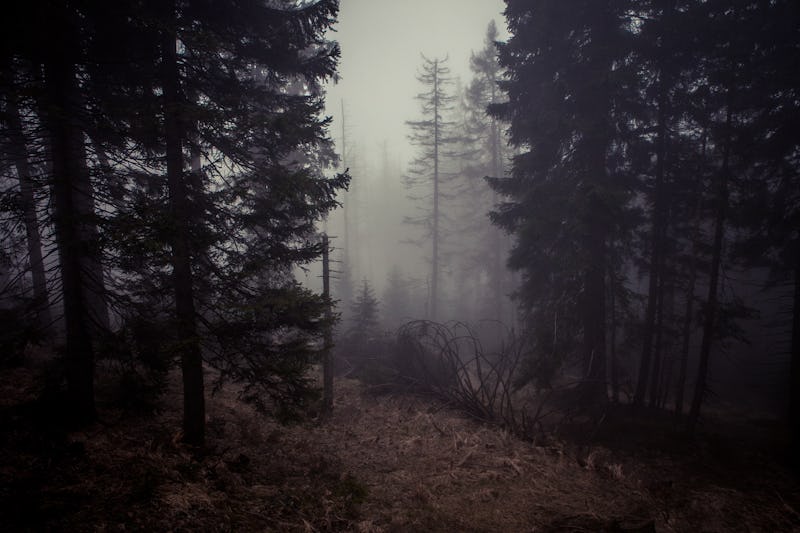 Christian Mai / EyeEm/EyeEm/Getty Images
'Tis the season of ghost stories and haunted houses, and what better way to pick your next spooky destination than by your birthdate? Decide which haunted place you should visit based on your zodiac sign and you won't be disappointed — it's practically catered to you! You don't have to leave the United States (or even your own state, really) to find yourself in the presence of the afterlife. Ghostly happenings are all around you. All you have to do is a conduct a quick internet search, and you're bound to find houses, forests, and other types of places that are packed with the paranormal.
If you're a believer in astrology, you know that where we fall within the zodiac helps determine our strengths, weaknesses, likes, and dislikes. And if you don't believe in the zodiac... well, you don't have to be an astrology nut to appreciate these haunted locales. Everyone loves a good ghost story. If you're already feeling the spirit of Halloween (because it's totally appropriate to celebrate Halloween 365 days a year) and you're having a hard time picking a place that'll give you a real fright, keep reading and try not to get goosebumps. I double dog dare you.
1. Aquarius: The Cleveland Museum Of Art
Aquarius is known for being an intellectual — a deep thinker. Satisfy your thirst for knowledge at the Cleveland Museum of Art. The ghost of Claude Monet was supposedly photographed in full form, and Jean-Gabriel du Theil and former museum director William Mathewson Milliken have both reportedly been spotted. Flashlights randomly go out, and electrical and mechanical "glitches" are not uncommon.
2. Pisces: The Stanley Hotel
Introverted Pisces loves to be alone with a good book, so why not visit the hotel that inspired famous author Stephen King's The Shining? The Stanley Hotel in Estes Park, Colo. is known as one of the most haunted places in the United States. King himself stayed in room 417. Guests report having belongings mysteriously unpacked, lights turning off and on, and the sounds of children laughing in the hallways. Staff members have reported hearing music coming from the empty ballroom. Spooky.
3. Aries: The White House
Aries is a natural born leader, so visit the place where the leader resides... the most popular house in America: the White House. The ghosts of Andrew Jackson, Abraham Lincoln, Abigail Adams, and David Burns have all allegedly been spotted roaming the President's home. With such a rich history and having housed some of the most powerful figures in America's past, it's no surprise that the White House might be a hotbed of paranormal activity.
4. Taurus: The Myrtles
Taurus has quite the green thumb, so a haunted plantation might be of interest to you. The Myrtles Plantation in St. Francisville, La. in one of the most famous in America. Its history since its inception in 1796 is a spooky one, even aside from the fact that it was built on an ancient burial ground. Ghostly images have been caught on camera and witnesses have experienced shaking clocks, levitating beds, and the sound of footsteps. The Myrtles Plantation still stands today, serving as a bed and breakfast.
5. Gemini: The Pattee Library
Geminis are the devoted bibliophiles of the zodiac, and there's no better place for a bookworm than a library. The Pattee Library of Penn State University will give you the willies. Employees and students have reportedly heard screams echoing and seen transparent girls flipping through books. Book carts move around inexplicably, and witnesses claim to have seen glowing red eyes.
6. Cancer: The Masonic Temple
Cancer has an artist inside of them ready to burst, so the reportedly haunted Masonic Temple in Detroit, Michigan is the place to be. The Masonic Temple is now a concert venue; but it contains more than 100 rooms and is said to have hidden passageways and staircases, and compartments beneath the floor. George Mason went bankrupt trying to fund the building of the Masonic Temple, and jumped off the roof after his wife left him. Staff members claim he hasn't left, scaring security guards and climbing the steps up the building. Guests experience cold spots, slamming doors, and mysterious shadows.
7. Leo: The Bird Cage Theatre
Lovers of the limelight, Leos often pursue a career in the performing arts. Make your way to the Bird Cage Theatre in Tombstone, Arizona, a true icon of the wild, wild west. The theater was a common site of fights and brawls, evident by the 140 bullet holes that riddle the walls. At least 26 people died here in gun or knife fights, and now creepy music, laughing, and shouting can be heard echoing throughout the theater. The apparitions of cowboys and prostitutes have also been seen and felt.
8. Virgo: The Villisca Axe Murder House
Virgo is analytical, practical, and hardworking. You need to take a visit to the Villisca Axe Murder House in Villisca, Iowa. In June of 1912, eight people were murdered in their sleep at the hands of an axe-wielding killer (or killers). To this day, no one knows who did it. Visitors to the house have experienced the sound of children's voices and other strange audio, falling lamps, moving objects, banging sounds, and laughing. Virgo loves a good mystery; so get over to Villisca and start solving some crimes.
9. Libra: The Lowes Don CeSar Hotel
Libra is incredibly romantic and charming, so the Lowes Don CeSar Hotel in St. Pete Beach, Florida is the place to be. Thomas Rowe once fell in love with a Spanish opera singer, but her parents disapproved of the marriage, and the lovebirds never saw each other again. So in the 1920s, he built the upscale hotel to try and mend his broken heart. To this day, witnesses report seeing Thomas and his lady walking around the hotel gardens hand in hand.
10. Scorpio: The RMS Queen Mary
Scorpio, a water sign, belongs by the ocean — not to mention the fact that they're natural detectives. Venture to the RMS Queen Mary in Long Beach, California. The Queen Mary was first an ocean liner, then used in World War II, before going back to being a passenger service; it was decommissioned in 1967. But during its run, it was the site of at least one murder and many accidental deaths. It's now a hotel, and guests have reported seeing ghostly crew members in the engine room and hearing the sound of children crying. In all, there are about 100 resident ghosts aboard.
11. Sagittarius: The Lizze Borden House
You've got the travel bug, Sagittarius, so your next adventure should be to the Lizzie Borden Bed and Breakfast in Fall River Mass. In 1892, Borden was accused of killing her sleeping dad and stepmom with an axe... and the three of them reportedly never left the house. Guests experience the sound of footsteps, unexplained gusts of wind, and lights turning on and off. Doors open and close, disembodied voices are heard, and guests have been touched. One staff member found an indentation in a bed, as if someone had just laid down on it — but no one was there. People feel cold spots, hear crying, and full body apparitions have been seen.
12. Capricorn: Waverly Hills Sanatorium
Capricorns often go into science-related fields such a medicine, so there's no better place for you than the Waverly Hills Sanatorium in Louisville, Ky. Between 1921 and 1961, Waverly Hills treated people with tuberculosis. More than 6,000 died there, either from the disease itself or the questionable methods doctors used to treat them — many of which were experimental and very painful. Foul play has been suspected, particularly in the death of a nurse who was found hanging from a lightbulb wire. Witnesses have reported slamming doors, cold spots, and apparitions — including a woman running away from the building with slashed wrists.
Images: Christian Mai / EyeEm/EyeEm/Getty Images; Giphy