'GMW' Fans, You Need To See This 'BMW' Episode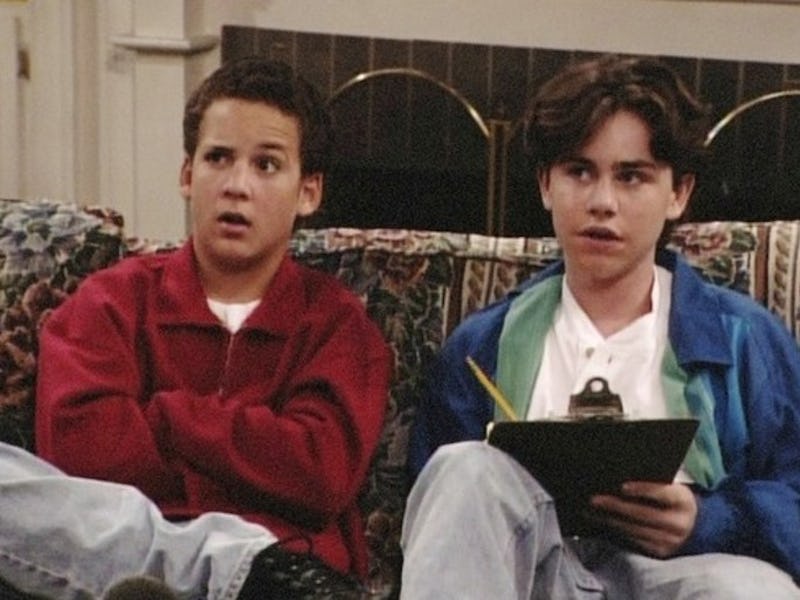 To the delight of this '90s kid, Girl Meets World is officially a hit in its own right. Three seasons in, Riley Matthews and her friends have proven to be worthy successors to Cory, Shawn, and Topanga. As Riley has matured, so have the stories — cyberbullying, feminism, and issues of identity have all been explored with care in the series. In short, it's a wonderful show, and it no longer lives in the shadow of Boy Meets World.
But, that does not mean Girl Meets World fans have nothing to gain by watching Cory grapple with growing up in the '90s. Boy Meets World is a timeless show, and while some episodes are unabashedly '90s specific — I'm looking at you, "Rave On" — most will resonate across generations. In fact, there's one episode of Boy Meets World that all Girl Meets World fans should see, and that's Season 2's "Wake Up, Little Cory."
Riley, Maya, and their friends are now in high school and the Disney Channel has done a good job of not shying away from the changes the characters are facing now that they are no longer in middle school. That said, there are likely some subjects that Girl Meets World will likely never touch. Like, perhaps, sex, and the double standards young women and young men face when sexual rumors are circulated within a school.
Before Cory and Topanga were the adult parents to two kids in New York City, they were just kids themselves trying to figure high school out. In "Wake Up, Little Cory," Mr. Turner pairs Cory and Topanga together on a documentary project that aims to find out what the modern (read: '90s) perspectives on love and sex are. Cory doesn't take the project seriously at first, but he ultimately ends up pulling an all-nighter at the school with Topanga in order to edit their video presentation. In the process, they fall asleep, and the entire school believes they had sex.
Cory receives a huge reputation boost as a result, and ends up being treated like a God by his classmates. For Topanga, the situation is a nightmare, though: She is teased, mocked, and shamed by her fellow classmates. Even worse, Eric and others discuss her as if she is a trophy Cory won, and her reputation is left in tatters until Cory finally tells his classmates nothing happened. Note, Cory had to be the one to tell his classmates the truth, because everyone assumed Topanga was lying.
The episode is not easy to watch, both because of the subject matter and because of how little things have changed. Riley and Maya are both entering the world of dating on Girl Meets World, and that means they too could face situations where they are shamed for things they have or have not done. Even if Riley and Maya never deal with these situations, Girl Meets World viewers likely will.
"Wake Up, Little Cory" is told from a male perspective. It shows Cory learning what it means to be a good person. But, really, Topanga is the character to watch. Even someone as loving as Cory does not immediately see how wrong it is to lie about Topanga, or what it is costing her. He also does not see or understand any problem with his fellow students deferring to him for the truth. Society tries to take away Topanga's voice, just like society still tries to take away the voices of women today.
Young women are more aware of the double standards that exist today, and they fight to make sure their voices are heard. Topanga fought hard too, in this episode and in every episode of Boy Meets World. Just because her classmates would not hear her, she did not stop speaking.
Content as raw as the content found in "Wake Up, Little Cory" is pretty rare on television, which makes the story even more important — and though it's not a GMW episode, it's still a part of that show's legacy. Watch it for yourself and see its strengths and its flaws. It paints a picture of gender inequality that will likely make you angry, and I'm sure would make Riley angry too — but I think a generation as smart Riley's would find a way to turn that anger into something positive.
Images: Warner Bros. TV; boymeetsworldgifs/Tumblr (3)