10 Reasons Fall Is The Best Season For Book-Lovers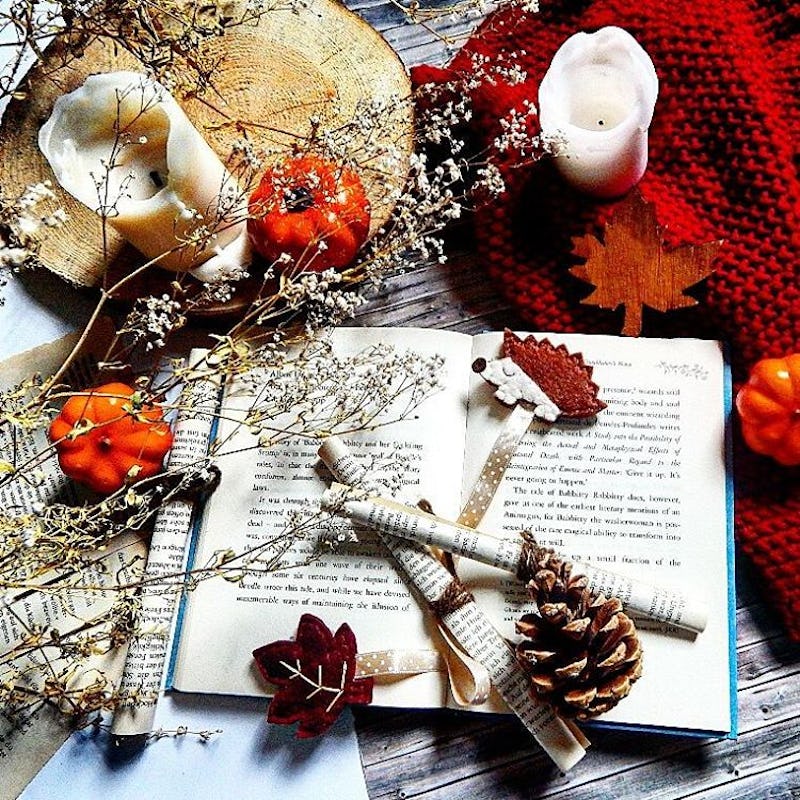 Everyone has a favorite season. Some people enjoy the hot weather and long nights of summer, others prefer the hibernation of winter, and others look forward to the fresh blooms of spring, but fall is the best season for book-lovers. Between the cozy weather, the fun-filled holidays, and the magic of the changing leaves, autumn is the perfect time for getting lost in a stack full of books.
If we're being totally honest, all seasons are book reading seasons. Winter is perfect for curling up by the fire with a long novel and a warm tea, spring is the time to bring your book back outdoors, and summer is made for beach reading, but fall? Fall has everything a book-lover's dreams are made of and more. Weather worthy of warm coffee beverages with an option to read outside? Check. Seasonal and holiday-inspired stories? Check. Cool, dark evenings perfect for curling up with a novel and listening to the wind blow outside the window? Check. Everything about the season basically screams books, and readers everywhere are beginning to get excited for another three months of autumn magic.
If you're beginning to miss the long afternoons of summer reading on the beach, don't fret, because there are 10 reasons fall is the best season for book-lovers.
1. It's the perfect weather for cozy blankets and hot beverages.
When you think of the perfect reading setting, what do you think of? For many of us, curling up with a good book means cozying up with a warm blanket and the perfect cup of coffee or tea. While the summer made it too hot to get truly comfortable, fall means that it's finally cool enough outside to warm up with a book inside.
2. You have time to catch up on your summer reading...
Still have a long TBR list from summer's hot new releases? Don't worry, now that your weekends aren't filled with beach getaways and backyard barbecues, you finally have time to spend with your library of unread books. Enjoy the solitude while it lasts.
3. ... And start in on the newest fall releases.
Every year, some of the biggest books are released in the fall, just in time for holiday gifting. With heavy hitters like Zadie Smith, Jonathan Safran Foer, and Ken Liu publishing this autumn, this year's fall fiction and nonfiction alike are is already shaping up to be majorly exciting.
Book-lovers like holidays of all shapes and sizes, but the very best bookish one of them all is Halloween. The perfect time of year to read scary stories and recite Edgar Allan Poe poems, Halloween also means an opportunity to dress up as your favorite character. The real question is, how do you decide which one?
5. It's still mild enough to read outdoors.
Once all the trees are bare and snow starts to flutter in the sky, your days of comfortable outdoor reading are gone. While it's still autumn, though, you have the perfect chance to soak up those quickly sinking summer rays, to take in the cool, crisp breeze, and to enjoy a goo plot twist under the twisting leaves of the fall.
While students everywhere are moaning and groaning about the pile on of schoolwork fall brings, book-lovers are secretly jumping for joy over their latest list of required reading. Comparative literature, standard English class, even history — if the class comes with a book list, it's just another reason to love the season.
7. Life is temporarily slowed down (before it speeds up like crazy.)
After the hectic start to school and before the craziness of the holiday season, there is the rare yet peaceful pocket of time in the fall where book-lovers everywhere can unwind, relax, and read as much as humanly possible. In between seasonal to-do lists, autumn exists as the perfect time to get lost in your personal library.
8. Bigger coats = bigger pockets = more book storage.
It's a simple reason, I know, but fall is great because it generally means your wardrobe allows for more book storage. What more could you want out of seasonal clothing?
9. It starts to get darker earlier, leaving less time for going out and more time for staying in reading.
When the sun begins to set earlier in the fall, people begin to settle in earlier, too. What does this mean for book-lovers? More time staying in reading and less time feeling guilty about being curled up in bed with a book at seven o'clock at night.
10. Every season is book-lovers season.
Face it: no matter the the season, no matter the weather, no matter the time of day, week, month, or year, every season is the perfect season for reading. Which one is your favorite?
Images: sarahlostbutfound/Instagram; Giphy (5)