8 Reasons Why Fall Is Book Nerd Season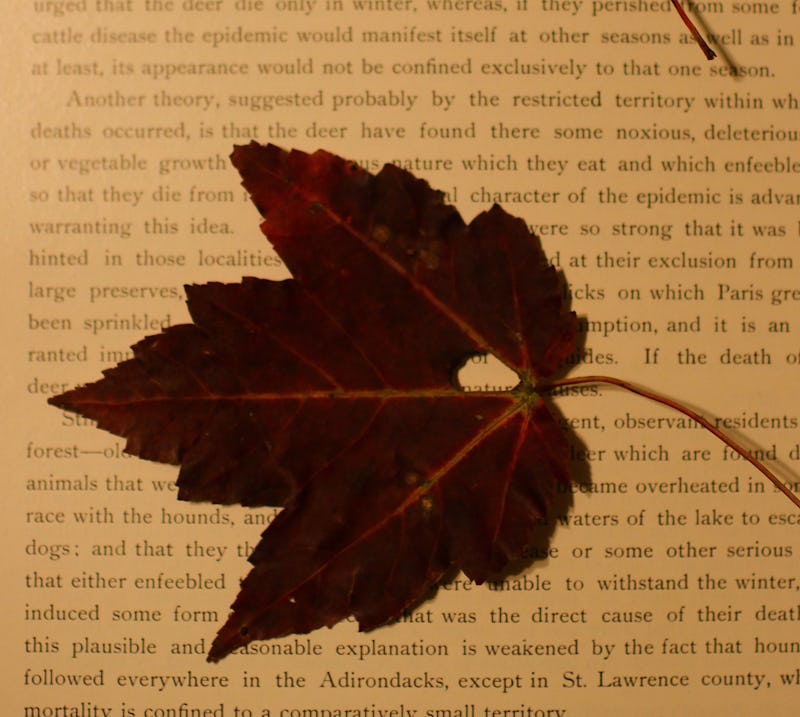 It's almost here: The time of the year when the leaves change from green to yellow to orange to red. When the days grow shorter and the nights grow longer. Where sweaters and bonfires and pumpkins can be found everywhere. Can you tell I'm definitely a big fan of autumn? If you're like me, you're also pretty excited for fall festivities like apple picking and pumpkin carving. Not only that, but fall offers the best type of weather for reading.
There is nothing in this world that I love more than putting on my comfiest sweater and reading near an open window with a few cinnamon-scented candles burning nearby. Summer is great and all, don't get me wrong, but reading at the beach or in a park always ends up the same way: sunburned or bug-bitten. In the winter I'm just endlessly cold and there's no number of blankets that can cure it. But during the fall, reading indoors or outdoors is always perfect.
Fall is the best time of year for many reasons, but for all the book nerds out there, there are some specific and wonderful reasons just for us. While you and I anxiously await for the seasons to change, here a few reasons to get even more excited about jumping into a pile of leaves with a good book in hand:
Fall Represents Change
So many of the best books are all about change, and while you read about a character's transformation, it's beautiful to see the world changing around you, too. Maybe that sounds cheesy, but it's true. Especially when you find a good tree to read under that's shedding beautiful leaves. A lot of books also take place during the fall, which makes your reading experience even better.
The School Year Has Only Just Started
If you're in school, you aren't bogged down by finals and essays just yet. You still have time to read and reread and read some more. You're also reunited with your book-nerd best friends and are finally able to swap books again!
There Are So Many New Book Releases
September and October are big months for book releases, and this year the line up is already looking amazing. I can't wait to get my hands on some of the most anticipated books of fall 2015, and to dig into September's best books.
You're Always Cozy
Curling up in a big comfy chair with a soft sweater and warm blanket is an incredible feeling. Or lounging in a leaf pile, whichever you prefer. Adding a book to any fall experience makes it even cozier.
You Get To Dress Up As Your Favorite Characters
Halloween is one of the best excuses for book nerds to dress up as our favorite literary characters, and there are endless options to choose from. You could go classic with a Harry Potter costume, or go all out with a Jane Austen dress. Or you could go less traditional and more literary with these unique and awesome ideas!
There Are Endless Drink Pairings
Coffee and books are a timeless combination, but in the fall, you have so many more options to choose from. Warm apple cider. Pumpkin spice lattes. Hot cinnamon tea. I can't choose.
You Read Bigger Books
Summer time reads are usually smaller, at least in my case. I tend to read shorter books during the summer just out of habit since I'm usually trying to do other activities like swimming and walking around the city. If they aren't smaller, they tend not to tackle heavier topics compared to the books I read in the fall and winter. In the fall, there's no stopping me from picking up a massive book because spending an entire day reading on a chilly fall day is perfectly acceptable.
The Weather Is Great For Storytelling
I know I mentioned how perfect the weather is already, but it's also the best time of the year to sit around a bonfire and share stories. Whether that includes ghost stories or funny memories with your friends, there's no better time of the year to gather around and share stories by a warm fire.
Images: Chris Waits/flickr; Giphy (9)