Simone Biles Was Amazing On 'Lip Sync Battle'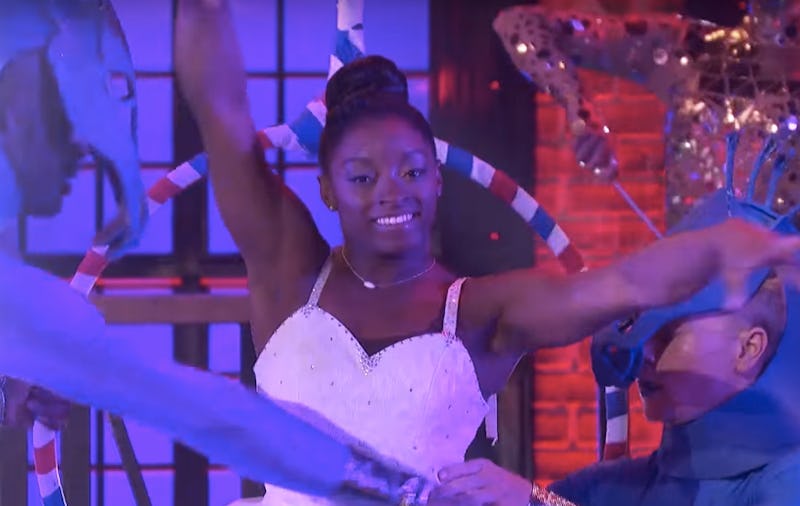 Lip Sync Battle: All-Stars Live marked the first ever live episode of the show, and it was just as epic as you'd expect. Filled with crazy performances and extra special guests, broadcasting a live episode of Lip Sync Battle was such a great idea, as it meant that all of the contestants really had to bring their best. While it's easy to see why America voted for Olympian Michael Phelps to win, one of his competitors, actress Olivia Munn, had a pair of very impressive back-up dancers. Dressed in ballerina tutus, and performing some impressive gymnastics routines, Simone Biles and Aly Raisman danced to Sia's "Cheap Thrills" on Lip Sync Battle , and it was everything.
Phelps's rendition of "Lose Yourself" by Eminem was completely hilarious and inspiring, and it's not really surprising that his performance won the night. But even the athlete was excited to see Biles and Raisman dance to "Cheap Thrills," and after their performance said, "That was awesome. I loved being on the team with these girls and seeing them perform is so special." The two gymnasts made an unforgettable entrance, as they were lowered onto the stage on hula hoops, and surrounded by a circus of stage performers. Their surprise routine must've taken quite a bit of planning, but it was well worth the wait to see Biles and Raisman take the Lip Sync Battle stage.
Sia's songs naturally lend themselves to complicated and unexpected dance routines, and while Maddie Ziegler usually takes the lead, it was great to see Biles and Raisman put their own spin on the track. The pair may have been dressed in extravagant tutus, but with a routine that included backflips, they more than proved to the audience why they were part of The Final Five in the 2016 Rio Games. It was exciting to see several accomplished athletes celebrated during this episode of Lip Sync Battle: All-Stars Live, and get the chance to have some fun. Hopefully this won't be the last we see of Biles and Raisman on Lip Sync Battles, as it'd be awesome to see them both compete on the series.
The one-hour live special of Lip Sync Battle may have been a one off for now, but as the format worked so well, hopefully we'll be seeing some more live episodes in the future.
Image: Spike TV