School's Out For Summer For 'Vice Principals'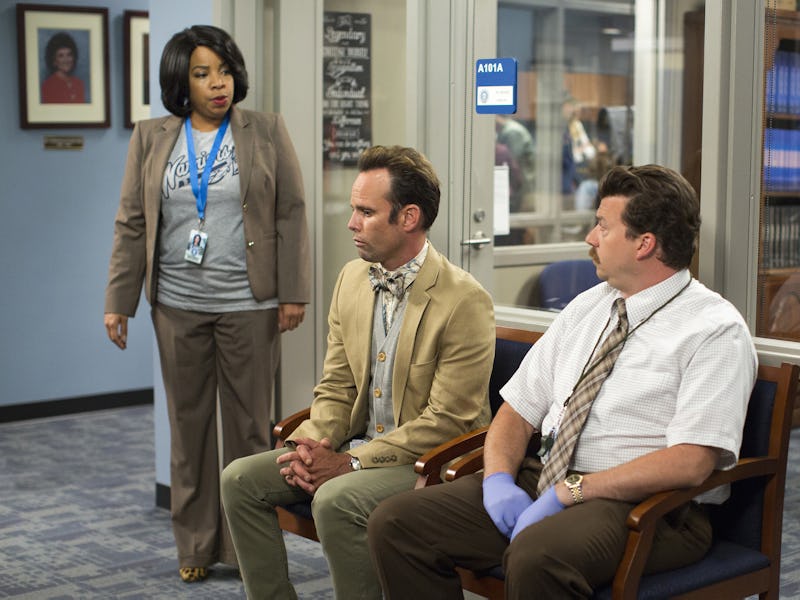 Nothing annoys me more than when a TV series lasts too long. Well, if I were a principal and my vice principals were scheming to ruin my life, that might annoy me more, but my point is that with the Season 1 finale of Vice Principals airing on Sunday, Sept. 18, the HBO series is in no danger of overstaying its welcome. Now before you fly off the handle like Neal Gamby or Lee Russell thinking that there will be no more episodes, don't fear because there will definitely be a Season 2 of Vice Principals. However, you still might want to have a go at spitting in the creator and star's coffee cup since Danny McBride already told Variety in July that Vice Principals will only have one more season.
Update: HBO announced on July 6 that the second half of Season 2 will premiere on Sept. 17.
Earlier: Like any Vice Principals fan, I am upset to hear there will only be two seasons, especially because the series has introduced me to the genius that is Kimberly Hebert Gregory — the actress behind Dr. Belinda Brown and the show's true homecoming queen. Yet, McBride has a good reason for why the series is ending. As McBride told Variety while at the Season 1 premiere, "The whole series is only 18 episodes and that's it. We just wanted to make a really long movie. It's one school year and a complete story."
That "we" McBride mentioned is him and his longtime collaborator and friend Jody Hill, who created Vice Principals — along with McBride's other HBO series, Eastbound & Down — with the actor. "This was an old screenplay that Jody and I wrote back in 2006. But we needed it to be longer so we added and reworked it and broke it up into 18 segments," McBride said.
And all of those 18 segments of Vice Principals have already been filmed. When asked in an interview with The A.V. Club if the show would be over after these two seasons, McBride said, "It's done, yep. We sold it as one story. So it's two seasons: a fall term of nine episodes, and a spring term of nine episodes. This whole story takes place over one school year." So just like his character Mr. Gamby, McBride is a stickler for rules.
While there is no official word on when Season 2 will premiere, since the episodes have been filmed, there's a chance that you won't have to wait until next summer for the sophomore season. The network could have fun with the fact that Season 2 will take place in the spring semester and premiere it in the beginning of 2017. Yet, just like students — and teachers for that matter — have to wait until summer for the school year to end, I think it's better to expect Season 2 to air in summer 2017, like Season 1 did.
Even though the thought of Vice Principals ending so soon depresses me, I quite appreciate when a series knows when to stop — like how the completely different HBO show The Leftovers announced it would be ending after Season 3. While Vice Principals never had to debate that point since from the onset McBride and Hill knew it would be more like a movie than anything else, it's still nice to know that there's no way they'll be wooed to continue their story after it has ended. Because although I can happily watch Gamby and Russell be awkwardly desperate, it's a whole other story to see a show continue past its prime. And McBride and Hill have been consistently direct when it comes to the ending of Vice Principals, telling Variety that there's no chance of more seasons coming later. "We already shot the 18 episodes and that's it," Hill said, echoing McBride's statements.
As a way to help you deal with Vice Principals ending after its next season, think about it as McBride described it — two semesters. If school ending for the summer was always something you looked forward to, then that's how you can look at Vice Principals ending after its school year is through. And in the meantime, take some yearbook-like advice and "embrace the moment" since you've got the Season 1 finale and the entire Season 2 before school's officially out.
Images: Fred Norris/HBO; Giphy (3)