Here's How Many Singles Are Actively Dating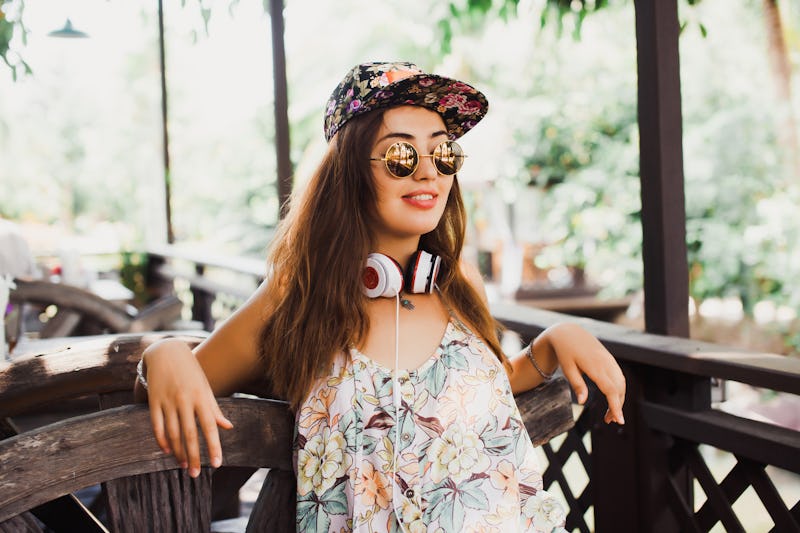 Single women get a lot of pressure from society (and nosey family aunts) to settle down, whereas bachelors are often thought to be living the dream a la George Clooney pre-Amal. But a new study from Avvo, an online legal service company, found that more women feel positive about being single than men today. Over 2,000 adults in the U.S. participated in the 2016 Annual Relationship, Marriage, and Divorce Survey and three out of four women say they'd rather be "alone, successful, and happy" than be in a relationship that's anything but. Only 58 percent of men can say the same.
"I think it is true that women are empowered to cultivate emotional resources that make them more able to be happy while single," dating coach and certified matchmaker Francesca Hogi tells Bustle. "For many men, their outlets for emotional intimacy and expression are limited to romantic relationships. Generally speaking, women have emotional intimacy with their friends and their partners and most men only have it with their partners. So it makes sense that without a relationship, many men are missing out on a key emotional experience."
Here's what else the survey found, from who's actually dating to how we're dating.
1. More Than Half The Number Of Singles Aren't Actively Dating
While dating is meant to be fun, it can get pretty stressful. The survey found that 52 percent of singles say they're not actively dating. When you break that down further, 60 percent of single women aren't actively dating in comparison to just 43 percent of men. But there may be something more to it than simply taking yourself out of the dating pool.
According to Hogi, many women want romantic relationships however, many hold out hope that a relationship will "just happen." Men, on the other hand, are told their whole lives to go out and pursue women while women are told to wait for Prince Charming to show up on their doorsteps. "There's a lot of cultural conditioning behind how we approach dating and relationships," Hogi says.
2. More Men (35 Percent) Say They've Tried Looking For Love Online Vs. Women (21 Percent)
The survey found that nearly three out of 10 people have tried online dating. However, less than one in five believe online dating is a "great way to meet someone."
"On a purely practical level, women are exposed to so much bad behavior by men online that this is another factor that keeps women offline," Hogi says. "You see a lot of dating apps these days trying to combat this by giving women control over who is able to message them to avoid being bombarded by unwanted attention."
3. Instead, Over Half Of Singles Believe The Best Way To Meet Someone Is Face-To-Face
I guess nothing really beats the feeling you get with that initial in-person spark. The survey also found that 30 percent of people say they'd be willing to use a professional relationship expert to match them with someone. Overall, Americans are hopeless romantics and most people still believe that relationships were meant to last.
"I truly believe that regardless of gender, all humans desire love, connection and intimacy," Hogi says. "We might go about seeking it in different ways, but ultimately we are all seeking it."
Images: Fotolia; Giphy(3)