6 Literary Halloween Costumes For Couples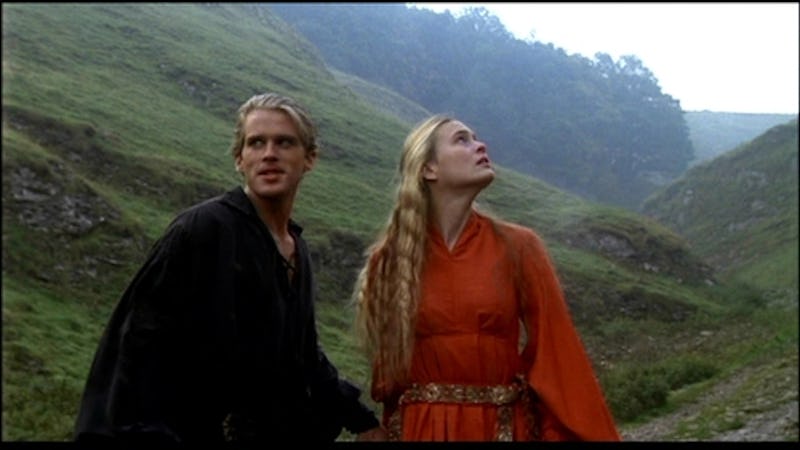 Couples who read together, stay together. And couples who dress up for Halloween together, look amazing together. Whether you already have a few Halloween parties or events you're planning on going to, or you just want to dress up for the heck of it and wing it on Halloween night, it's always fun to plan out a costume — especially with your partner.
Halloween is easily one of my favorite holidays, and that's not just because of all the sugary sweet candy. I love watching scary and silly movies, the feel of autumn chill in the air, the apple cider and haunted houses — I could go on forever. It's also the time of year that I love to break out some of my favorite books and read them again and again, pondering what literary couple my partner and I should dress up as.
This is the first year I'm going to dress up as a couple, and I couldn't be more excited about it. If you're planning on wrangling your partner into a cheesy, romantic literary couples costume, I have a few unique ideas you maybe haven't thought of yet. Brainstorm with your partner about all the fun couples costumes there are to consider, and check out these six taken straight from the books:
1. Effie and Haymitch from The Hunger Games Series
In the past, you've probably dressed up as or at least considered going to a Halloween party as Kantiss and Peeta — or Finnick and Annie. This year, ditch the favorites and dress up as Effie and Haymitch instead. Sure, they weren't technically a couple, but we have hope they found love with each other after the series ended. Here's what you'll need:
Effie: Costume Necessities
Try: Orange Dress, $35, Gilt
Try: Black Boots, $32, Amazon
Try: Blonde Wig, $20, Amazon
Try: Black Party Gloves, $10, Amazon
Nail Art: DIY monarch nails
Try: Paper Butterflies, $10, Amazon
Haymitch: Costume Necessities
Try: White Button Down, $17, Amazon
Try: Suit Jacket, $60, Amazon
Try: Blue Tie, $15, Nordstrom Rack
2. Princess Buttercup and Westley from The Princess Bride
What's more romantic than Buttercup and Westley's twue wove? Plus, if you're into the whole renaissance look, this is your look. Here's what you need for an unforgettable The Princess Bride costume:
Princess Buttercup: Costume Necessities
Westley: Costume Necessities
Try: Black Shirt, $18, Amazon
Try: Black Pants, $25, Amazon
Try: Black Gloves, $11, Amazon
3. Wendy Darling and Peter Pan from Peter Pan
Wanna tap into some childhood nostalgia? Recreate the two main characters from Peter Pan for a simple, unforgettable costume:
Wendy Darling: Costume Necessities
Try: Blue Dress, $31, Amazon
Peter Pan: Costume Necessities
Try: Green Skinny Jeans, $50, TopMan
Try: Green T-Shirt, $10, Amazon
Try: Peter Pan Hat, $7, Amazon
4. Daisy Buchanan and Jay Gatsby from The Great Gatsby
If there's every a time to indulge in Roaring '20s fashion, it's Halloween. And for book-lovers, that means one thing: The Great Gatsby. Here are all the little things you'll need, from jewelry to champagne flutes:
Daisy Buchanan: Costume Necessities
Try: Flapper Dress, $39, Amazon
Try: Handmade Feather Headband, $48, Amazon
Try: Pearl Bobby Pins, $5, Amazon
Jay Gatsby: Costume Necessities
Try: Tuxedo Jacket, $47, Amazon
Try: White Button Down, $17, Amazon
Try: Cuff Links, $50, Amazon
Try: Champagne Flutes, $10, Amazon
5. Marco Alisdair and Celia Bowen from The Night Circus
Around this time of year, I always pull out The Night Circus, because it gets me into the Halloween spirit. It's also a drop-dead gorgeous book that centers on two magicians: Marco and Celia. Here's how to dress up as one of the most beautiful literary couples of all time:
Celia Bowen: Costume Necessities
Black And White Dress, $30.58, Rotita,
Raven Necklace, $25, Amazon
Dove Earrings, $17, Amazon
Black Heels, $39, Amazon
Marco Alisdair: Costume Necessities
Try: Suit Jacket, $43, Asos
Try: White Button Down, $17, Amazon
Try: Pocket Journal, $11, Amazon
Try: Pocket Watch, $23, Zulily
Try: Black And Red Playing Cards, $9, Amazon
6. John Watson and Sherlock Holmes from The Adventures of Sherlock Holmes
This costume is amazing because can mix-and-match historical and modern elements, depending on which version of Sherlock Holmes you choose to recreate:
John Watson: Costume Necessities
Try: White Button Down, $17, Amazon
Optional: Fake Mustache, $5, Amazon
Try: Pocket Watch, $12, Hot Topic
Try: Walking Cane, $30, Amazon
Try: Pants, $19.99, or Skirt, $15.99 - $18.99, Amazon
Sherlock Holmes: Costume Necessities
Try: Deerstalker Hat, $16, Amazon
Try: Scarf, $40, Back County
Try: Magnifying Glass, $4, Amazon
Try: Smoking Pipe, $8, Amazon
Try: Pants, $19.99, or Skirt, $15.99 - $18.99, Amazon
Images: 20th Century Fox; Lionsgate Films; Disney; Warner Bros; BBC