10 Of The Most Relatable Couples In Literature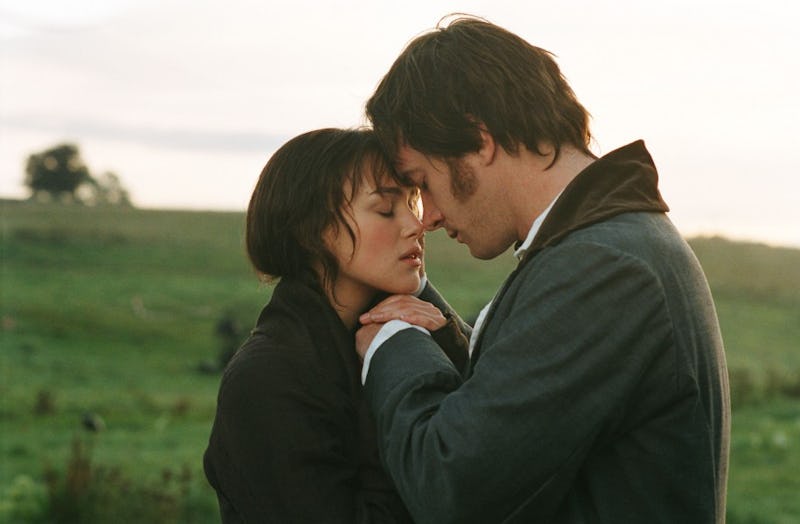 I've learned that at the heart of any good book is a great love story. As a teenager, I read just about anything I could get my hands on, and as I got older, I realized I was gravitating towards the books with characters and couples that I found relatable. I wanted to read about the relationships that I dreamed of having someday, and even though a story is just a story, you couldn't convince my emotional mind otherwise. After all, that's what we look for in books — a universal understanding of the complicated emotions and struggles all humans face, especially love.
If you're anything like me, some of the best couples in literature taught you all about love and commitment, heartbreak and grief. Many of these couples have stayed with me — even if it's been years since I first read their story. There are plenty of wonderful, non-toxic, and goal-worthy relationships in literature to look up to.
You may have read all of the books listed below, but if you haven't, I highly recommend adding them to your TBR list if you're a fan of complex and real love stories. Being in a relationship has a lot of ups and downs, zig-zags and sharp turns, and these 10 literary couples taught us all about it:
1. Elizabeth Bennet and Mr. Darcy from Pride and Prejudice
This classic couple began their journey in one of the most relatable and unfortunate happenstances: a bad first impression. Elizabeth, a spunky and independent woman living in an era that certainly didn't support any of those traits isn't immediately wooed by Darcy. But as time passes, she slowly discovers who the real Mr. Darcy is, and the two fall madly in love. Take this as inspiration in case you met your crush while drunk at a party or during one of your lazy sweatpants-and-Netflix days. Bad first impressions happen... but they could just lead to a happily ever after.
2. Percy and Annabeth from the Percy Jackson series
Percy is constantly willing to sacrifice his life for Annabeth's safety, and Annabeth is always doing the same for him. These two argue and rage with teenage emotions (sound familiar?) in the books, but they also fall for each other while the world and the gods are working to keep them apart. We can relate to their relationship through the many times they're separated and brought back together.
3. Eleanor and Park from Eleanor and Park
Eleanor certainly isn't interested in anyone, let alone the new kid — but isn't that how every high school love story begins? These two are opposites. They come from two different homes and lifestyles, but they each admire one another in unique ways. They accept each other for who they are and don't expect each other to change. While their relationship rocky and their story doesn't exactly have a happily ever after, Eleanor and Park experience an incredibly relatable story of first love.
4. Scarlett O'Hara and Rhett Butler from Gone with the Wind
Scarlett doesn't have the best of luck when it comes to relationships. She chases after Ashley, a man she can't seem to get no matter how hard she tries, yet she ends up marrying two other men instead, both of whom don't understand her. When she meets Rhett, a man who sees Scarlett's flaws and loves her all the same, she still misses the chase for Ashley. Some readers will relate to Rhett — who loves someone who doesn't appreciate him — and others will relate to Scarlett — who gets wrapped up in the never ending chase. Either way, this couple fumbles, but winds up creating a love story cherished by many.
5. Katniss Everdeen and Peeta Mellark from The Hunger Games series
Obviously none of us were in The Hunger Games, but Katniss and Peeta's slow-burning love is relatable anyway. At first Katniss can't quite comprehend the notion of love, whereas Peeta sees it as the only reason for living. When the two finally come together, nothing can stop them. That's the kind of love each and every one of us searches for.
6. Noah and Brian from I'll Give You the Sun
Noah is massively misunderstood, obsessed with his art — and crazy about the boy next door. Brian is hiding from his feelings and lugging around a suitcase of rocks. Their secret relationship is similar to the relationships and crushes we kept hidden as kids. There has never been a more relatable quote about young and hidden relationships than one from this book:
"I love you," I say to him, only it comes out, "Hey.""So damn much," he says back, only it comes out, "Dude."
7. Hermione Granger and Ron Weasley from the Harry Potter series
Opposites attract, and there are few opposites we love more than Hermione and Ron. Their relationship is so relatable because it began as a friendship. As Hermione and Ron grow, fight, and learn to love, readers fall in love with them — and their story.
8. Remy and Dexter from This Lullaby
In high school, there was no character I could relate to more than Remy from This Lullaby. I had witnessed plenty of divorces, and I thought love was a bunch of crap, just like Remy. But then Dexter comes along — a nerdy musician who slowly changes her perspective. She thinks it's just a summer fling, but she realizes how much she's fallen for him when she loses him. And that's something we've all been through before.
9. Nan and Miss Kitty from Tipping the Velvet
Nan, a sheltered 18-year-old, meets Miss Kitty, a male-impersonator and singer, and runs away with her to London. Enamored by the exotic world and freedom Kitty brings, Nan falls for her — but has to keep it a secret. Their relationship eventually falls apart, but that doesn't stop Nan on her journey to self-discovery. At some point, we will all get swept away by that certain someone who's so different from us, so intriguing and so dangerous. However, sometimes we need a life-changing and heartbreaking relationship to get us on the right path.
10. Blue Sargent and Richard Gansey from The Raven Boys series
Blue and Gansey epitomize that relationship we all want but know we can't have. Granted, I'm pretty sure none of us grew up hearing that the first boy we kiss will die, but we do know what it's like to want to kiss someone we can't have. Their blooming friendship and adorably awkward flirting is endlessly relatable. While we eagerly await the release of The Raven King , all we can do is hope that the fantastic Blue and handsome Gansey can finally be together.
Images: Universal; Giphy