9 Books To Get You Excited About Halloween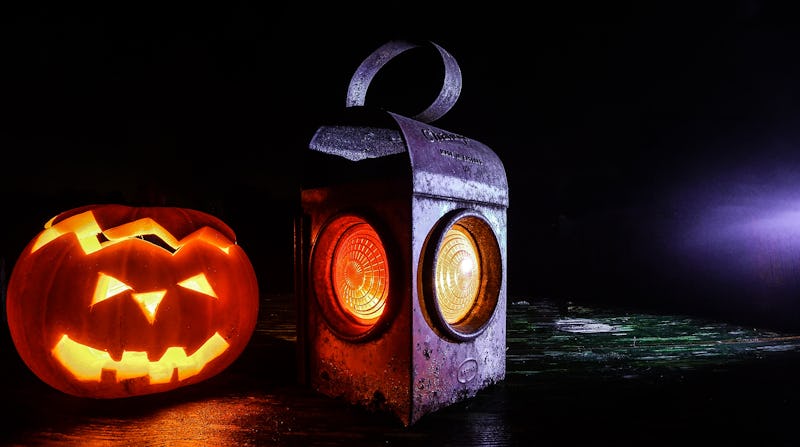 Sweater weather has already hit my hometown, and I couldn't be more excited about it. Halloween candy and decorations are popping up at stores, and if you're a fellow Halloween-lover, you're more than thrilled. In fact, you've probably known what your Halloween costume is for the last few months. It's NEXT MONTH already, and like many other holidays, Halloween is one to prepare for.
I've loved Halloween and considered it my favorite holiday since, well, forever. I mean, free candy and awesome costumes? That can't be beat. I still count down the days until Disney Channel starts playing their original Halloween classics. Until then, I love finding the newest horror films to binge watch on Netflix. I also adore finding new and haunting books to read during this wonderful time of year.
The thing I love most about scary books is that they certainly aren't afraid to send chills up your spine and make you turn on all the lights when you're home alone (even if you're a grown adult). At the same time, a lot of books are filled with magic, monsters, and the totally unreal that keeps you mystified. To satisfy the fans of American Horror Story and the classic Hocus Pocus, I've made a list of books for everyone to read before Halloween. Grab a bag of candy corn and get reading!
The Night Circus by Erin Morgenstern
The Night Circus is the story of two young magicians, Celia and Marco, who are preparing to battle in a fierce competition. But unbeknownst to either of them, only one will be left standing. Despite the high stakes they are faced with, the two fall in love which then sets off a domino-effect of consequences for everyone around them. If you're a fan of all things magical, dark, and eerie, then this book was made for you.
Anna Dressed in Red Blood by Kendare Blake
Cas Lowood is a ghost hunter, just like his father was. When Cas goes to track down an infamous ghost girl that the locals know as "Anna Dressed in Blood," he doesn't expect to find a cursed soul who has killed everyone that's stepped foot in her home. He also didn't expect his life to be spared by her. You'll be looking over your shoulder with every page-turn as you fall in love with this original horror story.
The Coldest Girl in Coldtown by Holly Black
If you're a fan of vampire stories but don't care to read about sparkling vampires, or ones covered in blood at all times, The Coldest Girl in Cold Town is the perfect middle ground. Within Coldtown, monsters and humans coexist, and once you enter, you cannot leave. After a vampire attack strikes a high school party, Tana, one of the three survivors, fights back against the monsters of Coldtown. In this chilling and quick-paced novel, you'll be surrounded by creepy creatures of the night and exciting mysteries just waiting to be solved.
The Shining Girls by Lauren Beukes
The Shining Girls is the twisted story of Harper Curtis, a time-traveling serial killer whose actions are controlled by a haunted house. When one of Curtis's victims, Kirby Mazrachi, survives, nothing can stop her from tracking him down. This supernatural thriller full of gore and revenge is perfect for any horror fan. It's also great for the historical fiction-lover as the story jumps in and out of iconic American eras.
The Harry Potter Series by J.K. Rowling
As if you need an excuse to reread the best series of all time? Witches, wizards, magic, a forbidden forest, giant spiders, and a castle with floating stairs... I don't think I need to justify why you should read the Harry Potter series around Halloween, but instead ask why it isn't in your hands right now.
Carrie by Stephen King
Stephen King, the King of Horror, is the perfect author to pick up around this time of year. His first spine-chilling novel is about Carrie, an outcasted teenage girl who begins to develop telekinetic abilities. When Carrie's classmates bully and betray her, she takes her revenge out on them at the senior prom ending in a catastrophic event. This scary classic, whether you've read it already or not, is one to pick up every Halloween season.
We Have Always Lived in the Castle by Shirley Jackson
If Carrie is a bit too gory for you, try Shirly Jackson's psychological horror novel, We Have Always Lived in the Castle. This is the creepy tale of two sisters and their unnerving uncle isolated in the Blackwood House — a place full of mystery, unsolved murders, and dark family secrets. With an intriguing unreliable narrator paired with suspenseful writing, even Suzanne Collins claimed this incredible novel as one of her favorite books. It won't be long before it's on your favorites list, too!
The Raven Boys by Maggie Stiefvater
Speaking of favorites, The Raven Boys has recently become one of mine. Maggie Stiefvater drops her readers in rural Virginia surrounded by charming accents and the changing seasons... along with psychics, enchanted forests, and buried secrets. This is the story of Blue Sargent, a psychic's daughter who has always been warned she'll kill her first love. Blue doesn't worry much about the prediction, at least not until she meets the four mysterious Raven Boys. This is an adventure so exciting you won't be able to put it down. Seriously. Oh, and did I mention it's the first of an ongoing series? You're welcome.
Asylum by Madeleine Roux
For fans of Miss Peregrine's Home for Peculiar Children, Asylum, and its sequel Sanctum need to be added to your TBR list this fall. Full of eerie pictures from real asylums, and a story surrounding a place scarred by trauma, you'll be hooked from the very beginning.
Images: Pexels