Let Maisie Williams' Instagram Tide You Over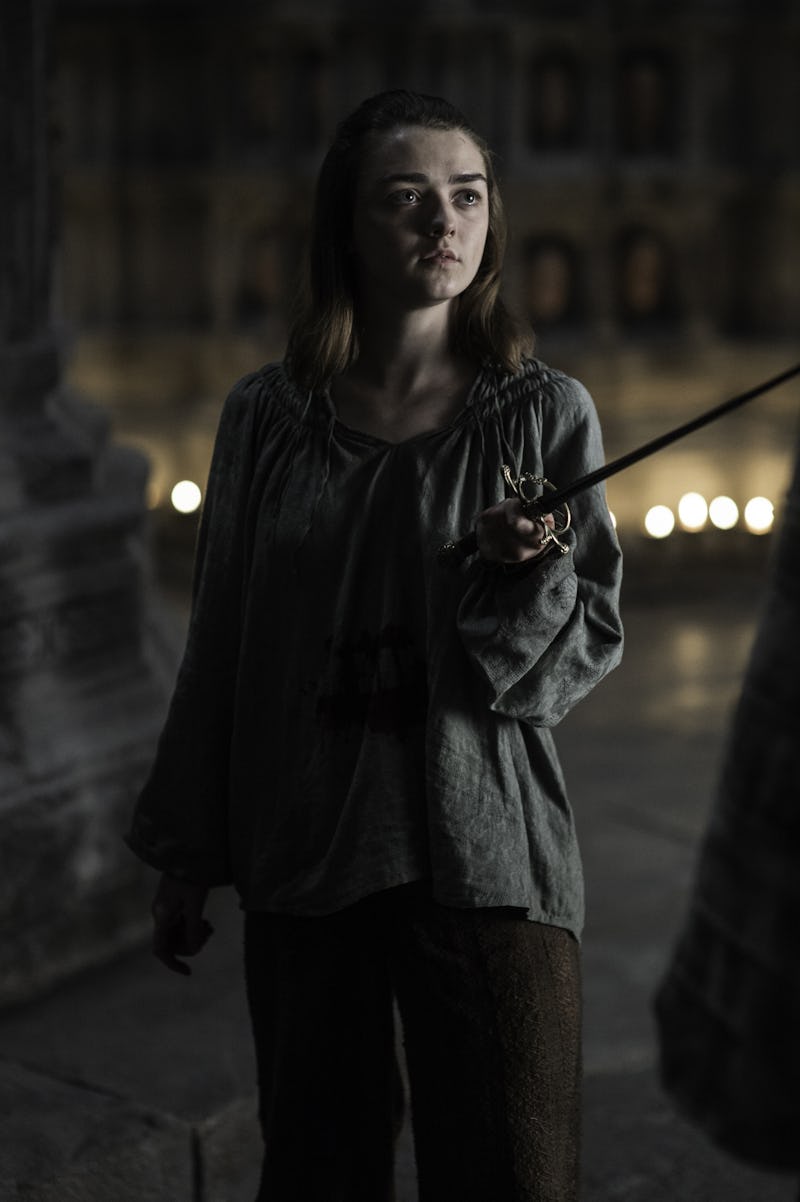 You know what's worse than waiting for Season 7 of Game of Thrones ? Nothing, that's what. Fans of all shapes and sizes can confirm that the keen sting of waiting for the penultimate season of Game of Thrones is just about as awful as getting all of your teeth pulled. OK, maybe I'm exaggerating. It's definitely infinitely worse than getting all of your teeth pulled. The only saving grace might be the unique luxury of getting to scroll through the social media of some of our favorite cast members to keep the vibes alive. Which is exactly what I find myself doing of late, and mostly, I find myself scrolling through Maisie Williams' Instagram. When she's wielding a sword as Arya Stark, Williams is a serious hell-raiser, often battling it out with those who have wronged her family and doing whatever it takes to survive. But in her everyday life, Williams looks like she's having an absolute blast — color me green with envy, folks.
So, in this particularly difficult time between seasons, I've stumbled across some of the best of Williams' Instagrams that manage to expertly soothe the ache of having no new Game of Thrones episode. It may be a temporary fix, but Williams' regular life is so exciting that I don't mind browsing until the Season 7 premiere rolls around. Just look at how much fun Williams is having:
1. When Her Throwback With Sophie Turner Was Too Precious
The friendship that Williams and Turner has created is such a joy to partake in. Look at that heart filter! Those loving faces! I melt, I pine, I perish.
2. Casually Prepping For Emmys Glory
Williams' humor always manages to shine through in her Instagrams and the occasion was no different a few days ago. Even in her casual wear and holding a fake Emmy she looks regal AF.
3. Imitating Her Fictional Sibling With Some Amazing Extensions
Nothing like a low-key roast to really get your fans belly laughing. Do you think Turner will put those to good use in Season 7? Or maybe Arya will come back to Winterfell with some serious Rapuzel-length hair?
4. Keeping Her Snapchat Adorably Meta With Her Pup
I'm a sucker for a great dog video and this one definitely hits all the right "cute" factors. Williams keeping it meta with her real-life direwolf (#RIPNymeria) and everyone's favorite Snapchat filter is just to heart-meltingly cute.
5. Remember That Time She Surprised Her UCLA Fans?
So, remember when we were all completely giddy with excitement for Season 6 to premiere? Additionally, do you remember that in the lead up to said premiere, Williams decided to casually document her surprising a group of fans who were having a premiere party? Yeah, I knew you would. She should definitely do that again next summer for the Season 7 premiere, right?
6. And Then Casually Roasted Her Faux Bro, Jon Snow?
Right in the feels, Williams! Right in the feels. Now, it's a pretty hilarious artifact but back when we were on the brink of the Season 6 premiere, Williams capitalized on our very real fears that Jon Snow was legitimately dead as a doornail.
7. Williams Is All About The Snack Life
Any Game of Thrones actor with that high-quality a snack palate instantly earns my vote for favorite cast member. Which reminds me: will Arya have time to stop and snack in Season 7?
8. Chilling With Her BFF Never Looked So Good
Time and time again, Williams and Turner prove that they are #FriendshipGoals. Now we just need them to continue that on Game of Thrones by actually joining forces.
9. She Just Can't Get Enough Of Her TV Siblings
Oh, there's nothing to see here except a casual, fun dinner with Williams and her TV siblings, Isaac Hempstead Wright and yes, Sophie Turner, too. Again, why can't we get this kind of sibling time on Game of Thrones? The writers need to get their lives together.
10. She & Kit Harington Are Sibling Goals
So, if Sansa and Jon got to reunite in Season 6, then it stands to reason that they deserve to be joined by another sibling in Season 7, right? My vote is solidly placed for Arya reuniting with Sansa and Jon. Look at how great they are together IRL. Be still, my beating heart.
11. No Game Of Thrones Cast Member Instagram Is Complete Without...
Pedro Pascal, a.k.a. Oberyn Martell, is a frequent guest star in Lena Headey's Instagram but it's always nice to see he cavorts with his other cast mates, too. Kinda makes you wish he'd never been killed off.
Image: Helen Sloan/Courtesy of HBO